Channelize your inner goddess this Navaratri: Investment mantras for women
Each of the nine forms of the all-encompassing goddess Durga offers key lessons for women who want to take control of their finances.
30 Sep,2019
05:15 IST
249 Views
536 Likes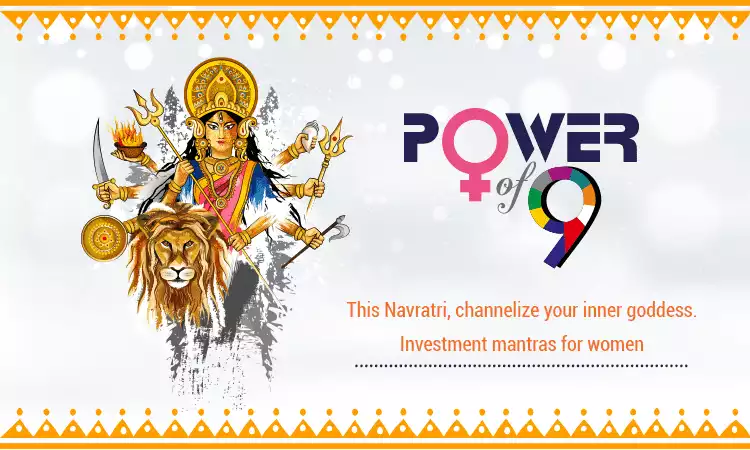 Navratri is here, and it's time to celebrate Goddess Durga -- the embodiment of power, prosperity, benevolence, and grace -- in nine avatars over nine nights. It is also a time to celebrate "woman power". Women have made a mark on all fronts, from the economy to the arts. From aviation to agriculture. But, what are they doing with their wallets?
Here are nine lessons in investing for this Navratri:
Get off to a start, be like Shailaputri: Shailaputri is worshipped at the start of Navratri and she represents awakening, from which her journey from the root or 'mooladhara chakra' towards her goal, Shiva, begins. You too must awaken yourself and set clear goals. One of the first lessons of investing and financial planning is to lay a strong foundation. Get cracking, learn all that there is to learn about investment options and loans available.
Remain unflappable, be like Brahmacharini: Brahmacharini is the deity who represents steadfastness. She doesn't get distracted under any circumstance. Discipline is an important lesson when it comes to financial planning, be it while investing or borrowing. You too should stay focused on your financial goals.
Stay alert and act when needed, be like Chandraghanta: Chandraghanta is the goddess who can see everything. She is always vigilant and ready to take on negative forces when the need arises. You too have to stay alert to your goals and weigh your options. Do the research, follow financial tips and keep yourself updated about interest rate changes, new schemes, repayment terms, etc.. When the time comes, choose the right loan like a personal loan to fulfill your aspirations, which could be world travel, home renovation or a foreign education. Women hold up half the sky, go for it!
Create wealth and spread light, be like Kushmanda: Kushmanda is the goddess who resides in the core of the sun. She is the creator of the universe and spreads light everywhere. You too have the power to turn creator of your wealth and happiness. This will help you meet both your short and long term goals. It could be buying a home or your children's education. Invest in mutual funds or other instruments to fetch your long-term gains. Whether you are single or have a partner, it is important that you take control of your finances, create wealth and spread light -- you deserve a happy future.
Act with prudence, be like Skandamata: Skandamata is the deity who represents the confluence of wisdom and action. Invoke her and bring prudence into your moves, whether you are planning your retirement income or insurance, your mutual fund investments or buying stocks. If you are taking out a loan, do the math. Ensure that you don't pay high-interest rates. Make sure your EMIs don't exceed one-third of your income.
Slay your inner demons, be like Katyayini: Katyayini is a force to be reckoned with, a goddess who can destroy. But the goddess used her power to slay the demon Mahisha. Take a page out of her story and slay your inner demons. Even highly successful women have been conditioned to feel under-confident, scared and full of doubts when it comes to talking about money and taking control of finances. This is not limited to India; an American retirement survey last year (1) showed that 64 percent women did not have a backup plan for income if they were to retire earlier than expected. Overcome self-doubt and have a plan.
Act tough, because someone's got to, be like Kalaratri: Kalaratri, one of the most intense forms of Durga, leaves no stone unturned while eliminating negative forces. You too may be required to be purposeful under some circumstances. For instance, you may face an unexpected financial emergency and are in dire need of funds, in quick time. How about opting for a quick gold loan? You get such a loan in no time at all, enough to tide over a difficult time in your life. Deciding quickly and solving a problem will give you a confidence boost for the future.
Take stock frequently, be like Mahagauri: Mahagauri is the goddess who purges your sins and blesses you. She represents the colour white, symbolic of starting again on a clean slate. You may have taken some bad financial decisions in the past and suffered. You may have picked a bad stock or a fund or haven't chosen the right home loan that didn't align with your goals, but you can learn from your mistakes and move ahead. Seek financial advice from experts and be better prepared.
Feel accomplished and empowered, be like Siddhidatri: Siddhidatri is the bestower of 'siddhi', a sense of fulfillment and achievement. She is the presiding deity who bestows her grace and blessings to her devotees as Navratri comes to a close. A key lesson in investing is that the journey from indifference to financial literacy is a long one. You have done your research, set yourself financial goals, stayed on course, and trusted in yourself. Take a bow.
There you have it, nine lessons that will take you closer to your financial goals and milestones. This Navratri, even as you offer your prayers to the Nava Durgas, mark your calendar with one lesson for each auspicious day. Festivals are all about auspicious beginnings and new learnings, so make this Navratri a time to celebrate a new chapter of your life.