How Working Capital Loan Is A Challenge Faced By SMEs
As a business owner, you'll likely face challenges on the road to success. Read to know the 3 challenges faced by sme & how working capitals can help solve them!
7 Dec,2022
10:41 IST
12 Views
6 Likes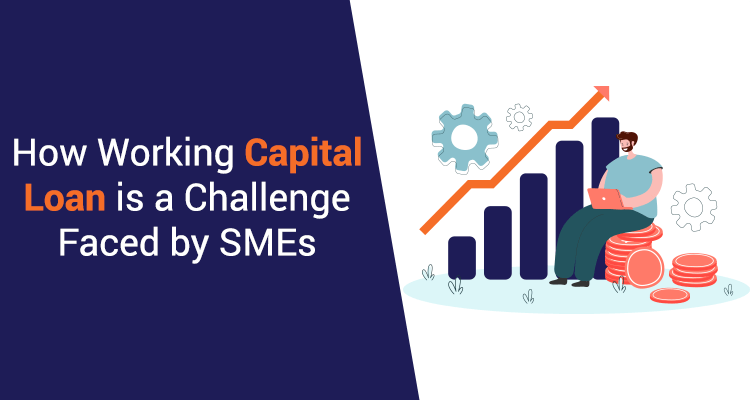 A company requires capital to invest in various business activities, including expansion, advertising, marketing, and working capital. Working capital means having enough cash and liquidity to run the business's daily operations. However, when business owners lack liquidity, they turn toward taking a working capital loan.
A working capital loan is a short-term financing product business owners take to fulfil their short-term capital requirements. These loans have a tenure of several months, and a business owner can use the loan amount to cover expenses related to the business's day-to-day operations.
The Need For Working Capital Loans For SMEs
Small and Medium Enterprises cater to a section of the Indian economy that is not volume-heavy. Such businesses have lower turnover and profit than larger businesses that churn out a heavy volume of products or services.
Since these SMEs do not have high turnover, they have to ensure they have enough cash to pay for the day-to-day expenses of the business and still have enough for expansion. Hence, they look toward a working capital loan for small businesses to raise adequate short-term funds. However, getting an unsecured working capital loan is challenging for small and medium enterprises.
How Working Capital Loan Is A Challenge Faced By SMEs
Here are some reasons which create a challenge for SMEs to avail of an
SME working capital loan:
• Low Turnover:
SMEs have low turnover and profits as they run a small business that does not have extensive business activities. With a low turnover, lenders such as banks and NBFCs believe there is a high risk of default, creating a challenge for SMEs to approve their working capital loans.
• No Collateral:
Most SMEs do not have a valuable company asset to pledge as collateral. Most
unsecured working capital loans
do not require pledging collateral. However, lenders still refrain from such loans to SMEs as there is no acquisition to realise the outstanding loan amount in case of default.
• Interest Rates:
One of the most challenging factors for small businesses to get an
SME working capital loan
is the high-interest rate than other business loans, as they are short-term and unsecured. Hence, the high-interest rate makes it difficult for small business owners to repay the loan within the loan tenure.
Avail Of An Ideal Working Capital Loans For Small Business From IIFL Finance
IIFL Finance provides comprehensive and customised loans for small businesses to ensure they cater to their capital needs. The working capital business loan offers instant funds up to Rs 30 lakh with a quick disbursal process. The loan repayment structure is flexible and offers multiple repayment modes, including standing instructions, NEFT Mandate, ECS, Net-banking, UPI, etc. You can apply for the loan online or offline by visiting IIFL Finance nearest branch.
FAQs:
Q.1: Can I apply for a business loan with IIFL Finance for a small business?
Ans: Yes, you can use the money raised from IIFL Finance loan for your small business expenses, such as buying machinery.
Q.2: How much time do IIFL working capital loans take to get approved and disbursed?
Ans: IIFL Finance business loan is approved within 30 minutes of application and disbursed in the next 48 hours.
Q.3: Which is better? Term Loan or A Working Capital Loan?
Ans: Both loan products are ideal depending on the purpose or the period. Term loans are long-term financing products, while working capital loans are short-term ones.