What Will Be The EMI For 50 Lakhs?
The EMI for Rs. 50 Lakhs of loan varies based on the tenure and interest rate on the loan. Read this article to know more!
18 Jan,2023
10:46 IST
1654 Views
683 Likes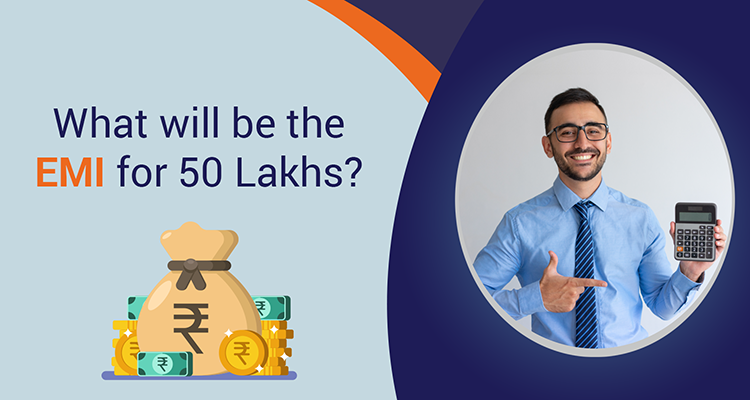 For entrepreneurs to expand and run their enterprises, business loans are crucial. The need for capital is especially acute among small businesses, which do not have larger companies' liquidity and access to capital. However, while getting a business loan is now relatively accessible to businesses of every nature, the business loan EMI is the most important factor when applying for and repaying a loan.
The EMI for a business loan differs based on the loan amount, tenure and other factors. This article explains the possible EMI amount for a loan of Rs 50 lakhs.
What Will Be The EMI For A Business Loan Of 50 Lakhs?
The EMI for a Rs 50 lakh loan varies based on the interest rate and the term of the loan. Almost all lenders provide EMI calculators on their websites. Adjusting the interest rate and tenure allows you to calculate your EMI for a business loan.
Consider the following examples of EMI amounts for various interest rates and tenures.
• Loan Amount = Rs. 50 Lakhs
Interest rate = 9.55%
Tenure = 30 Years
EMI = Rs. 42225
• Loan Amount = Rs. 50 Lakhs
Interest rate = 8.25%
Tenure = 15 years
EMI = Rs. 48507
Factors That Affect Business Loan EMI
1. Loan Amount:
Higher loan amounts result in higher EMIs.
2. Repayment Tenure:
The longer the repayment period, the smaller the EMI amount.
Although longer repayment periods may seem appealing, they will result in higher interest payments and repayment amounts. Therefore, if you can afford it, choose a shorter repayment period.
3. Credit Score:
High credit scores (above 750) increase your chances of receiving a loan at a lower
business loan interest rate
. A low-interest rate will directly result in lower EMIs.
4. Job Profile:
The risk level of individuals with stable income sources is low, while the risk level of individuals with unstable income sources is high. Therefore, lenders offer stable income earners lower interest rates, resulting in lower EMIs.
Apply For A Business Loan With IIFL Finance
With IIFL Finance, you can access customised and comprehensive business loans. There is no requirement for collateral for the
business loan
, and it offers instant funds up to Rs 30 lakh with quick disbursement. Application and repayment processes are completely online, with minimal paperwork and attractive interest rates to ensure repayments aren't burdensome. Apply for an IIFL Finance business loan now!
FAQs
Q1. What factors affect business loan eligibility?
Ans. The following factors influence the approval of a business loan:
• A healthy credit score/history
• Age of business
• Type of business
• Collateral
• Business plan
Q2. How to calculate IIFL Finance business loan EMI?
Ans. You can use the IIFL Finance EMI calculator to calculate your business loan EMI.