What Is Lean Manufacturing? Meaning, Tools, And Techniques
Need to improve production? Learn the 5 important types of lean tools & techniques to help your business run effectively. Visit to know more here!
28 Jul,2022
09:22 IST
35 views
58 Likes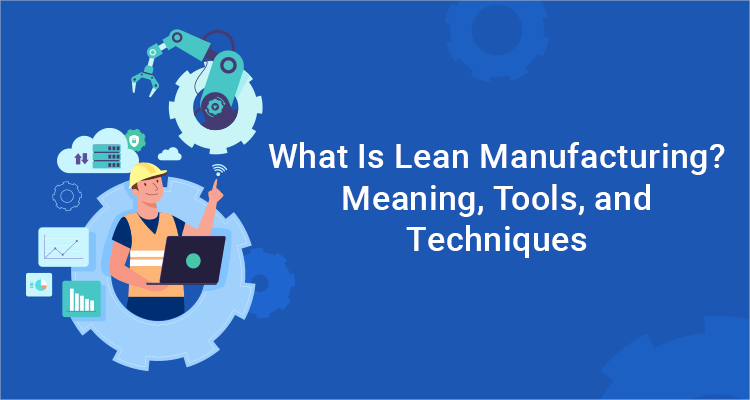 A business, big or small, always has scope to improve its efficiency and earn better profits. Especially for a manufacturing company, no unnecessary activities must cost time and money. Lean manufacturing is a process that can avoid such waste activities so that the business can ensure improved manufacturing.
What Is Lean Manufacturing?
Lean manufacturing is a business process that increases a business production by cutting or mitigating waste in various business operations, especially manufacturing operations.
The lean manufacturing process believes that a business can become successful by removing any business waste (any operation that doesn't add value). This way, the company becomes hypothetically lean, manufacturing processes become effective, and the business becomes profitable.
Lean manufacturing is also known as lean production. Numerous tools, techniques, and principles deliver manufacturing improvements and add value to the business operations and, thereby, the customers.
Lean manufacturing ensures a business is without such inefficiencies and uses the funds saved by removing business waste to increase business productivity.
Benefits Of Lean Manufacturing
Here's how lean manufacturing can help your business attain better effectiveness:
• Waste Elimination:
Lean manufacturing removes counterproductive and wasted business activities that add no value.
• Improved Manufacturing:
Without waste activities, a business can improve its manufacturing process and product quality.
• Cost Reduction:
Lean manufacturing ensures that the business reduces its expenditure on activities that do not contribute to manufacturing and customer value.
• Time-Efficient:
Undertaking lean manufacturing allows business to be time-efficient by removing inefficient working practices.
• Rejects and Defects:
Through lean manufacturing, a business can cut down on rejected and defective products as the manufacturing process improves the overall quality of the products.
Tools And Techniques Included In Lean Manufacturing
Lean manufacturing is an ideal business process to create an effective and successful business. Such a business can manage its finances by removing waste from business operations through the listed tools and techniques:
1. Cellular Manufacturing
Cellular manufacturing is a tool included in lean manufacturing that enhances the manufacturing process. The main goal behind cellular manufacturing is to manufacture a wide variety of similar products while ensuring negligible waste.
Cellular manufacturing includes cells with different machines to accomplish tasks. The product moves from one cell to another until manufacturing completes.
2. Just-In-Time Production
Just-in-Time production ensures the highest efficiency level by matching the manufacturing with demand. It means the business manufactures a product only after a customer places an order to ensure there is no overproduction. Thus, the company has no additional and unnecessary activities that may create waste.
3. Multi-Process Handling
This business process in lean manufacturing assigns operators multiple business processes in a product-flow-oriented layout. It requires the trading operators to handle numerous business processes at once such that the company doesn't have to employ more operators for the work that could be done by the current operators, thus increasing efficiency.
4. Total Productive Maintenance
This procedure is a total overhaul of the productive aspects of the company. It adopts measures such as producing better quality products, producing small batches quickly, and sending non-defective goods to customers while reducing wastage of time and money.
5. Maintaining A 5S Organization
5S is one of the most vital aspects of lean manufacturing. The 5 Japanese words mean:
Seiri: Sort, Classify, Clearing
Seiton: Set in Order, Configure, Simplify, Straighten
Seiso: Shone, Sweep, Scrub, Check, Clean
Seiketsu: Standardize, Conformity, Stability
Shitsuke: Sustain, Self-Discipline, Custom, practice
Business Equipment Financing With IIFL Finance
Having understood the meaning of lean manufacturing, it's clear that it involves investing in various equipment and machinery to improve manufacturing. Hence, it is vital that you ensure equipment finance for business through ideal business equipment financing.
IIFL Finance is India's leading financial services company that provides comprehensive and customized business equipment financing products. The proprietary business loan offers instant funds up to Rs 30 lakh with a quick disbursal process. You can apply for the loan online or offline by visiting IIFL Finance nearest branch.
FAQs:
Q.1: What are the five principles of Lean Manufacturing?
Ans: The five principles of lean manufacturing are: Value, Creating Flow, Mapping the Value Stream, Establishing a Pull System, and Perfection.
Q.2: Can I buy equipment from IIFL Finance business loan for lean manufacturing?
Ans: Yes, you can buy any equipment from the secured loan amount and implement the process of lean manufacturing.
Q.3: What documents are required for securing business equipment financing?
Ans:
• Previous 12 months bank statements
• Proof of business registration
• PAN Card and Aadhar Card copy of the Proprietor(s).
• Deed copy and company PAN Card copy in the case of partnerships