What Is A 59 Minutes MSME Loan?
The MSME loans in 59 minutes allow MSME business owners to avail of an instant business loan. Read on to know what is a 59 minutes MSME loan at IIFL Finance.
19 Oct,2022
11:36 IST
146 views
49 Likes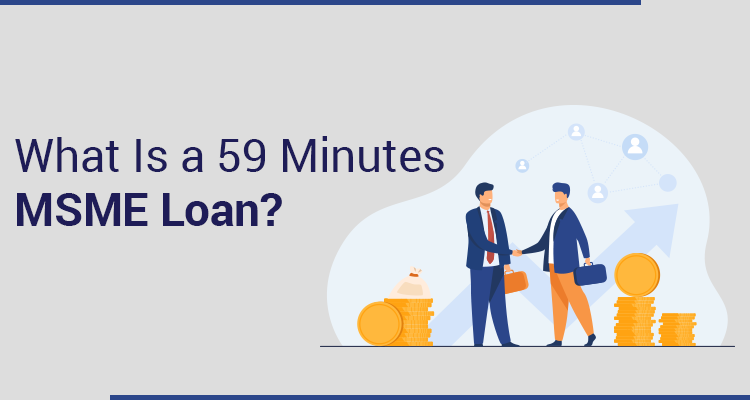 Every company's operations include multiple activities to manufacture products or render services. Over time, such businesses require continuous funds to invest in short-term or long-term activities. Short-term business activities can include paying the office rent, employee salaries or other day-to-day expenses. On the other hand, long-term business activities can be business expansion and marketing.
Like different types of businesses, the need for short-term or long-term capital is constant for Micro, Small and Medium Enterprises. They have fewer capital needs, their annual turnover is lower and requires lesser operations to achieve.
However, to fulfil the capital need, MSME business owners have two options: use their capital or opt for an ideal loan product. Within the two options, most MSME business owners choose the latter to raise funds through an MSME loan. One of the most beneficial products within the MSME Loan category is the 59 Minutes MSME Loan.
What Is 59 Minutes MSME Loan?
MSME business loans in 59 minutes
is a government initiative targeted towards providing immediate capital to companies belonging to the Micro, Small and Medium Enterprises. The Indian government has introduced the
MSME loan in the 59 minutes
scheme to enhance the process through which the MSMEs get credit.
The MSME loans in 59 minutes scheme allow MSME business owners to avail of an instant business loan from a consortium of Public Sector Banks (PSBs). The 59 minutes loan ensures that MSME business owners get in-principle approval for a business loan of up to Rs 5 crore in 59 minutes from various public sector banks.
Here are the banks included in the consortium offering MSME loans in 59 minutes.
| | | |
| --- | --- | --- |
| Punjab and Sind Bank | Indian Overseas Bank | SBI Bank |
| IDFC Bank | Kotak Bank | IndusInd Bank |
| UCO Bank | Bank of Baroda | Central Bank of India |
| Canara Bank | ICICI Bank | PNB |
| Bank of Maharashtra | Union Bank | Yes Bank |
| Saraswat Bank | Federal Bank | SIDBI |
What Are the Reasons For The Indian Government To Launch 59 Minutes MSME Loan?
• Banking Service Aggregation:
The Indian government wanted to bring all the banking services offered by the consortium of banks under one umbrella for the MSMEs.
• Comprehensive Credit:
MSMEs had to scout different lenders for infrastructure and automobile loans. With the scheme, they can avail of infrastructure and automobile loans within the same scheme.
• Increased Credit Levels:
Having realised that the MSMEs are the backbone of the Indian economy, the Indian government wanted to increase the credit levels. Through the scheme, the MSMEs can get a business loan in a timely fashion with flexible repayment options.
• Positive Change:
The Indian government wanted to create positive change and simply present the Indian credit industry. With such innovative schemes, business owners would take more loans from Indian banks, creating financial and credit inclusion.
Benefits Of MSME Loan In 59 Minutes
Here are the benefits of loans sanctioned in 59 minutes for Micro, Small and Medium Enterprises.
1. Immediate Capital
The
59-minute loan
for the MSMEs allows business owners to get
instant business loans
without waiting for days to get the loan approval. Lenders approve the loan within 59 minutes of submitting the loan application, ensuring that the business owners can run company operations smoothly.
2. Minimal Paperwork
The loan application process is highly simplified and requires minimal paperwork. Currently, public-sector banks offer loans for MSMEs sanctioned in 59 minutes with a loan application process that is entirely online. The process requires filling out your basic details and submitting a few documents for KYC.
3. Positive Contribution
MSMEs face challenges in availing of an ideal small business loan, considering the nature of business operations and the low annual turnover. However, with the introduction of the loan scheme, entrepreneurs can easily take a business loan and contribute positively to the Indian economy.
4. Loan Book
One of the most vital benefits of the 59 minutes business loan for MSMEs has been for the public sector banks as they have seen a significant increase in their loan book. With the new scheme that provides quick approval of loans, MSMEs prefer applying for such a loan and are availing of more loans from public sector banks under this scheme.
Avail Of An Ideal MSME Loan From IIFL Finance
IIFL Finance is India's leading financial services provider with loan products such as MSME business loans. Such loans are collateral-free with attractive interest rates and tailor-made for MSMEs with less financial needs. You can apply for the loan online by verifying your KYC details or visiting IIFL Finance nearest branch.
The loan application is paperless, with only minimal documents needed. IIFL Finance MSME loan scheme is at par with the MSME business loans in 59 minutes and offers instant approval and disbursal of the business loan amount. The IIFL Finance MSME loans do not require pledging an asset as collateral and offer the loan amount through a simplified loan application process.
FAQs:
Q.1: Can I take a 59 minutes MSME loan from IIFL Finance?
Ans: No, only Public Sector Banks that operate under the Indian government are allowed to offer a business loan to MSMEs under the 59 minutes approval scheme. However, you can always take an instant business loan for your MSME from IIFL Finance, where the approval time is equally quick.
Q.2: Does an MSME loan interest attract GST?
Ans: No, MSMEs do not need to pay GST since businesses with a yearly turnover of less than Rs 6 crore are exempt from this rule.
Q.3: Do I need to pledge collateral to take an MSME business loan from IIFL Finance?
Ans: No, this type of loan does not require collateral to sanction the loan.