What Are Prepayment Charges In Business Loans?
To pre-pay your business loan, first you need to pay a prepayment fee for the same. Read the blog to know about Business Loans Prepayment charges. Visit Now!
23 Sep,2022
11:18 IST
129 Views
20 Likes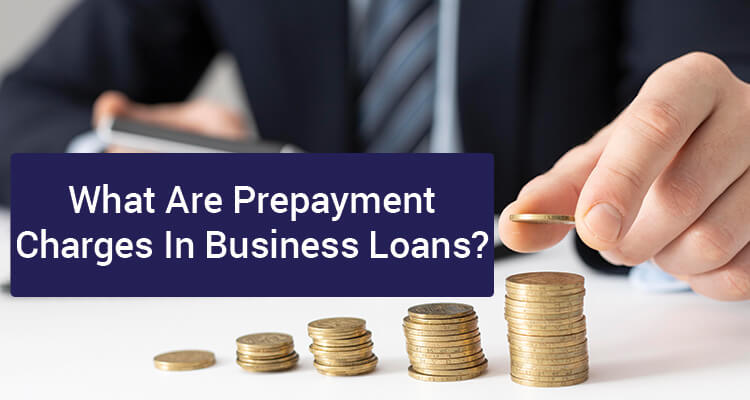 When your business performs well, prepaying a business loan and eliminating debt is the best move. Depending on the loan type and lender, a foreclosure can save you money. Additionally, it may give you more control over your cash flow and flexibility.
However, prepaying your loan is not always easy. Many lenders levy
prepayment charges
when you prepay loans. Read on to learn more about business
loan prepayment charges.
What Are Prepayment Charges?
If a borrower repaid the loan before its actual tenure, the lender would not be able to earn the interest that was agreed upon when the loan was approved. The lenders, therefore, charge a prepayment or foreclosure fee.
Prepaying the loan will save you a considerable amount of money, even after paying the prepayment fee. Moreover, prepaying in part or full in the loan's early years is especially profitable.
How Are The Prepayment Charges Calculated?
There is a correlation between the prepayment penalty and the unpaid loan balance. Generally, the fee is a certain percentage of the loan amount pending before the full repayment. For example, if you have already repaid the five-year loan in three years, the foreclosure fee will be lesser than if you had paid it entirely in two years.
There is usually a lock-in period of 1-2 years during which you cannot repay the loan. A prepayment facility will be available only if you have repaid the loan per the EMI structure until the lock-in period expires.
How Much Is The Prepayment Fee?
Prepayment fees on loans
vary from lender to lender. When you prepay the loan in full, also called loan foreclosing, you will pay a prepayment fee of about 4% of the outstanding principal amount, with the principal part paid in EMIs.
Some lenders do not charge a fee for prepayments of up to 25%. Based on the terms and conditions of the loan, GST will also be applicable in addition to the prepayment fee.
Should You Prepay Your Loan?
The benefits of foreclosing on your business loan are numerous. You would no longer be required to pay monthly installments and would be able to invest the money elsewhere.
However, it's also crucial to consider the other side of the coin. When you foreclose your loan, you usually have to settle your accounts with a lump sum, which can be a financial hardship.
Paying in advance can also pierce your pocket in other ways. Under the Income Tax Act, the interest amount is tax deductible. You lose this tax benefit if you pay off the loan early. This way, your business could end up in a higher tax bracket than before.
It would be best if you did the math to decide what's best for your business. Subtract the foreclosure charges from the interest savings you would receive if you prepay the loan. Prepaying might be a good idea if the results are positive; hold off on foreclosing if it is negative.
Apply For A Business Loan With IIFL Finance
Every business needs funds, and
business loans
can help to grow. IIFL Finance online business loan is the perfect solution as a source of capital for all your business needs. You can fulfill all your capital needs with our attractive and affordable business loan interest rate by applying for an IIFL Finance business loan now!
Frequently Asked Questions
Q1. Can you prepay a business loan?
Ans. Yes, you can prepay your business loan. However, you may need to pay prepayment charges for the same.
Q2. Does business debt affect personal credit?
Ans. When the company and owner are separate legal entities, business debt does not affect the owner's credit score.