How To Build A Continuous Stream Of Working Capital For Your MSME
Working capital is the money that you require for running day-to-day business operations. Learn how to improve the working capital with these 6 simple tips!
27 Jul,2022
09:57 IST
30 views
24 Likes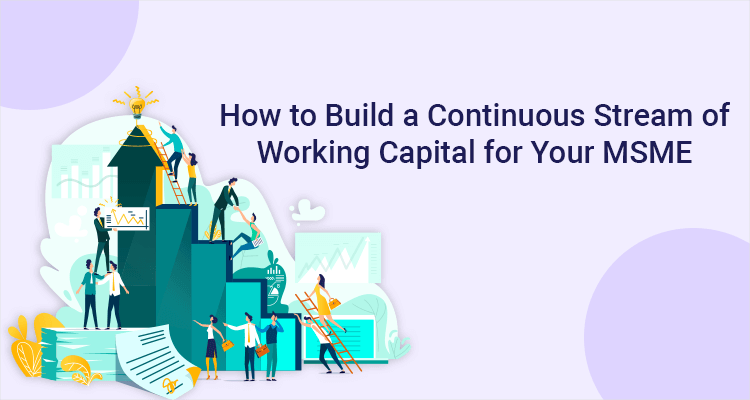 Working capital determines a company's overall financial health and capacity for growth. Additionally, it ensures the survival of routine business operations, such as procuring raw materials and paying wages and salaries. Therefore, companies constantly seek ways to improve their working capital.
An adequate working capital signals positively to stakeholders and investors about your business operations, which can, in turn, get their respect and satisfy their expectations. This article discusses some tips to help you improve your working capital.
Ways To Improve The Working Capital Of Your MSME
1. Speed Up Receivables Collection
Maintain a payment schedule for your customers to pay on time for their purchases. You increase the likelihood of buyers paying on time and avoiding non-payment or late payments by promoting early settlements. It also accelerates your company's cash flow. As a result, you can manage debt more effectively and curb expenses more efficiently.
Additionally, access to cash allows for a more liquid business function. It directly affects the working capital of your business. Increasing your working capital will strengthen, streamline, and secure your business processes.
2. Evaluate Customer Creditworthiness
Potential customers who apply for credit should undergo a thorough credit investigation, which includes completing an application. Verify whether your applicant pays their bills on time by contacting vendor references. Ensure specific customers benefit from credit terms; you don't have to extend credit to everyone.
3. Reduce Defaults
Maintaining a healthy working capital ratio requires keeping track of customer defaults. Keep an eye out for customers who regularly default and avoid doing business with them. Upfront payments are a viable business strategy for such customers. Those clients who have genuine problems can clear invoices in parts.
4. Meet Your Debt Obligations
Your debt management strategy can also impact your working capital position. Even though some penalties might seem harmless, late payments can exhaust your working capital.
Make sure you pay your debts on time to avoid penalties and delays. You can manage your dues using electronic payment systems to make your payments on time. This approach allows you to avoid late fees while maintaining a good credit score, which is advantageous when you apply for loans later.
5. Cut Unnecessary Expenses
Your working capital will be lower with more significant liabilities. If your current assets remain static or increase, cut your debt to improve your ratio. However, impulsive budget cuts can negatively affect your working capital.
Identify the items in your budget essential for business operation and those that do not necessarily contribute to your revenue. Are you overspending on energy or transportation costs? Can you better time your expenses to avoid taking on much debt? Although none of these activities saves you a lot, their combined effect may significantly affect your working capital ratio.
6. Increase Your Sales
The process of cutting costs can be depressing and difficult. The good news is that increasing your working capital ratio doesn't necessarily require reducing your liabilities. Instead, you can boost your company's revenue.
It may seem obvious, but selling more products or services will improve the health of your business. It may demand additional costs, such as hiring more staff, advertising, and even investing in software or equipment. Make sure you consider your ROI and don't be afraid to reach out to new markets.
Apply For A Business Loan
If your cash flow is tight or you want a more significant boost, business financing might be a good fit. While debt might seem intimidating, it can help you improve your small business and make the right strategic decisions. Get the best business loans from IIFL Finance, and enjoy lower EMIs, quick disbursement, and a flexible repayment schedule to help you grow your business.
Frequently Asked Questions
Q1. What Is Working Capital?
Ans. A company's working capital, or net working capital (NWC), is the difference between its current assets, such as cash, accounts receivables/unpaid bills of customers, and inventories of raw materials and finished goods, and its current liabilities, such as debt and bills payable. Generally, it measures a company's short-term financial health.
Q2. How is Working Capital calculated?
Ans. You can calculate your MSME's working capital by using this formula:
Working Capital = Current Assets - Current Liabilities.