Understanding Cash Flow Loans For Business & How to Apply
Cash flow loans are sometimes marketed as unsecured business loans. Read to know about cash flow loans & how to apply for them easily!
19 Dec,2022
11:11 IST
5 Views
1 Like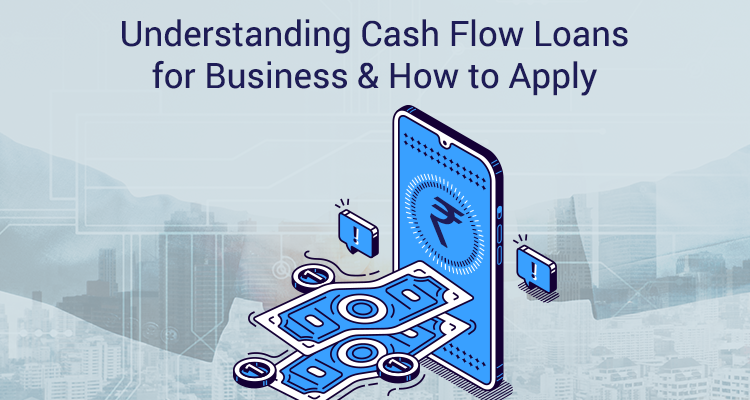 Fast access to working capital is crucial for businesses. Short-term cash flow loans can help a business get through any financial hardship. Here's how cash flow lending works and what lenders provide cash flow loans.
What Is A Business Cash Flow Loan?
With a small business cash flow finance, you can borrow money based on the revenue you anticipate generating in the future. Quick to fund, this type of financing fills small business cash flow gaps quickly.
How Does A Cash Flow Loan Work?
Unlike asset-based loans, cash flow for business does not require collateral. The expected revenue of the company instead secures the funds. An owner's and any partners guarantee is generally required. Thus, if your business cannot repay the loan balance, you can use the business or your assets to cover the unpaid balance.
Cash flow management loans are designed to be refinanced or repaid quickly.
There are various funding program categories under commercial cash flow lending, so the lender requirements to qualify for funding vary. A cash flow loan, however, is likely to be approved for businesses that generate strong sales, regardless of their credit score.
When To Use A Cash Flow Loan?
You can meet various short-term business needs with a cash-flow loan, such as–
• Inventory Purchases:
Cash-flow loans help assess Inventory needs. If you need to replenish seasonal supplies, purchase bulk to get a discount or fill product gaps, you can do so with a
cash flow loan
. Cash flow loans can also help businesses fulfill large, unexpected orders by securing enough products.
• Replacing or Fixing Equipment:
Equipment failures are often unexpected. Getting a cash flow loan can help you cover quick repairs or replacements.
• Weathering Seasonal Downturns:
Bills and other expenses don't stop just because your retail business isn't busy. A cash flow loan can be valuable if you need to sustain your business during a slow season.
• Hiring Additional Employees:
The size of your workforce increases as your business grows. Hiring new employees can be made easier with a cash flow loan.
5 Cash Flow Financing Options
Several business financing options fall under the term "cash flow loan." These include–
1. Business Line of Credit
This type of loan is perfect for small businesses with dynamic funding needs. Whenever you need money, you can withdraw it while paying interest only on the amounts borrowed.
A revolving credit line works like a credit card, with money replenished with each repayment. It is possible to secure lines of credit with collateral or to keep them unsecured.
2. Unsecured Business Term Loan
A
business term loan
is an unsecured infusion of capital repaid over a designated period. There is no collateral requirement for these loans. A term loan is typically utilised for larger investments, including debt restructuring and equipment purchases. Interest rates on term loans are usually lower than those on other types of cash-flow financing.
3. Merchant Cash Advance
MCA isn't technically a loan, but it can improve the cash flow of a business short-term.
You receive an upfront payment based on your future earnings from an MCA lender. Your sales can help repay the advance, along with any funding fees, often daily. You are charged a factor rate instead of an interest rate.
What's the best feature of an MCA? It usually takes only 24 hours to get approved and funded.
4. Short-Term Loans
Like long-term loans, short-term loans provide a one-time loan sum but with smaller amounts and shorter repayment terms. Daily or weekly payments with these programs are usually within 18 months or less.
5. Invoice Financing
A business-to-business company that needs fast cash can leverage unpaid invoices to get this loan. Invoice financing companies typically advance 70%-90% of eligible receivables.
Cash Flow Lending Sources
Alternative and conventional lenders are the two main lender options for short-term cash flow loans.
• Conventional Lenders
Credit unions and banks are good sources of term loans and business lines of credit. A conventional lender offers greater funding, lower interest rate, and a longer repayment term. There are, however, stricter requirements associated with these favourable lending conditions.
A bank generally prefers applicants with high incomes, good to excellent credit scores (670 or higher) and long credit histories. Borrowers who are past or current customers are also preferred. Unless a small business generates high revenues or has been in business for a long time, it can be difficult to meet these standards.
• Alternative Lenders
More business owners with poor credit can get working capital from alternative online lenders that are less risk-averse than conventional funders. A company's financial health is evaluated in addition to its credit score.
These lenders usually require you to provide the following information in addition to reviewing your current cash flow:
◦ Your business details
◦ An overview of the principal business owner(s)
◦ If applicable, your doing-business-as (DBA) name
◦ A few of the most recent bank statements
A lender's website will allow you to submit your application in a few minutes once you've collected the required information. Funds can be deposited into your bank account the day you are approved, depending on the lender and type of cash flow loan you apply for.
Due to the short turnaround time and ease of access to funding, the lender is taking on more risk. Consequently, some cash flow financing requires more frequent installment payments and shorter repayment terms than conventional cash flow loans.
Apply For A Business Loan With IIFL Finance
We offer easy-to-meet business loan products. Obtaining a loan is a simple process requiring little documentation. Entrepreneurs seeking to manage and grow their businesses can choose from
flexible repayment options
with competitive interest rates. Apply now!
FAQs
Q1. How does cash flow lending work?
Ans. A cash-flow lender uses practice income alone as collateral rather than your business or personal property.
Q2. What is the difference between cash flow lending and asset lending?
Ans. A cash-flow loan is a way to borrow money based on projected cash flow in the future. An asset-based loan allows you to borrow against the liquidation value of your assets.