Top 5 Trading Business Ideas
A trading business is ideal for entrepreneurs who want to earn good profits. Here are the top 5 trading business ideas in India to help you gain profits!
6 Sep,2022
12:49 IST
12 views
23 Likes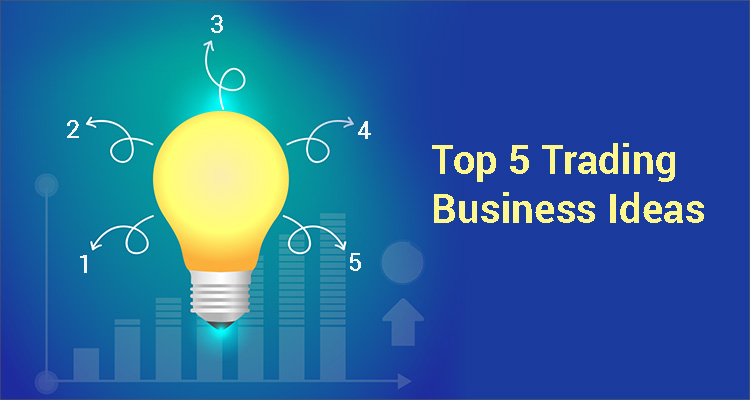 A Trading Business has become an ideal avenue for entrepreneurs who want to earn good profits through a well-planned system. However, trading business ideas are futile if a comprehensive business plan does not back them. Following the below-given steps to ensure you understand what a trading business is and how to start a trading business.
Here are some practices to follow to create a comprehensive business plan:
1. Research the market and the existing trading companies.
2. Select a target market - local, domestic or international.
3. Choose a business model - offline, online or a mix of both.
4. Develop a quality product by finding the proper suppliers for raw materials.
5. Create a financial model to work out capital requirement needs.
6. Apply for business loans and other regulatory certificates and licenses.
Top Five Trading Business Ideas
There are numerous trading business ideas that you can look into to create a profitable business. They are:
1. Stock Market Trading
The Indian stock market is witnessing record investors willing to invest capital. You can join the partner program of an experienced stockbroker to start a sub-broking franchise which does not need a high capital investment or a storage space. If you have a vast knowledge of the capital markets, you can start such a business with unlimited income potential and flexible working hours.
2. Jewellery Trading
The jewellery market in India remains relevant irrespective of the current domestic prices of commodities such as gold and silver. A good idea for a business for trading is to start a jewellery trading firm which sources raw metals to make the latest and quality gold and silver pieces of jewellery. You can create such a business from your home and sell pieces of jewellery online.
3. FMCG Trading
FMCG trading is a lucrative business idea that sees constant demand. You can start an FMCG trading firm by licensing the business as a stockist, distributor or wholesaler. You can rent a small space as a godown and employ a handful of workers to ensure a profitable business.
4. Selling Clothes
Clothes such as in-trend T-shirts and Jeans have become widely popular because of online selling. You can start such a business from your home or rent a small space to source clothes from a small supplier and sell them at a higher price through online apps, websites or social media platforms.
5. Commodity Trading
Commodity Trading includes trading in commodities such as wheat, pulses, spices etc., as a distributor or wholesaler. You can source these commodities directly from the farmers and sell them to FMCG companies or other small retailers. However, you would need a storage space to store the items.
Avail Of A Business Loan With IIFL Finance
The above business ideas require capital for execution which you can fulfill through an ideal business loan. IIFL Finance business loan can help meet all of your business needs. The
business loan interest rate
is attractive and affordable to ensure you do not have to cut down on essential expenses of your business. The business loan offers instant funds up to Rs 30 lakh with a quick disbursal process.
FAQs:
Q.1: What is the interest rate on IIFL Finance Business Loans?
Ans: IIFL Finance business loans come with an attractive interest rate of 11.25%*, depending on the eligibility and loan amount.
Q.2: How long does it take for the IIFL Finance loan approval?
Ans: A business loan from IIFL Finance takes less than five minutes for approval.
Q.3: How long does it take for the IIFL Finance loan disbursal?
Ans: IIFL Finance business loan is disbursed within 48 hours of loan approval.