Top 5 Challenges For MSME Business Loans
Despite new policies and programs, accessing MSME loans remains challenging for many. Get to know the top 5 challenges here!
16 Sep,2022
07:41 IST
8 views
33 Likes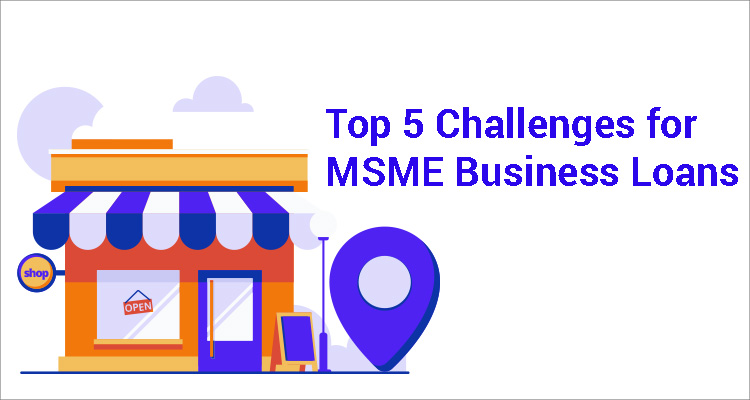 The MSME sector is one of India's primary growth drivers, contributing significantly to the GDP and providing employment to millions of Indians. However, financing is a significant concern for many businesses, preventing them from reaching their full potential. A small business requires monetary funds to run effectively, from investing capital to meeting operational expenses.
Despite new policies and programs designed to fund MSME owners' business requirements, accessing loans remains challenging for many. MSMEs face the following challenges while obtaining MSME business loans.
Challenges MSMEs Face In Accessing Business Loans
1. Lenders Lack Trust In Granting MSME Loans
Banks are reluctant to provide loans to MSME businesses due to their small capital requirements and suspicions about their ability to repay them. As a result, banks impose stricter criteria on start-ups seeking MSME loans.
A further reason MSME loans are considered high-risk is that they may not have a credit history. Therefore, financial institutions must continuously monitor and engage with MSMEs throughout repayment. For their business, it represents a high cost.
Small businesses are also generally unreliable in maintaining their credit ratings, which prevents them from obtaining MSME loans. The lengthy process for approving MSME loans further exacerbates business owners' dissatisfaction.
2. MSMEs Lack Collateral To Secure Their Loans
The strict collateral requirements of lenders often prevent MSMEs from receiving loans. A small business does not usually possess sufficient collateral to satisfy a bank's protocol because it lacks its property. They get stuck with the verification process, which makes it harder for them to get a loan.
To avoid worrying about providing collateral and navigating complex loan approval processes, such business owners often opt for unsecured loans.
3. Business Owners Have Inadequate Financial Education
The right financial strategy is crucial to preventing business expansion from collapsing. Entrepreneurs, however, often lack financial expertise. Having insufficient information makes it impossible for them to direct their business appropriately.
Business owners, especially start-ups, need a deep understanding of the financial markets. Without proper planning, businesses may make the wrong decisions and incur unnecessary costs.
Often, this leads to higher operating costs and poorer debt scores. Furthermore, choosing a bad lender increases SMEs' interest rates for small business loans.
4. Lack Of Modern Financial Solutions
Another factor contributing to the disadvantages of MSMEs is longstanding regulatory practices. Small businesses have trouble obtaining licensing, insurance, certifications, and tax assessments.
Yet, most of these regulations persist while obtaining an MSME loan, especially in rural areas—even with government schemes and the growth of FinTech. It is difficult for MSMEs to get financing on time because of such regulations.
5. MSMEs Have Outdated Technologies
The technology and legal developments of the FinTech industry have not yet reached most MSME businesses, particularly in rural areas, despite government initiatives and the emergence of the FinTech industry.
When presenting compelling reasons for funding and obtaining MSME loans, MSMEs are restricted by obsolete technology and a lack of skill. Without adequate capital, most firms have difficulty producing, purchasing raw materials on time, and learning new skills.
Moreover, a lack of trust in technology and an unfamiliarity with online business transactions prevents many small businesses from obtaining MSME loans online.
As a result, startups should keep track of favourable technologies from the beginning. Currently, the government is focusing on providing technology solutions to small and medium-sized businesses.
Apply For A Business Loan With IIFL Finance
Investing in vital infrastructure, machinery, plants, operations, advertising, marketing, or other necessities to grow your small business is far easier with the MSME business loan. IIFL Finance offers a quick business loan to businesses with small financial requirements. A convenient repayment term, low EMIs, and competitive interest rates make IIFL Finance an excellent partner for business growth.
Disbursement and application processes are 100% online. If you have any questions regarding loans, contact our support team.
Frequently Asked Questions
Q1. What are the eligibility criteria for MSME loans?
Ans. The eligibility criteria for MSME loans differ from lender to lender. But the standard requirements are:
• The applicant's age must be between 25 and 55
• Applicants must have been in business for at least three years
• The business should have filed tax returns for at least one year
• The applicant's credit score should be at least 750
• Neither the applicant nor the business must have a history of loan defaults
Q2. What are the different categories of MSMEs?
Ans. Accordant to the Micro, Small, and Medium Enterprise Development (MSMED) Act of 2006, MSMEs are divided into two categories:
1. Manufacturing enterprises – companies that manufacture or produce goods in any industry
2. Service enterprises – companies that provide or render services