Things To Consider When Comparing Business Loan Options
Comparing business loans can be daunting. Read on to know more about the things you should consider when comparing loans in detail!
22 Sep,2022
10:31 IST
19 Views
14 Likes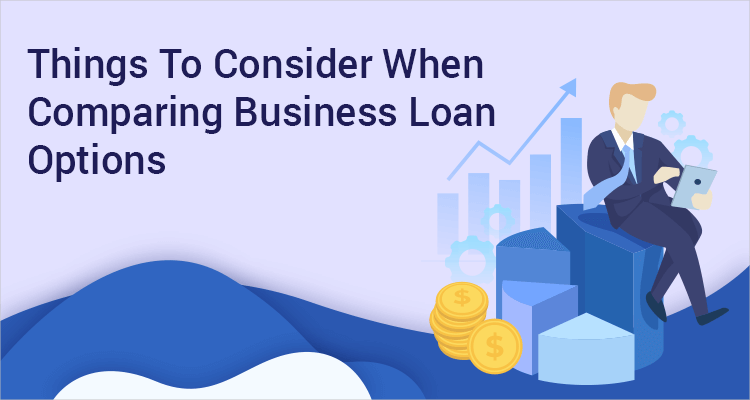 A business has diverse options to raise funds: Venture Capitalists, Angel investors, and Private markets, among others. However, business loans are the most common choice among small and conventional businesses.
This article elaborates on the things you should consider when you
compare small business loan
options.
1. The Lender's Reputation
With the rise of cyber crimes, you want to avoid being scammed. Make sure you do not get lured by too-good-to-be-true deals. You can check the lender's official website, physical address, and social media channels to review their trustworthiness. Just as a lender asks for your documents to verify your legitimacy, you should also conduct a thorough check on your preferred lender.
2. The Total Cost Of The Loan
To get the best business loan, you need to compare the fees and total costs of different lenders and choose the most affordable business loan. Processing fees, taxes, and interest rates make up the total cost of the loan. The cost should be
• Fair and reasonable
• Affordable for you
• Clearly stated in the contract
3. Loan Amount
You should opt for a lender who can provide you with the amount you need to run your business.
Comparing small business loans
given by different lenders at similar interest rates and terms is essential.
4. Interest Rates Offered
Interest rates play an important role in choosing a business loan. The EMI and other loan costs are calculated based on interest rates. Lower interest rates lower the overall cost of a business loan. The final interest rate will depend on several factors, including loan duration, loan principal and credit score.
Before applying for a business loan, compare the interest rates of various lenders and choose the one with the lowest interest rate. Don't forget to conduct a cost-benefit analysis.
5. Repayment Terms
Choosing a lender with flexible repayment options and a smoother process is certainly a no-brainer. Check all the repayment terms carefully, comparing them with other offers to make an informed decision.
Apply For Business Loans With IIFL Finance
IIFL Finance is a leading instant business loan provider that offers small businesses with financial requirements up to INR 30 lakh with minimal hassle for approval. You can check the business loan interest rate at your nearest IIFL Finance branch or online.
The entire process, from application to disbursement, is 100% online. Apply for an IIFL Finance business loan today!
Frequently Asked Questions
Q.1: What is a must-have for a borrower while availing of a loan?
Ans: One of the first things lenders check is the owner's ability to repay the loan. This is based on-
• Business income
• Cash flow
• Remaining debt
• Unused line of credit
• Amount personally invested by the business owner
Q2. What are the factors to consider when exploring business loan options?
Ans. The most influential factors include the lender's reputation, interest rate, loan amount, repayment terms, and fees/charges.