How To Arrest Losses In Time With A Business Loan?
What do you do when you're operating at a loss or in debt despite your best efforts? A business loan can help you here! Read this article to know more.
27 Jul,2022
07:55 IST
7 views
9 Likes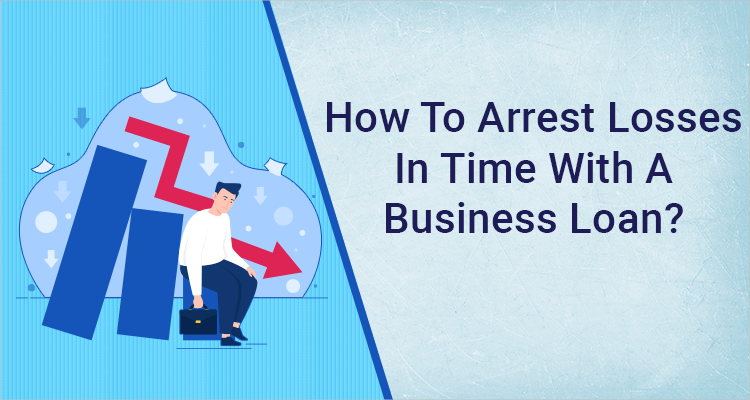 Every successful business invests heavily in extensive prior research and other internal business factors to ensure that the business operations are successful. However, missing even one element may result in business losses. When the cash flow is negative, the best thing you can do is take a business loan and use the amount to rectify your debts or losses.
Why Do You Need A Business Loan To Tackle Current Losses?
When starting a business, the primary focus is making the business successful. It should sell as many products or services as possible. Although high sales numbers are the business ultimate goal, reaching such a level includes numerous factors.
The business must invest in these facets to ensure success by increasing its sales, revenue, and profits. However, if your business is currently making losses, the best thing you can do is apply for a business loan and use the amount to invest in the facet you have missed.
A comprehensive loan for business can help you tackle current losses. Some ways to achieve the same include:
1. Company-Wide Analysis
The first step towards arresting losses in time is to perform a company-wide analysis to understand why your business is making losses. It can be a faulty internal policy, extra cash investment, or not investing in a vital business department. Such an analysis would need investment, and a business loan can provide the required capital.
2. Business Insights
You can apply for a business loan and use the amount to invest in business insights. For example, you can invest in Pareto analysis to identify your top customers and ensure you cater to their interests and demand. You may need to modify your products and services. Since they are the leading customers, your business revenue can increase by retaining them.
3. Boosting Cash Reserves
Although it may seem counterproductive to invest in a loss-making business, you can invest after researching to help the company become effective. You can use the loan amount to sell the current stock at a discount and offset any losses. This method can boost your cash reserves, which you can use to create a new business model and find new customers.
4. Advertising
Advertising is one of the most important factors in promoting the business and ensuring new and regular customers. You can take a business loan to raise adequate capital to create an advertising plan for your business. Advertising can be using various means such as TV ads, newspaper ads, or promoting the company on social media through paid promotions or online ads.
5. Marketing
A business without a marketing plan sees losses sooner or later. If your business is making losses, you must create or adjust your marketing plan according to the current market ecosystem. You can apply for a loan for business and use the money to develop a new website, invest in SEO content or use social media channels to find new customers.
6. Business Channels
A business may be making losses by not utilizing proper business channels. Today, making a business presence online has become equally essential as offline. Hence, you can use the business loan amount to list your business online, which can multiply your sales, revenue, and profits, as most customers today find shop online. With increased sales and revenue, you can counter your current business losses effectively.
Apply For A Business Loan With IIFL Finance
IIFL Finance is India's leading financial services company that provides comprehensive and customized business loans to fulfill your capital requirement. The business loan offers instant funds up to Rs 30 lakh with a quick disbursal process. You can apply for the loan online by verifying your KYC details or offline by visiting IIFL Finance nearest branch. The loan repayment structure is flexible to offer multiple repayment modes such as standing instructions, NEFT Mandate, ECS, Net-banking, UPI, etc.
FAQs
Q.1: Can I use a business loan to restrict business losses?
Ans: Yes, you can use a loan for business to invest in vital business factors to expand your business and tackle current losses.
Q.2: How much time does it take for the IIFL Finance business loan to disburse?
Ans: IIFL Finance business loan follows a quick disbursal process where the loan amount is credited directly into the bank account in less than 48 hours.
Q.3: What are the Documents Required to Apply for Business Loan?
Ans:
• Previous 6-12 months bank statements
• Proof of business registration
• PAN Card and Aadhar Card copy of the Proprietor(s).
• Deed copy and company PAN Card copy in the case of partnerships