Secured Loans vs Unsecured Loans: Which One Should You Choose?
There are pros & cons to both secured & unsecured loans. So, before you decide anything, it's best to understand the difference between the two. Read to know!
23 Jul,2022
11:40 IST
43 Views
104 Likes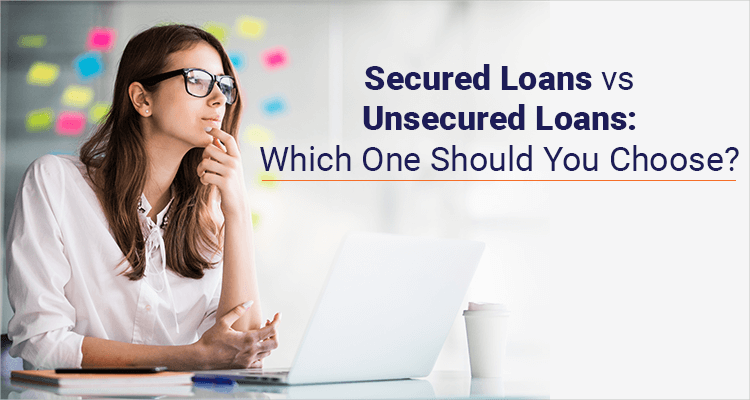 One of the many decisions when getting a business loan is which type of business loan to obtain–a secured or an unsecured one. A secured business loan requires you to provide collateral. An unsecured loan allows you to borrow the money outright (after the lender considers your financial stature).
Both types of loans have pros and cons, so it's important to understand the stipulations before deciding. This article explains when to choose an unsecured vs secured loan.
What Are Secured Loans?
A secured loan is one in which the borrower submits collateral to secure the loan. Loan collateral can include any asset a borrower owns, such as a car, a house, jewellery, or land—based on the type of loan. The lender keeps this collateral throughout the repayment period.
Lenders use collateral to recover loan amounts if borrowers do not repay the loan amount plus interest on time. Secured loans have lower interest rates and processing fees.
What Are Unsecured Loans?
An unsecured loan requires no collateral or security from the borrower. A borrower's ability to repay these loans is considered when issuing these loans. Usually, the borrower's current earnings, credit history, and tax returns determine their creditworthiness. It is common for unsecured loans to have higher interest rates and processing fees, since the lender takes on more risk in such cases.
Choosing Between Secured And Unsecured Loans
When choosing between secured and unsecured loans, you should consider the following factors.
1. Your Ability To Provide Collateral/Guarantee
To apply for a secured loan, you must provide collateral. Therefore, if you want a bigger loan amount and have assets such as land, houses, or whatever else you can pledge as collateral, a secured loan is the best choice. This will also enable you to borrow a larger amount at a lower interest rate.
Contrarily, if you do not have collateral or securities, you can apply for an unsecured or an instant loan to get funding immediately.
2. The Loan Amount That You Need
When you need a small loan amount, you can approach online lenders at any time and apply for an online or instant loan. It offers no restrictions on how you use the money and obtain the funds from the comfort of your home.
However, if you need a bigger loan amount or are not eligible for an instant loan, then you can apply for a secured business loan.
3. The Processing Time
With an unsecured loan, you do not need to provide any collateral, and the loan is processed quickly, often within hours. Unsecured personal loans are the best option in an emergency or quick funding situation.
Secured loans require more documentation and a longer approval and processing time. So, if you need funding for a planned expense, you can apply for a secured loan.
4. The Interest Rates
Because secured loans carry fewer risks for the lender, their interest rates are usually lower. Unsecured loans may have higher interest rates since there is no collateral involved. Choose the type of loan based on your ability to accommodate the interest amount.
5. Your Credit Score
Your credit score is the primary way a lender evaluates your creditworthiness when you borrow a collateral-free loan. You will get a better interest rate or a higher loan sanction if your credit score is above 750.
If you borrow a secured loan, your assets and credit history will determine the eligible loan amount. You can consider a secured loan if your credit score is below par. Additionally, you can improve your credit score before taking out an unsecured loan if you don't need the money urgently.
Take Advantage Of IIFL Finance Loan Services
IIFL Finance caters to all types of business loan products, whether you're looking for an unsecured or secured business loan. Apply for a loan today and ensure consistent business growth. All loans are available at attractive rates and with reasonable charges.
Frequently Asked Questions
Q1. What is the difference between a secured loan and an unsecured loan?
Ans. Unsecured debt lacks collateral as opposed to secured debt, which uses an asset as collateral. The interest rates on secured debt are typically lower, the loan limits are higher, and the repayment terms are longer because of the collateral.
Q2. What are the disadvantages of secured loans?
Ans. There are several benefits to secured loans over unsecured loans, including easier eligibility criteria, lower interest rates, and the ability to borrow a larger amount. The only disadvantage of secured loans is that if you default on your loan, you may lose your asset.