Running A Successful Supermarket With A Business Loan
Do you plan to start a supermarket or grocery store business in India? Then read to know how business loans can help you run a successful supermarket easily!
28 Jul,2022
08:21 IST
52 views
33 Likes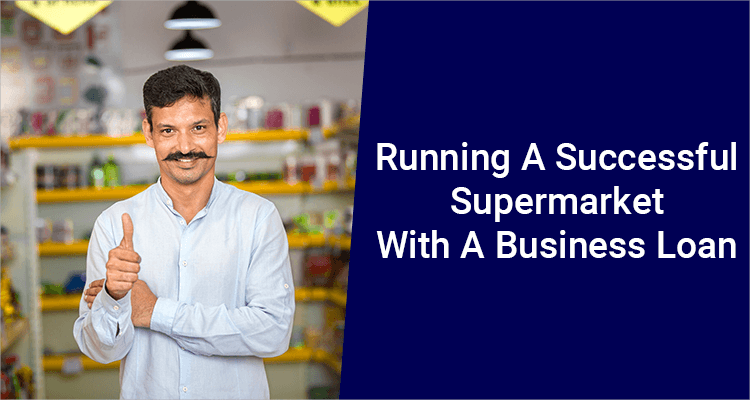 Supermarkets often offer better discounts and an ideal shopping experience, making them a preferred choice for customers. You can visit the store anytime and buy all the products you need under one roof.
However, starting and running a supermarket is tricky as it requires a significant investment. The amount can be high and out of the reach of the potential supermarket owner. In such a case, a business loan can effectively raise the required capital to run a successful supermarket.
How Can A Business Loan Help In Running A Successful Supermarket?
Supermarkets need a high level of planning and investment to ensure success. People visiting a supermarket expect it to have all types of products ranging from household to commercial. Fulfilling these demands requires investing in numerous factors such as market research, infrastructure, after-sales activities, etc.
Since the supermarket business may require huge capital, a business loan can ensure the business smooth run. Here is how a loan for a business can help a supermarket owner ensure its success:
1. Location
The location of the supermarket is one of the most influential factors in the success of the business. The supermarket must be located in an area that is easily accessible to a majority of its target audience. Since supermarket real estate is expensive in accessible or prime areas, a business loan can help contribute toward the capital needed to set up the supermarket in your dream location.
2. Registration And Licenses
Every business in India requires mandatory and proper registration before it can be functional. You also need to apply for various licenses with the respective authorities after registering the business. The registration process and related licenses may include a fee that you can cover by the loan amount raised from taking a loan for business.
3. Inventory
Inventory requires buying all the products you will list in the supermarket for the customers and the furniture needed to showcase the products. However, as inventory purchase needs an immense amount of money, you can fulfill the capital requirement by attaining the ideal business loan.
4. Hardware And Software
Running a supermarket requires buying related hardware such as electronic items, computers, billing machines and the included software to manage the transactions and inventory. A loan for a business can assist in paying for the hardware and software expenses needed for successfully running the supermarket and providing a good customer experience.
5. Promotion And Marketing
If you are a supermarket owner, promoting your supermarket store is vital. A robust promotion and marketing strategy can distinguish your supermarket from other stores and create a recurring customer base, resulting in high sales and revenue. You can take a business loan to pay for market research and create a robust marketing and promotion plan for the supermarket.
Avail A Business Loan For Your Supermarket With IIFL Finance
IIFL Finance is a leading financial services provider in India with experience of more than 25 years in furnishing a host of financial products. Along with numerous other types of loans, IIFL Finance offers comprehensive and customized business loans to fulfil your capital requirement. The business loan offers instant funds up to Rs 30 lakh with a quick disbursal process.
You can apply for the loan online or offline by visiting IIFL Finance nearest branch. The loan repayment structure is flexible and offers multiple repayment modes, including standing instructions, NEFT Mandate, ECS, Net-banking, UPI, etc.
Frequently Asked Questions
Q.1: Can I apply for a business loan with IIFL Finance for a supermarket business?
Ans: Yes, you can use the money raised from IIFL Finance loan for business to invest in various factors of your supermarket business.
Q.2: What are the Documents Required to Apply for a Business Loan?
Ans:
• Previous 12 months bank statements
• Proof of business registration
• PAN Card and Aadhar Card copy of the Proprietor(s).
• Deed copy and company PAN Card copy in the case of partnerships
Q.3: What are the eligibility criteria for availing of a business loan?
Ans: The criteria include:
• You have an established business operating for more than six months at the time of application.
• The business has a minimum turnover of Rs 90,000 in the last three months from the time of application.
• The business does not fall under any category or list of blacklisted/excluded businesses.
• The office/business location is not on the negative location list.
• Charitable organizations, NGOs, and trusts are not eligible for a business loan.