How Refinancing Your MSME Loan Can Reduce Your Costs
Refinancing your MSME loan is a great relief in case paying your lender is becoming a struggle. Know with IIFL Finance what is refinancing & why it is important!
4 Jun,2022
07:27 IST
49 views
30 Likes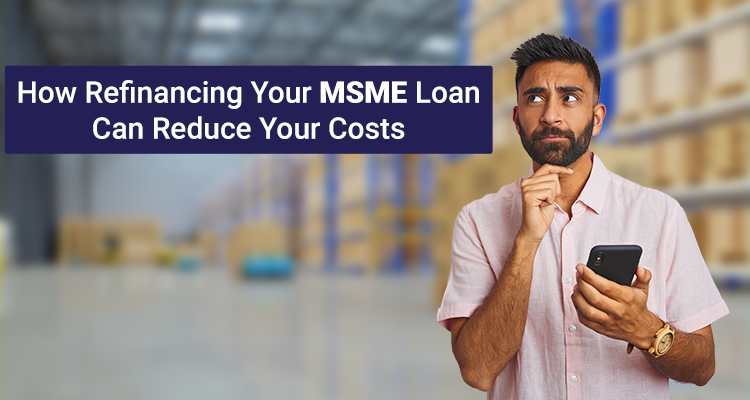 How Refinancing Your MSME Loan Can Reduce Your Costs

Managing a small and medium-sized business can be strenuous, no matter how easy it sounds to run a venture. In fact, a significant percentage of small and medium-sized business owners in India struggle to manage their expenses.
Operating a business requires dealing with a host of problems, with financial instability being the major stumbling block. Micro, small and medium-sized enterprises (MSMEs) often have to depend on loans from banks and non-banking finance companies for a variety of purposes that range from expanding their business to managing inventory, arranging short-term working capital or even running day-to-day operations.
However, repaying a debt in itself could be a major problem for some MSMEs, especially if the loan repayment terms were stringent. In such a scenario, MSMEs can opt for refinancing their existing loan for better terms.
What Is Refinancing?

Refinancing is replacing one loan with another. Through refinancing, MSMEs can replace an existing loan that may have onerous terms, such as a higher interest rate, with a new loan on fresh terms.
In refinancing, the interest rates, payment schedules and other terms of an existing loan are completely revised.
To be sure, refinancing a loan comes with a cost. Lenders often impose administration fees, processing charges and foreclosure charges at the time of refinancing a loan. So, business owners must weigh the pros and cons of refinancing.
Why Is Refinancing Important?

There are multiple reasons why small and medium business owners might want to refinance a business loan. Mostly, MSMEs refinance their debts to lower the interest rate or to shorten the loan tenure.
Here are a few reasons why MSMEs should consider to refinance their business loan.
To Lower The Interest Rate:

Lower interest means more savings and more money in hand. For loans taken in a rising interest-rate environment or from a bank at a higher rate of interest, refinancing is the best alternative.
To Lower The EMI:

EMIs are a burden for many MSMEs. Defaulting on EMI means penalty, low credit score and many more undesirable consequences. A refinanced loan can help borrowers with a lower EMI.
To Lower The Tenure:

Change in income and economic conditions sometimes stimulate small and medium business owners to adjust the tenure of the loan. Replacing an existing loan with a new one for a comparatively long loan tenure keeps the EMI amount reasonable. On the contrary, a cash surplus due to factors like seasonal demand in business can be an impetus for business owners to pre-pay the loan and clear all debts.
To Change The Type Of Loan:

There are different categories of MSME loans that help enterprises to fund their expenses. For instance, a short-term working capital loan and a longer-term business expansion loan may carry different interest rates and other terms. MSMEs should refinance their loans if the original loan wasn't the most suitable for their requirements.
To Acquire More Cash:

Be it for expansion or for business loan consolidation, need for extra funds may crop up at any point. If that is the case, refinancing is a wise decision.
Better Customer Service:

Borrowers looking for better customer services like proximity to the branch, digitised services, or a well-informed and helpful bank executive can also think of refinancing their loans.
Conclusion

Small and medium-sized businesses should explore refinancing their loans if they are facing difficult to repay their debts or if they want better repayment terms, including longer tenure and lower interest rates.
In most cases, refinancing is a good option to ease the loan repayment burden on MSMEs. There are multiple banks and non-banking financial companies like IIFL Finance that offer business loans for MSMEs. IIFL Finance, for instance, provides small business loans of up to Rs 30 lakh without any collateral and sanctions such loans within minutes. It also offers larger loans of up to Rs 10 crore if the MSME has any piece of land or property to mortgage.