Why Business Loans Are A Must For Hotels And Resorts Post Pandemic
The COVID-19 pandemic has affected a lot of resorts & hotel owners. Those operating a hotel or a restaurant can avail business loans to bounce back from the pandemic.
7 Jul,2022
11:18 IST
137 views
37 Likes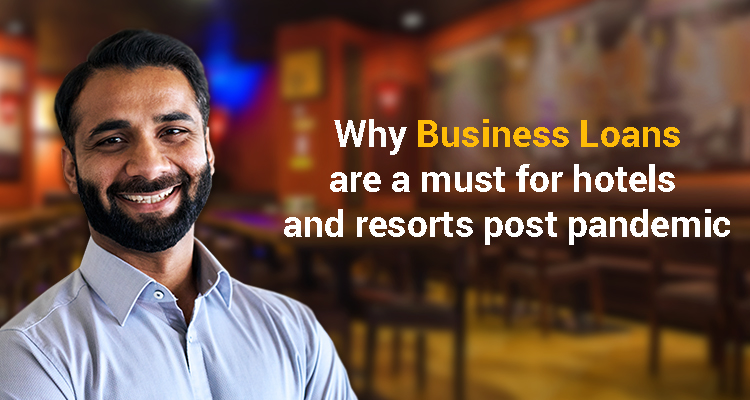 The temporary suspension of domestic and international travel and containment actions due to the Covid-19 pandemic wreaked havoc on the hospitality industry. Due to lack of business, hotels and resort owners not only lost revenues but also plunged into losses. Many establishments may even have shut down due to a shortage of funds.
With Covid-19 coming mostly under control and the world economy fighting hard to revitalize itself, tourism is flourishing everywhere. This is helping revive businesses engaged in this sector, such as airlines, hotels and restaurants.
Those operating a hotel or a restaurant can avail business loans to bounce back from the pandemic and take their businesses to the next level. Here are a few reasons why hotels and restaurants should take on a business loan:
Maintenance And Renovation:
Among the foremost things that most travellers look forward to are clean and comfortable rooms, good food and recreational facilities such as a swimming pool, gym or spa. Any hotel or resort that provides these facilities will have an advantage over its competitors.
However, many hotels and resorts were closed or operated at reduced capacities for several months. Reopening may now require maintenance or renovation or repairing some malfunctioning equipment. In such cases, a business loan can come in handy.
Expansion:
If hotel and resort owners already have an existing property, they can still consider expanding into a different city or town. Having a presence in multiple cities or towns draw more crowds. For this, a commercial loan can be a good source for an influx of capital.
Marketing:
Setting up a hotel isn't the end. A dynamic marketing strategy to endorse the hotel's name and maximize its presence through websites and other channels of advertising is key to survival. It can be done by hiring a dedicated team and even by outsourcing.
Hotel marketing helps to generate revenue as it helps to highlight the unique features of the property and also focuses on how it is better than its rivals.
The next step is listing the hotel on popular websites like Agoda, MakeMyTrip, Booking.com, etc. It helps customers to book hotel rooms directly and avoid the interference of non-direct channels.
Licenses And Regulations:
The hotel business requires a number of licenses and registration. Non-compliance to statutory norms can result in legal complications, penalties, and even permanent closures of business. Licensing may require the hotels to upgrade their equipment or rooms or make other expenditures. A business loan can cover such expenses.
Recruitment:
Another important factor which cannot be ignored is hiring talented resources for the front desk, management and all back-end activities. This is all the more important because many hotels would have let go a large number of their employees at the peak of the pandemic and would now require staff to reopen.
Business Loans From Banks And NBFCs
Government policy intervention and tax incentives are critical to rekindle the spirit of the hospitality industry. But the road to recovery aided by government measures alone may take time. In such a scenario, a business loan may prove useful.
Borrowers who are planning to set up a hotel and resort for the first time can start afresh with a commercial loan from a financial institution. Also, borrowers with an existing hotel debt can negotiate with their banks for modified loan terms.
A business loan from banks or non-banking finance companies can be used by borrowers to remodel, purchase new equipment, hire staff, and also, to consolidate existing debts. But before applying for a loan, borrowers must have a clear goal in mind. Other than lending money, many banks and NBFCs provide financial assistance of varied types to business owners.
Lenders consider a lot of factors like years of operation, cash flow and the purpose of loans while approving the loan amount. They offer commercial loans at attractive interest rates and flexible repayment options for starting and operating hotels and resorts.
Conclusion
Covid-19 severely affected operations of the hospitality industry. But with the relaxation of travel restrictions, hospitality firms are trying to revive their business.
Whether a hotel or resort targets individual tourists, families and groups, or hosts corporate events, proper accommodation and good facilities are essential to make the stay memorable. Post-Covid, one of the emerging trends in hotel marketing and guest communications is linked with safety measures and hygiene. Additionally, most companies are undergoing digital transformation to minimize human interaction.
All this costs extra, and a business loan from a bank or a reputed NBFC such as IIFL Finance can help the hotel or resort owner cover these costs.
With an extensive network of branches across the country, IIFL Finance aims to provide affordable commercial loans to different business establishments. It offers different types of business loan such as Insta loan, Fast Track Loan, Secured SME Loan, Digital Finance and Samasta Microfinance to suit the need of every borrower.