Top Pros And Cons Of Startup Business Loans
Startup business loans are targeted toward startups to meet their capital requirements. Here are the top pros & cons of getting a startup business loans!
23 Sep,2022
11:37 IST
137 Views
33 Likes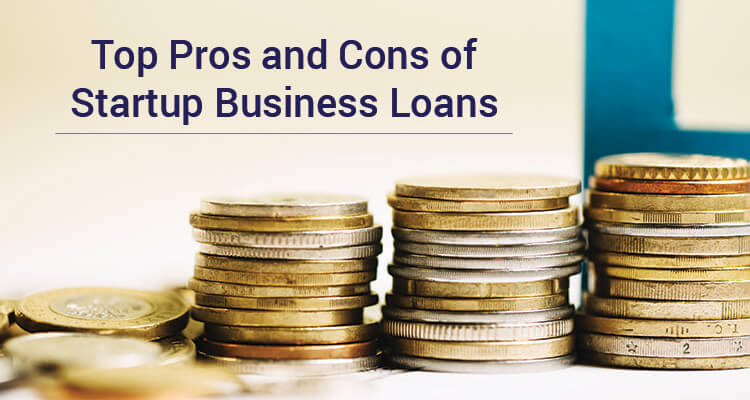 After the US and China, India is the third largest startup ecosystem worldwide, with over 72,000 registered startups. In the current Indian market, startups are registered daily, from which numerous may become unicorns. However, like other types of businesses, startups need constant funds to hassle-free run business operations. To ensure they can fund their business adequately, startup owners look for business loans designed for startups.
What Are Startup Business Loans?
Startup business loans
are targeted toward startups to meet their capital requirements. They allow current startup owners to raise immediate capital from lenders such as banks and NBFCs to invest in various aspects of the startup. These factors include covering working capital requirements, buying equipment, marketing, or expanding the business by launching a new product or service or acquiring a company.
These types of loans are similar to other traditional business loans where the lender analyses the creditworthiness of the business owner and the business based on the financials of the personal financial history of the owner and the financials of the company.
Once taken, the business owner is liable to repay the loan to the lender within the loan tenure of the business loan. The repayment includes the principal and the interest amount charged by the lender. Such loans are unsecured and do not require the business owner to attach a valuable asset.
Top Pros And Cons Of Startup Business Loans
Entrepreneurs avail of a startup loan when they need to raise immediate capital for their business, as it includes numerous benefits over other credit instruments. However, as with almost every credit product, a loan for a startup in India has advantages and disadvantages.
Here are the top pros and cons of a loan taken for a startup:
Pros:
1. Immediate Capital
Startup owners need constant funds to scale the business and ensure sustainability against numerous competitors. Loans taken for a startup allow such entrepreneurs to raise adequate capital through a quick and hassle-free process. Once approved, the loan amount is credited within 48 hours into the bank account.
2. Better Control
Startups have two options to raise funds; VC funding or business loans. In the case of VC funding, the startup owners have to sell their company's stake, which forces them to have lower control. On the other hand, small business loans do not require selling a company stake but only the repayment of the loan amount over time, thereby giving better control over the business.
3. Nominal Interest Rates
Business loans targeted toward startups have attractive and affordable interest rates without unnecessary or hidden costs. The nominal interest rates on such business loans ensure that startup owners can pay the amount without creating a future financial burden. Furthermore, borrowers can repay the loan using flexible repayment options.
4. Personal Wealth Protection
One of the most beneficial features of business loans for startups is their capability to protect the personal wealth of the startup owner. Through a
startup loan
, business owners do not have to use their wealth to invest in the business, which may prove risky in the case of startups. Hence, such loans can allow startup owners to scale their businesses without taking on the high risk of investing personal wealth.
Cons:
1. Eligibility Criteria
Similar to other types of loans, a business loan taken for a startup includes fulfilling the set eligibility criteria. It may comprise minimum business turnover,
credit score
, the business existence, nature of business activities, etc. Startup owners often find it challenging to qualify for such loans as they find the eligibility criteria extensive.
2. Cash Flow Restrictions
Loans taken for startups require the business owner to repay the principal amount with interest through monthly EMIs. If the loan taken is short-term or has a high EMI amount, it can create a financial burden on the business to cover the monthly EMI liability towards the lender. In such a case, the startup may experience cash flow restrictions.
3. Personal Guarantee
Although a loan for a startup in India requires no collateral, some lenders can still ask for a personal guarantee from the startup owners in case the business goes bankrupt or defaults on the interest payments. In such a case, the financial institution may ask you to clear all the outstanding loan amounts from your wealth, leading to huge losses.
4. Burning Cash
It is common for startups to burn the cash they get through offering discounts or freebies to attract customers. However, if stretched to the loan amount, it can create an immense financial burden on the startup by negatively affecting the cash flow and, ultimately, sustainability.
Avail Of An Ideal Business Loan For Startups From IIFL Finance.
IIFL Finance is India's leading financial services company that provides comprehensive and customised
business loans in India
with both short-term and long-term tenure to fulfill your capital requirement. IIFL Finance business loan offers instant funds up to Rs 30 lakh with a quick disbursal process. Fulfill all your business requirements and apply for an IIFL business loan today!
FAQ:
Q.1: What are the documents required for securing a loan from IIFL Finance?
Ans: The list of documents include
• Previous 12 months' bank statements
• Proof of business registration
• PAN Card and Aadhar Card copy of the Proprietor(s).
• Deed copy and company PAN Card copy in the case of partnerships
Q.2: What are the benefits of IIFL finance startup loan?
Ans: The benefits are
• Instant loan amount up to Rs 30 lakh
• An easy and online application process
• Instant credit of loan amount to your bank account.
• Affordable EMI repayment options
Q.3: Can I buy startup equipment from IIFL Finance loan?
Ans: Yes, you can buy any startup equipment from the secured loan amount and repay the loan through flexible repayment options.