Myths About Business Loan
You may have certain misconceptions regarding business loans that aren't true. Read to know the 5 common myths about business loan!
25 Nov,2022
17:29 IST
39 Views
1 Like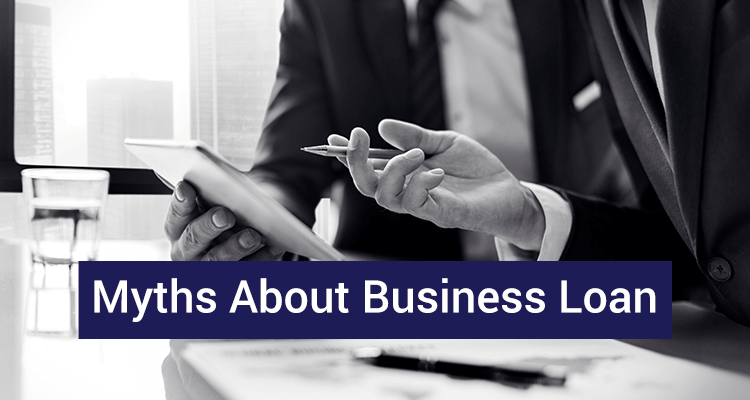 Every business owner, big or small, may sometimes need additional money for short- or long-term expenses that the enterprise's revenue or cash flows are unable to cover. In such cases, business owners can either put money out of their own pockets or look for external investors. A more common approach, however, is to take out a business loan.
A business loan is a form of credit that can help enterprises of all sizes and operating in any sector bridge the shortfall in short-term expenses, be those for paying wages, buying machinery, clearing utility bills or rent, and also for long-term expansion such as setting up a new factory or an office.
However, many business owners, particularly those running micro, small or medium-sized enterprises and those who have never taken a business loan, often have several doubts about business loans. Indeed, there are several common myths related to business loans, about their benefits, the process involved and other issues.
Here are some common myths about business loans and the reality that all business owners should know.
Myth 1: Only Banks Provide Business Loans
This is one of the biggest myths about business loans. And, of course, it is false. Many business owners, especially new ones, think that only banks offer business loans. However, there are dozens of non-banking finance companies (NBFCs) as well as new-age fintech startups that provide such credit. While banks, especially state-run banks, may offer the cheapest interest rates, NBFCs and other alternative lenders offer quicker approvals, better customer service, flexible repayment options and several other benefits.
Myth 2: Loan Approval Process Is Complex And Lengthy
While different lenders have different processes for approving a business loan, strong competition has led several lenders to simplify and quicken their processes. Gone are the days when lenders would take months to sanction a business loan. Now, a business loan application can be completed online within a few minutes. Lenders can verify the documents within hours, and then sanction and disburse the money into the borrower's bank account in only a couple of days. Here again, NBFCs are the quickest while some banks might take some additional time.
Myth 3: Businesses Need A Collateral To Get A Loan
This is again a very common myth, especially among small entrepreneurs, that lenders demand an asset to be pledged as collateral before approving a loan. This often deters smaller businesses from taking on a loan since they either don't have enough assets to pledge or don't want to pledge for fear of losing the assets.
In reality, most lenders provide business loans with and without collateral. Smaller-ticket unsecured business loans, say up to Rs 50 lakh or more in some cases, usually do not require any collateral. Many lenders also offer lines of credit, merchant cash advances and other credit products that are collateral-free.
Myth 4: A Business Loan Should Be The Last Option
Many people are averse to debt and think that only enterprises that are not doing well or those that are facing financial problems should take a loan. On the contrary, a
business loan
can help the enterprises do so much more, from upgrading technology and spend on marketing to expanding its operations and better compete with rivals.
Myth 5: Only Large Companies Get A Business Loan
The size of a business doesn't disallow it from seeking a business loan. Many banks and NBFCs actively lend to micro, small and medium enterprises (MSMEs). Many lenders even give out loans to businesses that are just getting off the ground and haven't even started generating revenue.
Moreover, even self-employed professionals can take business loans. Doctors, for instance, can take out a business loan to set up a clinic while chartered accountants can seek a loan to establish or growth their accounting practice.
The lender's main concern is not the size of the business, but its ability to repay. So, if the business is generating enough cash flow to make periodic debt repayments, it can easily get a business loan. Even if the business is currently not generating adequate cash flows, it can still get a loan if it manages to convince the lender that it will use the loan to implement a business expansion plan that will allow it to repay the debt.
Conclusion
Business loans can help enterprises of all sizes to meet a variety of expenditures. This could be to meet a short-term shortage of cash to pay vendors, suppliers and employees; to buy inventory or equipment or new technology; to set up an office, a warehouse or factory; or to spend on marketing and advertising to take on competition.
Almost all banks and NBFCs provide business loans, though their processes, approval times, interest rates and eligibility criteria may differ from one another. A business owner seeking a loan should compare a few lenders and look for the most appropriate type of loan before making a decision.
While some traditional banks may still be following older processes to scrutinize a loan application, NBFCs like IIFL Finance use new-age digital tools and technologies to approve and disburse loans quickly and easily. IIFL Finance provides both unsecured and secured business loans with competitive interest rates and customized repayment options through a fully online process that can be completed within minutes.