Mistakes To Avoid While Applying For A Business Loan
Don't make costly mistakes when applying for a business loan. Read to understand the requirements and process of applying for a business loan here!
17 Jan,2023
11:38 IST
1853 Views
759 Likes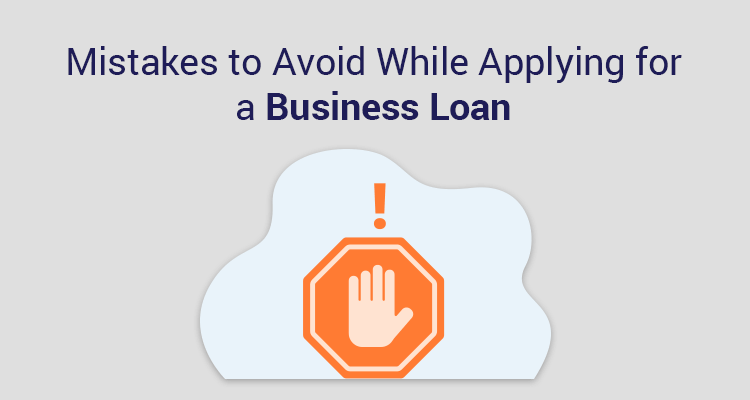 The basic objective of an entrepreneur is to not just start a business but also grow it over time. This requires capital and often it is much more than what is already available. Indeed, financial experts say even if one has access to a lot of equity one should also look at borrowing to partially finance the venture.
In the past, one had to go through the process of approaching a bank branch and applying for a loan via an onerous documentation process. But these days, someone looking at a business loan can apply online. For availing an MSME loan, a business owner can apply online without any collateral or security.
How To Apply For Business Loan
The process of availing a small business loan has become fairly simple and easy, but one needs to keep some points in mind when they apply for business loan.
One can fill the form for a loan application online or just give a missed call or ping on messaging app WhatsApp, a facility offered by some lenders, to get further instructions.
After filling in the details, one would need to provide soft copies of a few basic documents and then submit the application. If the amount is above a threshold, lenders may insist on registration under the Goods and Services Tax when one goes to apply for business loan.
Mistakes To Avoid
A collateral-free business loan is one of the most common forms of credit and there are hundreds, if not thousands, of lenders offering the product to entrepreneurs. But there are several common mistakes that entrepreneurs make when they apply for an MSME loan.
Here are a few points that need to be kept in mind to ensure the loan application is not rejected:
1. Business Plan:
Sometimes entrepreneurs overlook the need to impress the lender with a solid business plan. Lenders tend to make sure the borrower has a proper and fool proof business plan in mind to convince them that the money would enable the venture to flourish and easily repay the borrowed amount.
2. Do Not Over/Under-Borrow:
The amount of a business loan is an important factor to make a success of a project or expansion plan. At times, entrepreneurs end up miscalculating what they need and this could hamper the financial health by incurring addition interest expense or failing to achieve the desired results due to borrowing a lower amount. So, one has to make sure they have done their homework before they apply for business loan.
3. Credit Score:
An
unsecured business loan
or an MSME loan is linked to the credit score or history of the business owner. If a person has a low credit score, he or she should try and improve the score to get the approval or a go-ahead at the right terms.
4. Documentation and Disclosure:
There are some basic documents that are required when one goes to apply for a business loan. These documents need to be kept ready beforehand. Moreover, one shouldn't try and falsify any such documents as lenders would do their diligence and if caught they would outright reject the loan application.
5. Research:
Different lenders have different processes and loan terms including interest rates. Some may offer a business loan to a person with a low credit score and others might not. So, borrowers need to research such factors before actually applying as they may end up paying higher interest expenses or get their loan application rejected if they pick a wrong lender.
6. Do Not Signal Desperation:
Many entrepreneurs do not realise that when they shop around their actions are being recorded. While one needs to do proper research before zeroing in on a lender, one shouldn't apply to multiple lenders as it indicates that the person is desperate for a loan. Such actions are recorded as part of one's credit history and score, and affects the ability to borrow and at a low interest rate.
Conclusion
Entrepreneurs need to plan for growth and that requires capital. A business loan needs to be an essential part of the gameplan. While owners need to know when to apply for a business loan there are certain do's and don'ts of how to apply for a business loan. This needs to be followed religiously whether one is going through the process in a branch or has opted for a business loan via an online application. This revolves around carefully selecting the lender, picking the right loan amount, preparing with a clean credit history and more.
IIFL Finance offers small business loans without any collateral via two buckets of loan amount with one requiring minimal documentation for loans up to Rs 10 lakh and just one additional document for loans of up to Rs 30 lakh. IIFL Finance also provides secured business loans with a ticket size that can go up to Rs 10 crore and a tenure as high as 10 years.