Is A Promoter's Credit Score Important For A Business Loan?
Is a promoter's credit score important for a business loan? Learn about the factors that lenders consider when evaluating a business loan application. Read Now!
24 Jan,2023
11:53 IST
2076 Views
753 Likes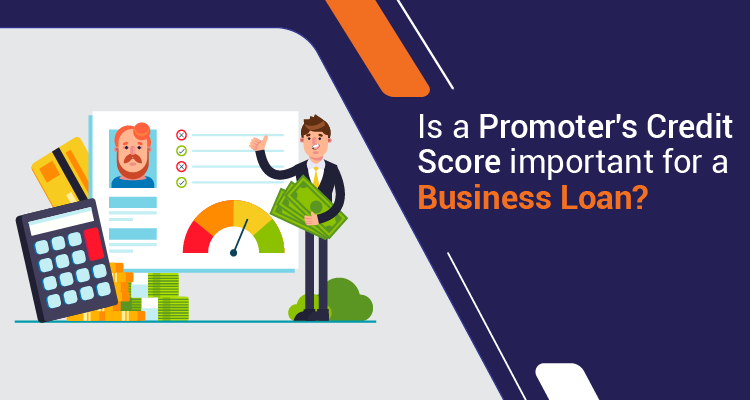 A business entity and its representatives are separate entities; your personal actions do not affect the operation of your company. Similarly, business credit scores differ from personal ones, especially by calculation methods.
Consequently, a common belief is that personal credit scores have no leverage on loans for business. However, in some cases, it is applicable.
Why Do You Need A Credit Score?
CIBIL and other credit bureaus calculate credit scores, which are three-digit numbers that indicate your financial stability and credibility. A credit score ranges from 300 to 900, with anything below 700 considered to be bad. Banks use it to determine whether to approve a loan or credit card application.
Bad credit scores indicate irregular repayment patterns and bad credit behaviours, which lead to the refusal of loans and credit. You can also get a low-interest rate if you have a good credit score, while a bad credit score can get you a loan with a high-interest rate.
Difference Between Personal and Business Credit Scores
An individual's personal credit score is an indication of his financial credibility. Credit bureaus consider various financial activities while calculating it, including repayments, payment of bills, and maintaining credit accounts.
A business credit score is the credit score of a business/company. Analysis companies consider many parameters when calculating the score, including the business' profitability, turnover, financial activities, and many other details that determine its credibility.
Types Of Businesses Where Personal Credit Score Can Affect A Business Loan
Sole Proprietorship:
They are most vulnerable to damage due to proprietors' low credit scores. Sole proprietorships are businesses owned by one person. The owner and business share the same credit score.
Partnership Firms:
Credit bureaus check all partners' scores in partnership firms. Lenders may offer a higher interest rate loan if things are not up to the mark following credit checks. The business may not be well-suited to afford expensive debts, negatively impacting its growth.
Private Limited Companies:
Credit checks are conducted on all company directors by banks. In the event that a loan applicant's credit score doesn't meet the lender's requirements, either the loan application will be rejected or the loan will come at a higher interest rate.
Apply For A Business Loan Online With IIFL Finance
Whether you are starting a new business or expanding an existing one, business loans are crucial. As a leading provider of financing, IIFL Finance continually innovates its loan products to meet the needs of businesses looking for money. With our business loans, you can quickly finance your essential plans, machinery, advertising, operations, infrastructure, and marketing needs. Apply for a
business loan online
with IIFL Finance today!
Frequently Asked Questions
Q1. How does a good credit score affect the approval of a business loan?
Ans. Good credit scores demonstrate that a business is trustworthy and reliable when repaying debts and other financial obligations. Credit scores are used by lenders to assess a business's stability and ability to generate revenue. Companies with higher credit scores are more likely to receive business loans in a timely manner.
Q2. What is a good business credit score?
Ans. Business credit scores range between zero and 100, and most small business lending institutions require a minimum score of 75.