Looking For An Instant SME Loan For Your Working Capital Finance Needs?
Need extra money to meet additional expenses? Here's how instant SME loan can help to meet their working capital finance requirements!
31 Aug,2022
18:23 IST
10 views
6 Likes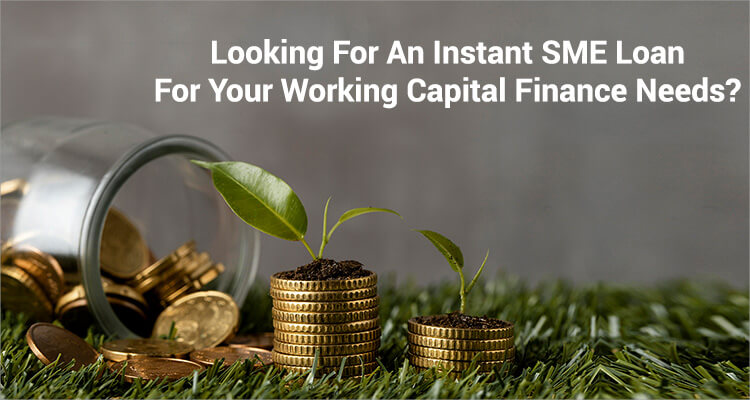 Small and medium-sized enterprises (SMEs) often have to manage irregular revenue and cash flow cycles. This is usually due to a gap between the time when they have to pay for raw materials or inventory or salaries to their staff and when they themselves receive payment from their customers for their finished products.
Many SMEs also have to adjust quickly to seasonal business cycles such as a sudden spike in demand during festive seasons that may increase their cash requirements.
So, what can SMEs do when they need extra money to meet additional expenses but don't have enough cash in hand to manage their operations or pay their workers and vendors? They can take an instant SME loan to meet their working capital financing requirements.
What Is Working Capital Finance?
In simple words, working capital is the minimum amount of capital that any business needs to, well, keep working on a day-to-day basis—everything from paying their employees or utility bills to buying raw materials from suppliers.
And working capital finance refers to a loan from a bank or a non-bank lender specifically for this purpose. Essentially, SMEs can take a loan to tide over their working capital deficits.
Typically, working capital loans are of a small size and for a smaller duration ranging from a few months to a couple of years. However, the loan amount, tenor and other terms differ from lender to lender.
Why Take SME Loan For Working Capital
An SME loan to meet the working capital requirements can be very useful because of a number of reasons.
• Regular Payments:
Every business needs to pay wages of employees, utility costs or rental expenses on a regular basis, irrespective of the revenue generation cycle.
• Longer Payment Cycles:
If the operating cycle of a company—the time it takes to buy raw materials, build and supply goods and receive cash from customers—is long, it will need enough money in hand to maintain operations and meet its financial obligations.
• Unpredictable Revenue Cycles:
Revenue and cash flow cycles can quickly turn for the worse, which is what happened for a lot of SMEs when the Covid-19 pandemic first began to spread.
Applying For An Instant SME Loan
Here is a quick guide to assist you with the SME loan application process:
• Prepare An Estimate:
SMEs must first start with an estimate of funds that they require for their business.
• Choose The Lender:
The next step is to choose a lender. Thanks to technology, borrowers can now evaluate the terms and conditions of different lenders online. It is good to choose lenders who offer low interest rates and flexible loan terms.
• Fill The Application Form:
While borrowers can collect the loan application form from the lender's office, they can also apply online for easier and faster loan disbursal. The application form must be duly filled with correct details. Any mistake in the company name, date of incorporation, physical address of the company, registration address, Permanent Account Number (PAN) or GST number, etc. can delay the process.
• Documentation:
To speed up the loan process, borrowers should maintain up-to-date KYC documents and financial statements like bank statements for six to 12 months, business registration proof, balance sheet, income tax returns, and profit and loss statements. For online applications, the digital copies of the documents can be uploaded. Banks review these statements to check if businesses meet the eligibility criteria and have the ability to repay the loan. Once they are satisfied, the loan gets approved and the transaction is closed.
Conclusion
The coronavirus pandemic and the consequent lockdowns caused enormous economic distress to micro, small and medium enterprises. An instant SME loan or a business loan from banks and reputed non-banking finance companies such as IIFL Finance can help small businesses to meet their short-term working capital requirements.
A majority of lenders require collateral for a SME loan of a higher ticket size but sanction smaller loans quickly without a collateral. IIFL Finance, for instance, approves SME loans for Rs 10 lakh and Rs 30 lakh without a collateral, provided the borrower meets the eligibility criteria and submits the necessary documents.
IIFL Finance offers unique financing solutions that can help your startup or small business. IIFL provides flexible loan repayment terms, requires minimal documentation and offers competitive interest rates. With a fully online application process, SMEs can get collateral-free business loans of up to Rs 30 lakh in just 48 hours.