How to reduce EMI burden on your MSME loan
Want to know the 6 smart ways to taper down your MSME loan EMI? Read to get insights on business loans & ways to reduce your Emi easily by IIFL Finance. Visit Now!
10 Jun,2022
17:50 IST
152 Views
29 Likes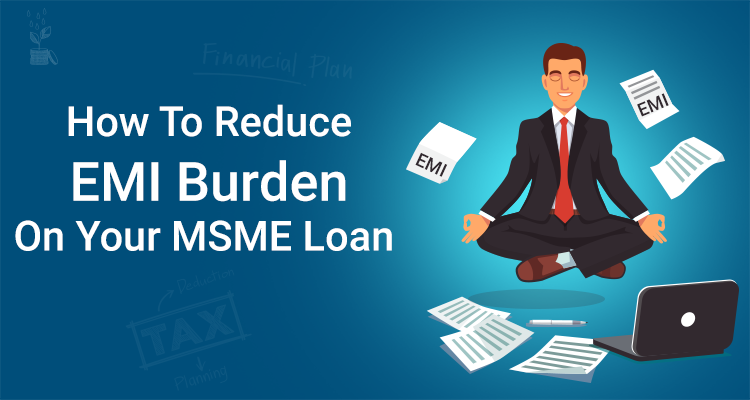 How to reduce EMI burden on your MSME loan
Micro, small and medium-sized enterprises (MSMEs) are vital for the economic development of a country. But like startups, finance is a crucial constraint faced by most of these enterprises.
In a developing economy like India, MSMEs are critical as they employ millions of people, promote industrialisation in rural and semi-urban areas, and boost domestic production.
Globally, SMEs account for more than two-thirds of jobs. In developing countries, these small businesses are a major contributor to social and economic development.
What is an MSME loan?
Any business loan or credit facility offered to micro, small and medium enterprises to meet their financial needs is classified as an MSME loan.
While small-ticket MSME loans are offered without any collateral, lenders can ask for a collateral to sanction larger loans. The collateral can be land or a residential or commercial property.
Who offers an MSME loan?
There are many banks and financial institutions that offer MSME loans. The duration and the interest rates of MSME loans vary from lender to lender. The interest rate on MSME loans depend on numerous factors like size of the business, credit score and annual turnover.
Who can get an MSME loan?
In addition to MSMEs, small business owners, women entrepreneurs, self-employed professionals, startups, sole proprietorship and partnership firms, manufacturing and service-based undertakings of small and medium size can get funding through MSME loans.
Purpose of an MSME loan
MSME loans are generally taken to meet working capital needs, expand business, buy fixed assets, upgrade infrastructure, and marketing.
Ways to reduce EMI on an MSME Loan
MSME loans are helpful. But the cycle of repaying the loan can go on for many years. So, timely repayment of the loan through equated monthly instalments, or EMIs, is vital as you may end up paying a high penalty to banks for late payment. Timely payment of EMI also helps you qualify for better loan rates in the future.
But are you paying a hefty interest on your loan? Is high EMI bothering you? If you are thinking about how to reduce your EMI on MSME loans, here are a few tips to help lessen the burden:
Borrow as much as is required:
Though MSME loans are smaller loans offered for a shorter period of time, it is important to decide the right amount because even a small extra amount can make a huge difference. So, business owners must calculate their expenses and borrow as little as possible.
Check interest rates on loans:
Compared to normal business loans, MSME loans have a higher interest rate. Borrowers should compare figures and choose the bank that offers the best deal.
Maximise the payment tenure:
Business owners should consider taking loan for a longer period because the EMI amount on a loan is inversely proportional to the tenure of the loan. So, EMI payments decrease with an increase in tenure.
Pay extra EMI whenever possible:
Prepayment is a great way to bring down the outstanding principal amount and to reduce the loan tenure. It is also a great way to lessen the interest burden and to reduce the total number of EMIs.
Refinance the loan:
Through refinancing a borrower can replace the current debt obligation with a new loan and an updated agreement. Through this method, business owners can get a fresh loan at a lower interest rate and lower EMI. But refinancing isn't always a smart move. So, MSMEs must consider all possibilities and then decide.
Things to contemplate while taking an MSME loan
Funds are an integral part of a business. So, business owners must keep note of certain points before taking a MSME loan:
Check and evaluate the company policies for any hidden costs.
Negotiate with the lenders for lower EMI and less interest rate as less monthly payment means more savings and more working capital in hand.
Checking the prepayment option on MSME loans with the bank.
Conclusion
Timely access to finance and complex documentation required for loan approval are among the major challenges for the MSME sector.
If you are facing similar challenges, most banks and financial service providers like IIFL Finance have different types of loans and schemes to lift your business.
IIFL Finance, for instance, offers small business loans of Rs 10 lakh and Rs 30 lakh without any collateral and with repayment tenure of up to five years.
Moreover, it allows borrowers to align the loan repayments with their own invoicing and cash flow cycles. The company also offers loans up to Rs 10 crore with a repayment period of up to 10 years if the MSME has a property or land to keep as collateral.