How Do I improve My Business Loan Eligibility?
Getting a business loan is a challenging process which requires your application to be approved by the lender. Know the ways you can improve your chances of business loan.
14 Oct,2022
11:34 IST
9 views
2 Likes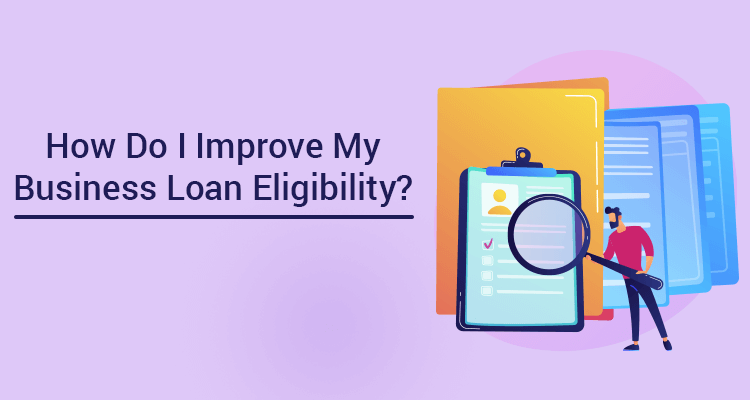 Working capital is essential for starting a business or expanding an existing company. The ideal way to obtain these funds is through a business loan. However, a business owner must meet certain business loan eligibility criteria to qualify.
Although every lender has its eligibility criteria, they have a few things in common. Business owners with low eligibility can work to improve their
new business loan eligibility
if they face challenges getting approved for loans. This article outlines some ways to increase your
business loan eligibility
.
1. Have A Clear Business Plan
To get a business loan, you need a well-thought-out business plan. It is easier to determine the funding your business will need if you have clear short- and long-term goals. Additionally, you can provide more detailed information on how and where you'll use the creditor's funds. A clear, honest, and reliable project description will likely make your lender trust your application.
An effective business plan entails keeping an eye on your competitors, developing sales and marketing strategies, projecting your future finances, analysing the market, and communicating in detail about the long-term goals of your business with any investors.
Consider every possible roadblock to your business propositions and put measures in place to overcome them. When you present lenders with a clearly defined plan, they are more likely to place their trust in your business.
2. Improve Your Credit Score
A lender also considers your credit history when assessing your repayment ability. All individuals with credits receive a 'CIBIL' or 'credit score', which summarises their credit history. The credit score reflects your ability to manage your finances, which is why lenders respect a healthy score. Good credit scores indicate a person's responsibility and prompt payment of debts.
You can improve your credit score in various ways:
• Make sure you don't fall behind on your debt payments
• Repay outstanding debts
• Maintain a credit utilisation ratio of 25 per cent or less
• Don't apply for more than one loan at a time
3. Keep The Necessary Documents Ready
For lenders to understand your venture's profitability, they need details about your business. Keep your accounting and tax records up-to-date to streamline the loan application process. If you need help preparing the necessary documents, consider hiring an accountant.
Additionally, visit the lender's website to determine the information they require. Some common requirements include tax returns, profit and loss statements, articles of incorporation, and balance sheets. Additionally, you must provide your business's KYC documents.
4. Manage Cash Flow
Cash flow figures are another way lenders assess your ability to repay them. Check your debt service coverage ratio (DSCR), which indicates how much cash you have available to pay your debts.
A lender will be more likely to fund your business if you have better cash flow figures. Get rid of any unnecessary business expenses that impact your liquidity to improve your cash flow figures. You should also ensure that any invoice paid to your company names your company—not a particular individual—as proof of debt repayment. As the last step, try to minimize overhead expenses.
5. Create A Repayment Plan
You are more likely to get a business loan if your loan application process is transparent and detailed. Communicate your repayment plan to your creditor to build confidence and trust.
Ensure you have adequate security measures to repay your business loans in the rare event your venture fails. If you communicate your financial strategy with a backup plan, it demonstrates to your lender that you are responsible with your finances and prepared for the worst.
Apply For A Business Loan With IIFL Finance
Need a loan for your business? Let IIFL Finance help you! Take advantage of the most competitive interest rates with IIFL Finance. The best part? We can approve your business loan application within minutes and credit the funds to your bank account within 24 hours! Get a
business loan
from us today and enjoy the benefits!
Frequently Asked Questions
Q1. What is the age limit to get a business loan?
Ans. Business loan applicants must be 24-65 years old to qualify.
Q2. What are the documents required for a business loan?
Ans. The essential documents required for business startup loan eligibility include
• Identity Proof such as a driver's license, a passport, a voter identification card or an Aadhaar card.
• Address Proof such as ration cards, telephone bills, electric bills, passports, trade licenses, lease agreements, and sales tax certificates.
• Bank statements for the past two years as proof of income.
• Detailed financial statements, including the income tax return and the profit and loss account for the last two years.
• Business Ownership Proof
• Proof of Business Continuation