How To Get The Best Unsecured Business Loan?
Getting an unsecured business loan can help businesses access the funds they need in hassle free way. Know the steps to get unsecured business loan Now!
31 Aug,2022
18:11 IST
40 views
13 Likes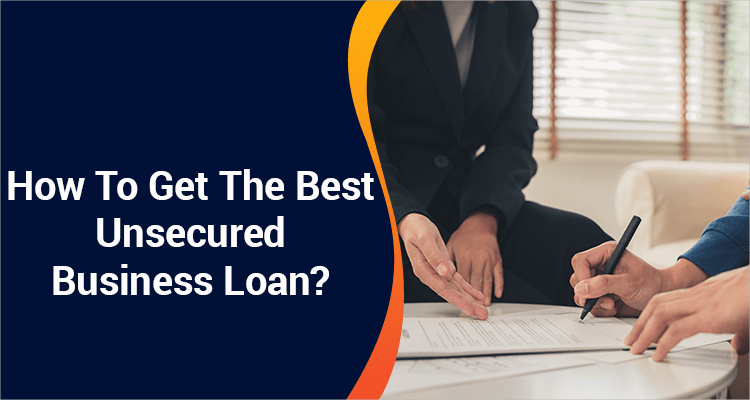 For most micro, small and medium enterprises (MSMEs) and start-ups in India, finance is a major growth constraint. Startups that do not have a collateral to pledge with a lender or small business owners who choose not to mortgage their assets, an unsecured business loan from banks and NBFCs can be the best bet to secure a ready line of credit.
Most small businesses prefer unsecured loans as they mean less risk for them. If they default, their personal or business assets will not be at risk. Unsecured loans are issued by banks based on the credit requirement and cash flow in a business and also on the credit profile of the business owner.
However, for the best unsecured business loans here are a few things which should be given weightage before borrowing.
Unsecured Business Loan Interest Rate
The business loan interest rate and the application process for unsecured business loan vary from one financial institution to another. The interest rate is generally high but applicants with good credit score can negotiate a lower rate.
Some other factors that determine the interest rate are loan amount, business history, repayment capability, loan tenure, and annual turnover. Most lenders offer flexible repayment terms which can range anywhere between 12 months and 36 months.
Types Of Unsecured Business Loans
Term loans, micro loans, overdraft,
working capital loans
, business credit cards, etc. are some types of unsecured loans for businesses. MSMEs and start-ups should choose among these loans keeping in mind their capital requirements, purpose of the loan, duration and their repayment ability.
Eligibility
Different banks have different criteria to approve unsecured business loans. Some of the common criteria are:
• A minimum age of 18 years at the time of loan application and a maximum 65 years at the time of loan maturity.
• A credit score of 750 and above.
• A minimum period of operations with signs of profit. The business vintage years varies from bank to bank.
• A proof of a regular source of income.
Documentation
Unsecured business loans are faster and they require minimal documentation. Some of the supporting documents for an unsecured business loan are:
• Latest financial statements audited by a chartered accountant
• GST returns for the most recent financial year
• Bank statement of all active accounts for last six to 12 months
• Ownership or partnership deed and the latest shareholding list of directors, if applicable
• Self-attested KYC documents of borrower and guarantors
• Self-declaration on running term loans
How To Apply For An Unsecured Business Loan
Unsecured business loans can be applied both offline or online. For online application all an applicant has to do is to visit the lender's website. On the loan application page fill in the mandatory fields, upload the digital copies of the relevant documents, choose the loan amount and repayment term.
Once the lender's executive validates all the information, the lender will offer the loan specifying the interest rate, loan amount, and other details. If the applicant is happy with the offer, the loan amount will be disbursed within 48 hours.
Potential borrowers who are not comfortable online can visit the nearest branch and apply for loans.
Conclusion
In India, there are a large number of banks and financial institutions that offer unsecured business loans to their customers. The interest rates and the eligibility criteria vary from one lender to another. Not only do they have a simple and fast disbursement process, but they also provide the SMEs greater flexibility in terms of usage. The biggest advantage of the unsecured business loans is that the owner does not have to risk his assets nor business.
However, before applying for an unsecured business loan, applicants must evaluate all the terms and policies of the loan carefully and after weighing the pros and cons find the right lending partner for the best unsecured business loan.
At IIFL Finance, one of India's most trusted financial service companies, you can negotiate to bag the best unsecured business loan at an attractive interest rate. For quicker approval and disbursal, you can visit the company's website, check the eligibility criteria, and apply online.
IIFL Finance offers unsecured business loans up to Rs 30 lakh and disburses the amount within just 48 hours provided the borrower meets the eligibility criteria and the paperwork is in order.