Is It Possible To Get A Business Loan After Declaring Bankruptcy?
A business loan after bankruptcy requires research & careful studying of the options. Read on to know how to get business loan after bankruptcy at IIFL finance.
29 Aug,2022
06:24 IST
6 views
16 Likes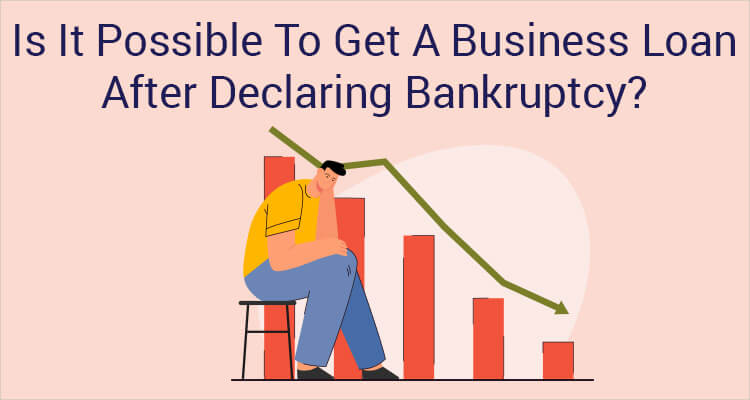 Bankruptcy is a dreaded scenario for any business. Any business cannot pay an outstanding amount, which is then recovered by selling off company assets. This is a simple definition, but the process is complicated and severely affects the credit history of any company.
However, if the business is revived, then getting funds becomes a major issue. Can the business get business loans after bankruptcy? The answer is yes, but there are certain regulations to be followed and some points to remember, they are:
1. Clearing Previous Debts
Bankruptcy involves court cases and outstanding dues. Both should be cleared before applying for any loans. It gives borrowers time to build a better credit history on their front.
2. Improve Credit Rating
Going for unsecured personal loans that have a higher interest rate is an option. If the business bankruptcy case was solved and debts were limited to business, then the personal credit score would be okay. When the payments are done on time, the credit history improves. Once the credit rating goes up, it is possible to get a business loan.
3. Find A Guarantor
A guarantor is a person who takes a guarantee that if the loan is not repaid by the borrower, then, the guarantor pays the debt. Searching for a guarantor can ease the process of borrowing. If the loan borrowed is repaid on time, it will benefit the borrower for future loans.
4. Detailed Business Plan
A detailed business plan is needed to explain how the business model sustains and will generate profit. It should also lay out what is the time required for generating returns. All other details related to running a business in core terms of money and profit should be made clear. A detailed business plan may help in getting loans or a guarantor or both to roll out the business.
5. Prepare Applications
More than one business application loan form should be filled out to improve the chances of getting a loan. Also explaining the reason for previous bankruptcy would be good as a genuine reason may sway the lender towards providing
business loans
.
6. Mortgaging Property
Mortgaging means your property becomes collateral for the lender in exchange for a borrowed amount. The lender may be a bank or any other financial institution or an individual. This is another category of loans where you can mortgage your property for personal loans or business loans.
Get Your Business Loan With IIFL Finance
A business loan after bankruptcy requires detailed research and careful studying of the options available. A thorough review should be given to commercial loan interest rates which are between 11.25-33.75% at IIFL Finance. The option which suits the borrower and which makes the process of getting a loan easy should be chosen.
If you have questions about whether or not you qualify for a business loan after declaring bankruptcy, speak with the experts at IIFL Finance. Alternatively, visit our website to know more about the options available for a loan after declaring bankruptcy.
Frequently Asked Question
Q.1: Can a personal loan be obtained after declaring bankruptcy?
Ans. That depends on the circumstances of declaring bankruptcy. Visit the nearest IIFL Finance branch to clarify the details.
Q.2: Is it possible to take a gold loan after declaring bankruptcy?
Ans. it is possible to get a gold loan after bankruptcy as a gold loan involves collateral. Visit the nearest branch of IIFL Finance to know more.
Q.3: How much is the EMI in business loans?
Ans. You can calculate the EMI easily with the EMI calculator available on the IIFL website. It helps choose the product as per requirement.