How To Avail The Best Business Loan Options For Chartered Accountants?
Are you a chartered accountant looking for a CA loan to expand your business? Then you are at the right place! Get to know the steps to avail business loan here!
21 Sep,2022
18:23 IST
13 views
10 Likes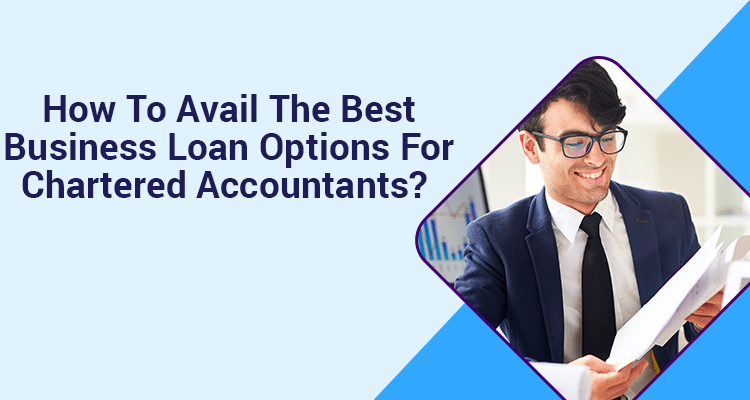 Some chartered accountants prefer working for firms, while others set out to establish their private practice. However, running a business is costly, and working capital finance is essential when starting or expanding your business.
You can obtain extra working capital via a chartered accountant business loan. This offering is designed for chartered accountants to help them scale their businesses. But how do you apply for
business loans for chartered accountants
? Here's everything you need to know about it.
What Is A Professional Loan For CA?
In contrast with other loans, professional loans for CAs are tailored to meet their unique financial needs. The loan can help boost your professional practice and make your dreams a reality.
A CA can avail of this loan for the following purposes:
• Starting a new business
• Maintaining working capital
• Expansion of an existing business
• Renting or buying an office
• Equipment purchases
• Hiring new staff
Features Of Loans For Chartered Accountants
1. Quick And Hassle-Free Loan Processing:
The entire loan process has been digitized and simplified. You must fill out a basic request form, which takes under 15 minutes. You can also submit documents digitally.
2. Unsecured Loan:
You do not need to pledge any asset as collateral. In this case, loans are extended solely based on your academic credentials and credit rating.
3. Minimal Documentation:
The documentation required for this loan is simple, even though it is an unsecured loan. You can upload your documents online, and banks and financial institutions provide physical verification.
4. Flexible Repayment Options:
You can choose a repayment tenure based on the type of finance you avail. Typically, these loans last from one to five years.
Documentation Required
The vital documents required for a
small business loan for a CA
include:
• Business proof – Practice Certificate, Qualification Certificate, Shop Act License, Partnership Deed, MOA, or AOA.
• Address proof – Aadhaar card, passport, driving license, Ration Card, Sale deed, Electricity Bill, Telephone Bill, or Property Purchase Agreement (if the borrower owns a property).
• Photo Identity proof – PAN card, Aadhaar card, driving license, passport, and voter ID.
• Income Proof – Last six months' bank statements, newest ITR, and most recent audited financials.
During loan processing, some financial institutions and banks may require additional documentation.
Eligibility For CA Loan
Each lender has its eligibility criteria. You must meet the following essential criteria to qualify for a CA loan.
• You have a certificate of practice with at least four years of post-qualification experience
• You earn a minimum income of 1 lakh per year
• You should be between 25 and 65 years old
• You have a good credit score on CIBIL
• The business must be profitable for the past two years
Apply For A Business Loan With IIFL Finance
If you are looking to expand your CA practice, IIFL Finance can help you get the funding you need. With
IIFL business loans
, you can get a loan quickly, easily, and at a low-interest rate. Get an IIFL Finance business loan for CAs today!
Frequently Asked Questions
Q1. How does a professional loan for Chartered Accountants differ from a business loan?
Ans. There are several differences between a business and professional loan for CAs, such as tenure flexibility, EMI, size, eligibility, etc.
Q2. Why should you avail of a CA Loan online?
Ans. Getting online CA Loans is a secure, convenient, hassle-free, and transparent process. It will save you a great deal of time.