How Business Registration Helps In Faster Loan Approvals
Lenders prefer to give business loans to entrepreneurs with a registered company. Know how business registration helps in faster loan approvals at IIFL Finance.
16 Nov,2022
17:47 IST
16 Views
33 Likes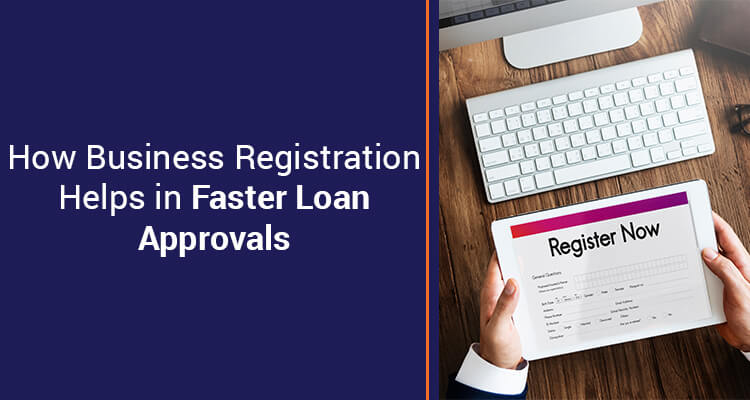 Businesses in India are the backbone of the economy and contribute to the nation's GDP growth every year. However, like every other activity that requires investment, businesses in India also require constant capital to ensure their operations run smoothly. Hence, entrepreneurs need funds to scale, expand and sustain long term, which they secure through a business loan.
However, lenders prefer to give a loan for business to entrepreneurs with a registered company with the Indian authorities over an entrepreneur with an unregistered enterprise.
To avail of business loans from lenders, it is essential to register your business.
The Importance Of Business Registration
The Indian government requires every business to have valid registration from applicable departments. However, some companies refrain from registering with proper authorities as they believe the process is expensive and time-consuming.
However, if you are running an unregistered business, it is nearly impossible to avail of credit services such as business loans to ensure adequate business financing. Thus, it is wise to register the company, as it may provide the following credit benefits.
• Faster Loan Approvals
When you apply for a
business loan
with a lender such as a bank or NBFC, they thoroughly review the business to ensure it is legal. Although an unregistered corporation doesn't necessarily mean it is illegal, lenders take more time to review the company as it does not have all the government-provided documents.
However, if your business is registered, it ensures business loan fast approval, as the lenders prefer to give a business loan to a legally registered company.
• Minimisation Of Personal Liability
Suppose you are the sole owner of your business, and it is unregistered. In that case, you are legally and financially liable for all aspects of the company, including any losses or financial obligations.
With an unregistered business, you have unlimited liability, which means an external entity can hold you personally liable. However, registering a business separates you (the sole owner) from your business as it becomes a separate entity. This way, unlimited liability ceases, and lenders can analyse your business better, resulting in quick business loan approval.
• Decrease Tax Liability
You and your business are separate when you register your enterprise with the proper authorities. With the registration, the company becomes an independent legal taxpayer, eligible for business subsidies and tax rebates under various government-backed programs.
Furthermore, you can also avail of a business loan for your business and apply for various applicable tax deductions to decrease your tax liability.
• Flexible Terms
Lenders such as banks and NBFCs are more trusting of registered businesses and separate themselves from the sole authority of the owner. Thus, it is highly probable that a
business loan
applied for by a registered company gets approved instantly with affordable interest rates and flexible repayment terms.
• Establish A Brand
Constant capital is necessary to invest in numerous business activities, which are crucial for success. Registering the business to raise immediate funds through ideal loans for businesses at desired loan terms is essential. Once you have raised adequate funds, you can use the loan amount to invest in various business operations and establish a successful brand in the market.
Avail Of An Ideal Business Loan From IIFL Finance
Once you have registered your business with the proper authorities, you are one step closer to availing of ideal
business financing
through
business loans.
IIFL Finance offers varying financial services, including customised and comprehensive
business loans.
IIFL Finance business financing follows a business loan quick approval up to Rs 30 lakh with a fast disbursal process online and minimal paperwork. The loan's interest rate is attractive and affordable to ensure the repayment doesn't create a financial burden. You can apply for the loan online or offline by visiting IIFL Finance's nearest branch and verifying your KYC details.
FAQs:
Q.1: What is the loan tenure for IIFL Finance Business Loans?
Ans: The tenure for IIFL Finance business loans ranges from 12 - 60 months.
Q.2: What are the interest rates on IIFL Finance's loan for business?
Ans: You can take a business loan for a company from IIFL Finance with an interest rate starting from 11.25%.
Q.3: Do I need to pledge collateral to take a business loan from IIFL Finance?
Ans: No, IIFL Finance's business loan does not require pledging any asset as collateral to qualify.