Get A Hassle-Free Business Loan For Self-Employed Individuals
How to get a Business Loan if you are a Self-Employed Individual? Read to know how you can fulfill immediate funding needs with a hassle-free self-employed business loan!
21 Dec,2022
18:24 IST
1795 Views
708 Likes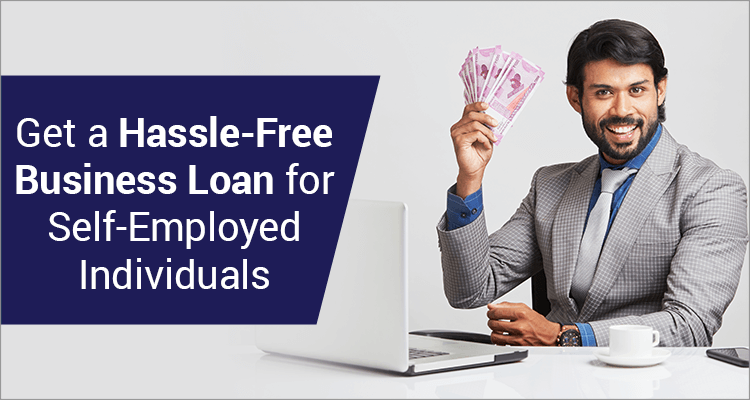 After the pandemic, India has become more entrepreneurial. A rising number of people are working for themselves due to the benefits such as time flexibility, freedom, ownership, and exposure they offer. Self-employment, however, comes with many challenges and demands.
Income irregularity can prove troublesome to every entrepreneur, whether doctors, self-employed financial professionals, or budding entrepreneurs. The modern businessperson needs business loans to cope with these financial hiccups. When you have a momentary cash shortage, self-employed loans can support you.
Types Of Business Loans For Self-Employed
Self-employed individuals in India may benefit from different business loans, and it is essential to select the one that best suits your needs. Several factors can influence your choice of business loan, including your qualification requirements, the purpose of the loan, and your desired loan conditions. Some of these factors include the following.
1. Working Capital Loan
2. Letter of Credit
3. Term Loan (Short & Long-term Loan)
4. Equipment Finance or Machinery Loan
5. POS Loans or Merchant Cash Advance
6. Bill/Invoice Discounting
7. Overdraft Facility
8. Loans under Govt. schemes
Eligibility For Availing Business Loan For Self-Employed
The eligibility criteria for availing a
business loan for self-employed
are as follows.
• Applicants must be at least 22 years old and no older than 65 years old.
• Self-employed or proprietor-operated businesses, private limited companies, and partnership firms are eligible.
• The turnover of an enterprise must be at least INR 10 lakhs.
• The applicant must have been engaged in the current business for at least three years and have five years of total working experience.
• The past two years have been profitable for the enterprise.
• Businesses with an annual income of more than Rs. 2 lakhs (ITR) are eligible.
Documents Required For Business Loans For Self-Employed.
Self-employed individuals may apply for a business loan to finance high-value expenditures such as hiring and training employees, expanding operations, machinery, infrastructure investment, obtaining working capital, purchasing equipment, stocking inventory, purchasing raw materials, and more.
The borrower must qualify for the loan and submit the necessary documents. A self-employed business loan generally requires the following documents.
• Recent photograph
• GST or ITR
• Bank statements
• Valid identity proof such as driving license or PAN card
• Valid address proof such as a passport or electricity bill
• Income proof
• Proof of business existence
Factors That Affect Business Loans For Self-employed
• Credit History or CIBIL Score
The credit rating determines a debtor's creditworthiness, typically a business (company) or government. The rating relies on CIBIL assessment of the debtor' ability to repay the loan. The credit rating of a business directly relates to its ability to raise disbursals.
Your CIBIL score will increase if you have previously obtained a loan and repaid it on time. Typically, you should score 750 or higher to qualify for an instant loan for self-employed people. As a sole proprietor, your personal credit score will be your business credit score. In this type of business, the business and proprietor are the same.
Partnerships are similar to sole proprietorships where lenders consider your personal credit score. In limited liability partnerships, partners are only liable for a certain amount of debt. It is common for lenders to ask about all the partners in the business credit reports.
• Cash Flow Status
Since successful businesses are more likely to repay their loans on time, lenders seek to lend money to them. Balance sheets, bank records, and tax filings help lenders assess your company's performance. Insufficient revenue on your balance sheet will hinder your ability to obtain a business loan for self-employed.
• Business Age
Business financing is typically difficult for self-employed businesses under two years old. However, companies that have been in business for some time can provide proof of their financial stability by providing balance sheets, bank statements, and income tax returns.
• Collateral
Most lenders require collateral to minimise the risk associated with company loans. The likelihood of getting a business loan will significantly increase if you can offer collateral.
Get A Business Loan As A Self-Employed Individual With IIFL Finance
Self-employed individuals may have a more challenging loan application process as they are normally subject to the same loan requirements as larger corporations. Due to the absence of a legal distinction between self-employed business owners and their businesses, entrepreneurs may have their assets at risk if their company is sued or has financial difficulties. IIFL Finance can ease your worries in this situation.
IIFL Finance business loans help meet your hectic schedule and lifestyle. Getting the money you need for your business is always hassle-free with our quick loans online. Below are the steps an applicant can follow to apply for a hassle-free business loan online:
• Fill out the application form on IIFL Finance official website.
• Submit your KYC and income documents.
• A loan verification process follows the application.
• Your loan will be approved in a short time.
The lender will credit your bank account with the loan amount. Visit IIFL Finance website for instant approval, disbursements and collateral-free business loans for the self-employed.
Frequently Asked Questions
Q1. Can Self Employed take a business loan?
Ans. Yes, self-employed individuals are eligible for a business loan.
Q2. How long do you have to be self-employed to get a business loan?
Ans. Business loans are normally only available to self-employed individuals who have worked for at least three years.