Finance Your Logistics Startup Idea With A Business Loan From IIFL
A startup business requires initial funding. Read on to know how you can increase the potential of your logistics startup with a business loan!
1 Sep,2022
10:17 IST
10 views
10 Likes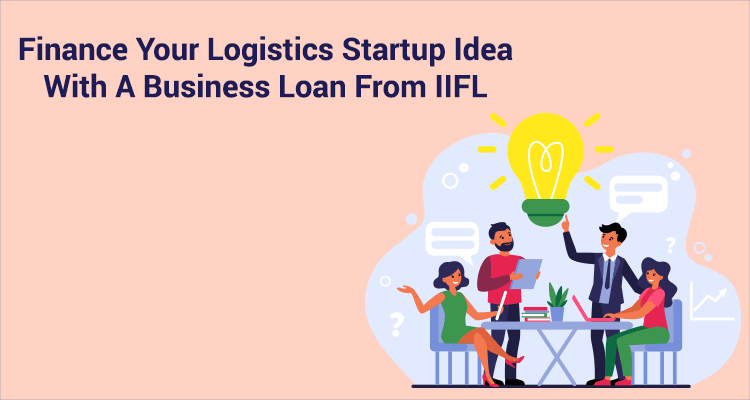 Logistics is the backbone of any business that offers manufactured products. In fact, logistics is even more important for technology service businesses such as ecommerce.
Companies making a product, be it a consumer product or an industrial product, need to ship it to their customers. This covers an entire gamut of service, from transportation of raw materials to the factory, shipment of finished product to the client or a network of dealers or distributors, and the actual last-mile delivery.
This entails financial investments and often needs a business loan to fuel the expansion.
Why Logistics Startups Need A Loan
Logistics companies may need a business loan for various reasons, especially in the early stage of setting up an enterprise but also later in the life cycle. Some of the reasons include:
• Setting up a new office space or warehouse;
• Renovating or expanding an existing office or warehousing space to house more employees and inventory;
• Sprucing up the infrastructure at the office or warehouse or buying new equipment;
• Setting up a cold storage facility within a warehouse;
• Meeting working capital requirements;
• Hiring additional employees;
• Meeting various overhead costs.
A business loan, which is tailored for such contingencies, can help a logistics venture in expanding the operations.
Eligibility Criteria To Avail A Loan For Logistics Venture
The basic criteria for an entrepreneur running a small logistics business to avail a loan is to have been in the business for at least two years. Most financers also gauge a borrower's repayment capacity by looking at certain parameters. These include cash flows, a positive net worth and a clean repayment history if the firm has taken a loan previously.
Loan Process For Logistics Startups
Most lenders offer small business loans to small or mid-sized logistics companies to scale their operations with a hassle-free process that involves just a few clicks online. This helps the logistics companies to focus on their core business rather than running around branches of lenders to get a loan.
A loan for a small logistics company requires minimal paperwork and often doesn't require a collateral. The loans are also customized with flexible repayment options that are in line with the invoicing cycle of the logistics company.
The financers also offer flexibility in the repayment schedule over a one to four-year tenure. This allows a logistics firm to balance their cash flows and ensure that the loan repayment does not affect their earnings for too long.
Documentation
An entrepreneur running a logistics venture can apply and submit documents digitally via an online process to avail a small business loan. The basic documents required for the loan help the lenders underwrite the risk as these loans are collateral-free. This means the borrower does not necessarily have to pledge any assets to get the loan. These documents allow the lender to judge the repaying capacity of the borrower.
The basic documents for both small and relatively larger loans upwards of Rs 10 lakh are common. The larger loans also require the GST registration certificate of the borrowing entity.
The basic documents need to avail a loan for logistics company include:
• KYC papers: For proof of identity and address of the borrower and all co-borrowers.
• PAN card of the borrower and all co-borrowers.
• Last one year of bank statement of the main business account.
• Signed copy of standard terms of the loan agreement.
In addition, lenders may ask for certain additional documents to process the loan request.
A logistics company can also check the equated monthly installment that would be due based on the size of the loan, the time period and the proposed interest rate being charged by the lender.
Conclusion
Logistics startups have numerous operational expenses. They also need money capital expenditure and offer require a loan to run their operations and scale their business. This is where a business loan can prove useful.
Business loans are important because there is usually a difference between the time a logistics company pays its merchants, suppliers and employees and the time when it actually receives payments from its clients. A delay in payments from customers can make it even more difficult for logistics companies to clear their dues.
So, if you run a logistics venture and require additional cash to tide over your short-term requirements or need money for expansion, you should consider taking a business loan from well-known banks or non-bank lenders.
IIFL Finance offers small business loans for up to Rs 30 lakh at very competitive rates through a swift process without the need for visiting any branch or providing a collateral. It also helps logistics startups that need small-ticket loans by doing away with the need to even submit a GST certificate for loans below Rs 10 lakh.