Factors That Determine Your Approved Business Loan Amount
Thinking about what is the average business loan amount after approval? Checkout our blog to know the factors that determines your approved business loan amount.
19 Sep,2022
06:22 IST
6 views
15 Likes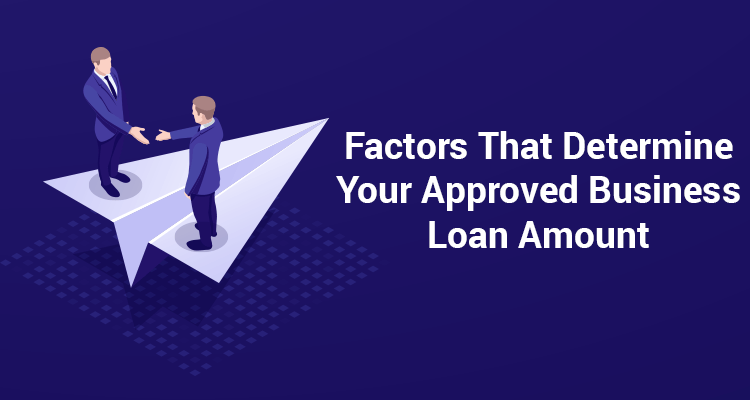 Recently, business loans have become popular among small businesses. It essentially fulfills your short-term and day-to-day requirements. It is a quick reliever of your financial distress in business. However, the loan amount you can avail of depends on some significant factors.
In this article, you will know more about the factors determining your approved
business loan amount.
1. Credit Score
The first thing lenders look at to determine the amount of credit you can borrow is your company's CIBIL score or creditworthiness. A good credit score indicates a low-risk borrower with controlled creditworthiness. As a result, you can take out more loans even though interest rates on your
approved business loans
are lower.
Here are some ways to keep your business credit score high:
• Maintaining a positive cash flow
• Updating your credit report periodically
• Keeping credit utilization in check
• Making timely payments
2. Business Plan
Presenting a well-defined business plan to your lender can increase your chances of getting a higher loan. To make your business plan effective, you must include:
• Historical revenue
• Marketing and sales strategy
• Product-market fit
• Differentiating factors from competitors
• Financial models, and forecasting for the next 3-5 years
These are a few things that can help lenders assess your ability to repay the loan amount with interest promptly. If the lender finds your business plan viable and sustainable, they will sanction a higher amount.
3. Financial Position
Lenders evaluate the financial health and business reputation based on financial statements and balance sheets. They scrutinise liquidity, leverage, and operating margins, including business cash flow, to make loan proposals.
Your cash flow helps determine the money available to repay the loan after fulfilling other expenses. Positive cash flow assures the lender of your ability to repay. However, the average of small business loans amount is higher.
4. Insurance Information
To reduce the lending risk, lenders also look at the life insurance records of company owners. If the business owner tragically dies, the lender will use the insurance proceeds to terminate the loan. So, the more insurance coverage you have, the higher the loan amount a lender will be willing to authorize.
Apply For Business Loans With IIFL Finance
IIFL Finance is a leading instant business loan provider. We provide quick loans for small businesses with small financial requirements up to INR 30 lakh with minimal documentation. You can check the interest rate at your nearest IIFL Finance branch or online.
The entire process, from application to disbursement, is 100% online. The disbursals take 24-48 hours. So you can fulfill various business needs and repay them per cycle. Apply for an IIFL Finance business loan today!
Frequently Asked Questions
Q.1: How to improve your credit score?
Ans: You can improve your credit score by
• Making timely payments
• Keeping credit utilization in check
• Maintaining a positive cash flow
• Updating your credit report periodically
Improving your credit score can help you get a higher amount of
approved business loans.
Q.2: Why should you take a business loan?
Ans: With the influx of finances, you can get the much-needed momentum to progress your business. You can use a business loan to fulfil a shortfall in working capital, purchase a piece of equipment, inventory or raw materials, or any business operation.