Documents Required For MSME Loan—A Complete Checklist
MSME loan documentation process is very easy and quick. Check out this checklist which will help you avail MSME loan to fund your small business easily!
3 Aug,2022
09:25 IST
95 views
18 Likes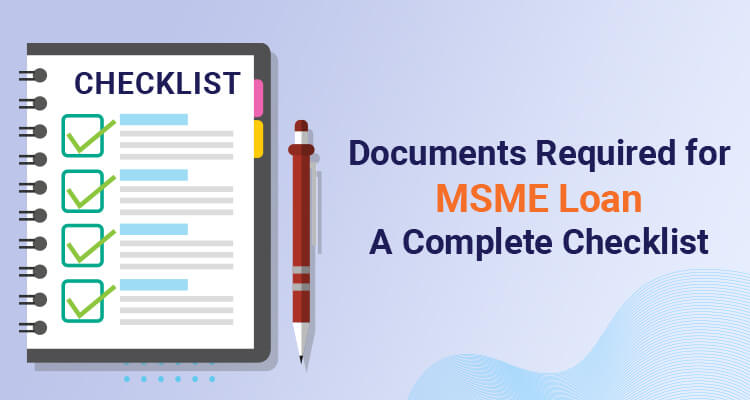 Over the past few years, the Indian government has initiated several steps to make it easier for micro, small and medium enterprises (MSMEs) to set up shop, sustain their operations and expand their business. Nudged by the government, many commercial banks and non-banking finance companies have ramped up lending to MSMEs.
Needless to say, adequate credit is critical for the survival and growth of MSMEs. These enterprises can avail business loans to fulfill a wide range of requirements. These include buying raw materials and inventory, buying machinery or equipment, expanding their business, and meeting working capital needs.
Loan Application Process
The process to avail an MSME loan as well as the loan's terms and conditions may vary from lender to lender. However, the process begins with a prospective borrower submitting an application and some other documents.
Thereafter, the lender checks the application and verifies all the documents with a fine-tooth comb to establish the borrower's credentials, loan eligibility and repayment capacity. A thorough examination of documentation is critical for the lenders to minimize the possibility of a loan turning bad and to avoid fraud.
Lenders approve business loans only after they are satisfied with the documentation. So, borrowers must take the documentation seriously so as to expedite the approval process and, more importantly, avoid a scenario where the lender rejects their loan request.
Checklist For Business Loan Documents
So, what are the business loan documents that MSMEs must keep ready before submitting their application? That depends on a few factors, including the size of the loan and whether it is a secured or an unsecured loan.
To begin with, MSMEs should register themselves with the government. In fact, registration is mandatory for MSMEs operating in most manufacturing and service industries to avail a loan.
The actual list of documents may differ from lender to lender, but most lenders require certain basic papers and some additional documents for credit assessment. Here is a quick checklist for MSME loan documents.
General Documents
All banks and NBFCs require some basic documents to adhere to the RBI know-your-customer (KYC) guidelines.
A) Identity Proof:
A borrower can submit a copy of either the Aadhaar card, passport, voter's ID card, PAN card or driving license.
B) Address Proof:
A borrower can submit a copy of Aadhaar card, passport, voter's ID or driving license. In addition, some lenders also accept the electricity bill, gas bill and a post-paid mobile phone bill.
C) PAN Card:
The Permanent Account Number is a document issued by the tax department for tax purposes.
Proof of business documents
Lenders will require certain documents to determine the authenticity of the borrowing entity. These documents may differ depending upon the type of business entity that is seeking an MSME loan.
A) Documents For Companies:
These may include the company incorporation documents or registration certificate, along with copies of the memorandum and the articles of association.
B) Documents For Borrowers Other Than Companies:
In case the borrowing entity is not a private limited company, lenders will require a copy of the partnership deed, or a trade license.
C) GST Certificate:
Many lenders may not need the Goods and Services Tax certificate for small-ticket, unsecured loans. But they may insist on GST for secured loans or high-value, unsecured loans.
Financial documents
Most lenders will require the borrower to submit certain documents to ascertain the nature of business and the loan eligibility, and to determine the repayment capacity by looking at revenue, profitability and cash flow numbers.
A) Bank Statements:
A borrower may need to submit bank statements for the previous three to six months.
B) Tax Documents:
Lenders may ask for income tax returns of the borrower for the previous one to three years.
C) Audited Financials:
These include MSME's balance sheet, and profit and loss statements. Some lenders may even ask for a business plan or revenue and profit projections for sanctioning big-ticket loans.
Additional documents for secured loans
Lenders will require some additional documents from borrowers seeking a secured loan. A secured loan is offered in lieu of a collateral—typically, a piece of land or residential and commercial property.
A) Ownership Documents:
These include the property purchase papers, stamp duty or registration documents or any other documents that establish the borrower's ownership of the property being put up as collateral.
B) Property Valuation Documents:
Lenders usually provide loans that are 60-75% of the market value of the property. So, the borrower will have to submit a valuation report. Lenders may also assess the value of the property themselves.
C) Outstanding Loans:
The borrower will have to submit documents related to any previous loan. If the previous loan is not fully repaid, the lenders will deduct the outstanding amount from the new loan.
Conclusion
Almost all major banks and NBFCs provide MSME loans to small business entities, self-employed professionals and even non-professionals, such as mom-and-pop grocery stores. The initial process for applying for a loan is similar for lenders and starts with filling out an application and submission of a number of documents.
While state-run banks typically have more onerous requirements, new private banks and NBFCs such as IIFL Finance offer a fully online, hassle-free and quicker process to approve a business loan.
IIFL Finance, for instance, offers an unsecured MSME loan of Rs 10 lakh with only a few KYC documents and basic business papers. It also provides unsecured loans of up to Rs 30 lakh if the borrower has GST registration.
In addition, IIFL Finance provides bigger loans for longer tenors if the borrower provides collateral and meets other requirements related to the business entity's incorporation, net worth, and repayment capacity.