Different Kinds Of Business Loan Available For Small Businesses And CIBIL Score Required
Business Loans can be based into 3 ways: tenor, collateral requirements and usage. Learn more about different kinds of small business loans & their cibil score available in India.
17 Oct,2022
11:17 IST
16 views
10 Likes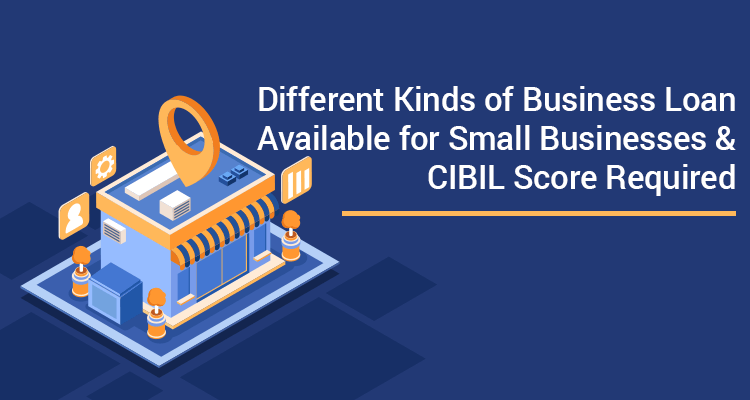 Small businesses often need debt to either keep the venture running or to expand operations. Banks and non-banking finance companies (NBFCs) offer different kind of loans to small businesses to tide over bad times or to help them grow.
Business loans can be divided into multiple categories depending upon a variety of parameters such as repayment tenor, collateral requirements, and usage.
Types Of Business Loans Based On Tenor
Short-Term Business Loans:
These loans are aimed at helping businesses financially for the short term, which can range from a few weeks to up to one year. A small business can use such loans for immediate purposes such as paying salaries to staff and making payments to vendors. These loans can also be used as a stop-gap arrangement when a business is awaiting approval for a long-term loan.
Long-Term Business Loans:
These loans are taken for more than a year and typically for five to ten years. A small business can use such loans for long-term expansion plans, such as setting up a factory or a new office or warehouse.
Types Of Business Loans Based On Collateral Requirements
Secured Loans:
These loans require the borrower to put up an asset such as real estate as security with the lender. These loans are typically for larger sums and longer durations. The loan amount depends on the value of the asset. The interest rate on these loans is lower than on unsecured loans as lenders have the comfort of a security in case of a default.
Unsecured Loans:
These loans don't require the borrower to come up with a collateral. Instead, lenders examine the borrower's credit history and income profile to decide on the loan application, the amount and repayment terms.
Types Of Business Loans For Small Businesses Based On Usage
Working Capital Loan:
Working capital
is the fund an enterprise needs for its everyday operations or to meet near-term obligations such as salary, payment to vendors etc. Most lenders offer this loan to help businesses tide over any immediate cash crunch or meet the gap in payables and receivables.
Startup Loan:
An enterprise or a person may need money to start the business. Since the business is yet to take off, lenders will offer these advances mostly as a personal loan to promoters of the business.
Invoice Discounting:
Small businesses often face a time gap in payment to be received from customers and the payment to be made to vendors. Banks and NBFCs in such cases provide loans against invoices to help keep the business running.
Equipment Loan:
Specialized business loans for the purchase of equipment are available from numerous banks and non-banking finance firms. In some cases, the equipment can be mortgaged to keep interest rate low.
Trade Credit:
Trade credit is essentially an arrangement between a buyer and a seller. In this case, the buyer takes products or services from the seller or supplier but makes the payment after a few days or weeks.
CIBIL Score
The CIBIL score is used by lenders to assess the repayment propensity of the borrower by looking at their past records with their other loans. It is named after TransUnion CIBIL, an independent agency that collects credit history of borrowers and assigns a score. However, it is not the only one. Companies such as Experian and Equifax also provide credit scores.
This score is a three-digit numeric summary of one's credit history. It ranges from 300 to 900 and changes over time. The closer this score is to 900, the better are the chances of the loan application getting approved. The score tends to act as a guiding principle for lenders, making the loan approval process faster.
In general, scores below 500 automatically disqualifies one from a loan as it indicates lower probability of repayment either due to historical behavior with say a missed payment or outstanding loans that may not match with the ability of the borrower to service the interest payments.
If the credit score is in the 500-700 range, one can still avail a loan but the final decision would be based on various other factors. The loan would more likely entail a higher interest rate and one may not necessarily get the entire amount one may want to borrow.
On the other hand, if the score is in the 700-800 range there is a high probability of a quick loan approval without too much of a hassle. The score is especially important in the case of unsecured loans since the lenders don't have the comfort of a collateralized asset to compensate for a default.
Conclusion
There are various loans available for small businesses depending on the nature of the requirement and other factors. The need may vary from
equipment finance
to working capital.
The CIBIL score will be one of key criteria a lender will look at to assess the repayment capacity of the borrower and to decide whether to approve the loan.
In general, traditional banks have more onerous requirements for approving a business loan. On the other hand, many non-banking finance companies offer greater flexibility and easier processes. IIFL Finance, for instance, provides both secured and unsecured loans at competitive interest rates for a variety of purposes and tenors that can be as high as 10 years.