The Complete Checklist For A Business Loan Application
Check out this complete checklist which will help you get your business loans approved in hassle free way. Complete the formalities in a faster & easier way Now!
26 Jul,2022
11:42 IST
25 Views
14 Likes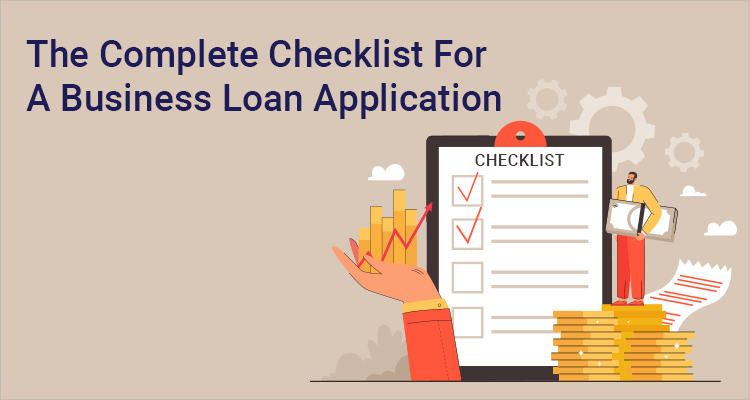 Oftentimes, businesses, both big and small, have an urgent need for cash, but an irregular cash flow. To meet their working capital requirements, pay salaries, buy raw materials or even spend some money on capital expenditure, such businesses have to resort to borrowing money so as to keep their processes running smoothly.
This is where a business loan comes in handy. In fact, in most cases, it is a lifesaver, without which an enterprise might need to curtail operations or even shut shop.
A business loan can be easy to avail, yet a lot of deserving people often find it difficult to have their application approved. Here is a complete checklist that can help expedite the application process for a business loan.
Maintain A High Credit Score
A high credit score is essential to avail a business loan quickly and easily. The higher the score, the better, but a number of 750 or more is ideal.
In case of a low credit score, a lender would find it difficult to offer a business loan at attractive interest rates. Also, a low credit score could mean that the lender may either reject the loan application or may offer a lower amount than applied for and that too, at higher interest rates to the borrower.
Fill In Loan Application Form Correctly
Borrowers must make sure all the relevant details sought by the lender in the application are filled out correctly. These will include name, address, KYC (know your customer) details, details about the business, when it was incorporated, the purpose of the loan, the length of time for which the loan is needed, and information on the collateral, if any, that the borrower may be offering.
Any inaccuracies or inadvertent errors in the application form could delay the process of getting a loan. This could have an impact on business, which may be in need of urgent funds to meet working capital requirements or capex spends. So, it would be advisable to make sure the application is complete in all respects, as required by the lender.
Keep Documentation Up To Date And In Order
Borrowers must make sure that all the documents needed by the lender are in order and are up to date. This will help expedite the loan application and disbursal process.
Moreover, correct documentation would ensure that the lender can carry out the due diligence process in double as quick time. This will ensure the borrowers get the business loan in their bank account in time, without any lag or unnecessary delay that might have a negative bearing on the enterprise.
The documents that lenders typically need to verify include Aadhaar and PAN details, business registration and GST details, personal and business account statements, details of any outstanding loans, details of all the shareholders as well as directors of the company and details of the collateral, if any, that may be offered to avail the loan.
Be Aware Of Eligibility Requirements
A borrower needs to be acutely aware of the eligibility criteria for availing a business loan. While most eligibility requirements across lenders are similar, they could vary slightly from lender to lender, and from business to business.
Find A Reputable Lender
While documentation and application may be in order, borrowers should also make sure that they approach only reputable lenders. A lender that has a good standing in the credit industry will typically have well laid out procedures in place that ensure a quick application process and disbursement of the loan amount.
Conclusion
Getting a business loan can be an easy and a hassle-free process, provided you follow all the steps and meet the requirements of the lender.
Having said that, you should avoid unregulated lenders like local moneylenders and should always approach a reputable bank or a well-known non-banking finance company such as IIFL Finance for any business loan. Good lenders have stable processes in place and can lend you money in super-quick time, if you have a good credit history and have your paperwork in order.
IIFL Finance offers business loans ranging from Rs 10 lakh to Rs 10 crore for a variety of purposes and for various tenors through a convenient application process.
Not only does IIFL Finance offer competitive rates of interest, but it also offers flexible repayment options that help you match your repayments with your expected cash flow, so that your business can keep running smoothly.
Besides, it provides good customer support to take care of all the formalities so that you can concentrate on growing your business instead of worrying about finances.