Business Loan Or Overdraft – Which Is Better?
Business loan or overdraft – which is better? Learn about the benefits of each and the right time to take one. Visit to know more here!
18 Sep,2022
11:58 IST
22 views
7 Likes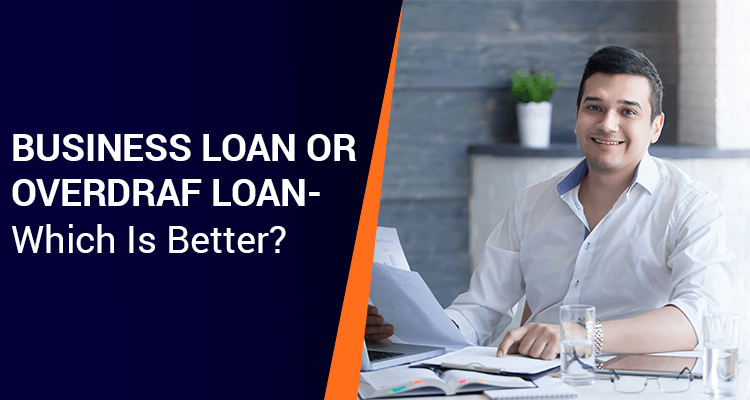 An entrepreneur interested in starting a new business or expanding an existing one might consider taking a business loan or overdraft to satisfy their financial requirements. Despite their similarities, the two financial products offer unique features and benefits to borrowers.
But how do you decide which credit option is better? Ultimately, it comes down to your financial requirements. Let's examine some basic features and comparisons of these two credit facilities to make an informed decision.
What Is A Business Loan?
A business loan helps fund high-value expenditures like expanding operations, obtaining working capital, purchasing supplies, and machinery, investing in infrastructure, buying raw materials or stocking inventory, hiring and training employees and staff, and more.
There are two types of business loans - unsecured and secured.
An unsecured business loan does not require collateral and includes a higher interest rate. A secured loan requires the applicant to provide collateral worth the loan amount.
Business loans allow you to borrow large sums of money from lenders. You repay the principal amount (principal) plus interest via EMIs. Several factors determine your eligibility, including your profile, years of experience, financial status, business vintage, credit history, and credit scores.
What Is An Overdraft?
Overdrafts are credit facilities that allow you to borrow money from your current account even if you don't have a credit balance on it. To put it simply, you can borrow money over your credit balance. This fund extension facility is beneficial for businesses to pay wages and vendor payments daily.
Overdraft limits determine the amount you can withdraw from your account. Upon reaching this limit, you cannot withdraw any more funds. When you use an OD, you do not have to repay the borrowed amount within a prescribed period. Instead, you can borrow and pay it back simultaneously.
Generally, most banks offer OD facilities to customers who repay debts on time and maintain good relations with the bank. A bank charges you specific fees when you choose the OD facility. ODs charge interest only on the amount you use, not the total amount you have available.
Comparison between Business Loans and Overdraft
| | | |
| --- | --- | --- |
| Types of Comparison | Business Loan | Overdraft |
| Definition | Business loans are fixed amounts lent by lenders and repaid with interest over a predetermined period. | An overdraft allows you to borrow money even if your bank account balance is zero. |
| Loan Type | Borrowed Capital | Credit Line |
| Interest Rate charged | Based on the loan amount sanctioned | Based on the overdrawn amount |
| Availed as | Long-term loans | Short-term funds |
| Repayment Type | EMI Payments | Deposits in the bank |
| Interest Rate Calculation | Monthly | Daily |
| Loan Amount or Borrowed Funds | It depends on the business requirements, credit score, applicant's profile, etc. | It depends on the borrower's relationship with the bank. |
| Should the applicant need to be a bank customer? | It is not necessary to be an account holder with the bank | The borrower must hold a bank account |
Which Should You Choose-Overdraft or Business Loans?
Let's compare these products further based on various factors to help you make a good decision.
1. Loan Amount
A business loan is the most convenient way to borrow large amounts since it is available at once.
Overdrafts are like credit card purchases. Business owners can withdraw money daily from a specific account, as per their needs.
2. Interest Rates
An overdraft generally has a higher interest rate than a business loan. An OD, however, only charges interest on the amount withdrawn instead of the entire credit limit. In contrast, a business loan charges interest on the entire amount borrowed, regardless of whether you use it.
3. Duration
Overdrafts are usually sanctioned for a short period, like a year. To use the facility for the next year, you must renew it at the end of the tenure.
A business loan is available for a more extended period, depending on the lender's requirements.
4. Usage
An overdraft is ideal for day-to-day working capital needs, such as maintaining inventory and paying salaries. You can use a business loan for bigger and more expensive investments, such as purchasing machinery, expanding a business, and purchasing commercial property.
5. Flexibility of Repayments
Overdrafts are more flexible with repayments. If you wish to repay the OD, you can deposit an amount equivalent to the amount withdrawn.
On the other hand, a business loan is repaid through fixed EMIs. You may be unable to obtain new credit in the future if you fail or delay EMI payments.
The two types of business credit, while similar, serve different purposes. When you need cash for your business, you can opt for an overdraft, a business loan, or even both.
Get a business loan from IIFL Finance
While taking on debt may seem intimidating, it can assist you in growing your small business. With
IIFL Finance business loans
, you can enjoy lower EMIs, quick disbursement, and flexible repayment schedules. Apply now!
Frequently Asked Questions
Q1. For which loan should a seasonal business apply?
Ans. For seasonal businesses, overdrafts can be extremely helpful in covering short-term cash flow shortages. Only the overdraft funds you withdraw will be subject to interest during repayment.
Q2. What is the disadvantage of an overdraft?
Ans. An overdraft will have a higher interest rate than other business loan types.