Explore The Best Working Capital Finance Options For Your MSME
Learn to unlock the different working capital financing sources to give your business the boost it needs to trade & grow. Read more with IIFL Finance!
6 Jun,2022
08:55 IST
409 Views
31 Likes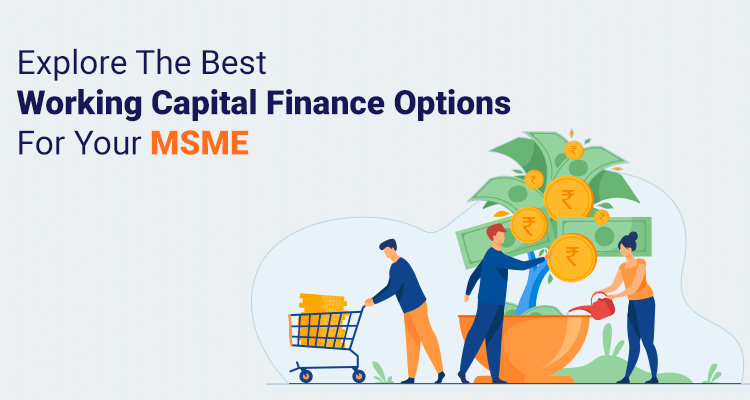 Explore The Best Working Capital Finance Options For Your MSME

Every business needs money to cover day-to-day working expenses on operations and payroll. And for micro, small or medium enterprises (MSME) that are only beginning to find its feet, it can get tough to generate enough cash flows with which to manage such expenses.
So, when a business cannot raise enough cash to run its operations or pay its workers, it has to borrow money to cover these expenses. This is called working capital financing.
Working capital financing is used by companies across industries—from manufacturing to services and from old-economy businesses to new-age tech startups—as every business needs to pay its vendors, creditors, staff and founders their dues.
What Is A Working Capital Loan?

These are typically loans of small ticket sizes that are given out for a duration of anywhere from one month to three years. However, the loan varies from lender to lender.
MSMEs can take such loans to fund the day-to-day operations of the business. These could include paying salaries to employees or paying vendors or contractors for goods and services availed.
Types Of Working Capital Loan

Many lenders provide different working capital loans for different purposes. For instance, some banks offer pre-shipment finance for exporters to buy raw materials and convert those into finished goods for customers.
Similarly, post-shipment finance is meant to help the MSMEs tide over the gap between delivering the goods and receiving payments from the buyers.
Some banks also offer accounts receivable loan, a short-term funding option that allows MSMEs to keep their accounts receivables as collateral to borrow money.
When To Take A Working Capital Loan

MSMEs, in particular, have to manage irregular revenue cycles or deal with seasonal business cycles. So, they can take such loans to clear their dues even as they await payment from your customers.
MSMEs may also require extra cash to meet a sudden order during festive seasons. So, if you want to buy raw materials or pay vendors in advance or manage inventory, a working capital loan may be suitable for your MSME.
Main Features Of Working Capital Loans
Application Process:

Applications for working capital loans can be processed very quickly. Some private lenders even process the loan in less than 72 hours. A few lenders also offer an online application facility where MSME owners do not need to come visit the branch.
Loan Amount:

The loan amount differs from lender to lender but depends on the MSME's requirements, its cash flows and revenue, and duration.
Interest Rate:

The interest rate also varies from lender to lender. Currently, such loans may carry an interest rate of anywhere between 12% and 32%.
Collateral:

An MSME may or may not be required to provide a collateral to take a working capital loan. The collateral can either be land or property, shares, gold or any other asset. In the case of a collateral-free loan, lenders typically check an MSME's financial statements, tax returns, revenue and cash flows.
Repayment:

Most lenders customise the loan repayment schedule to match the MSME's cash flow. Most lenders offer repayments in monthly or fortnightly instalments, depending on the cash flows.
Processing Fee:

Banks and other lenders charge a processing fee for the loan. This fee differs from lender to lender.
Documents Needed To Avail A Working Capital Loan
The following documents may be needed to avail a working capital loan:
Company bank statement of the last 12 months, if available.
PAN card copies of proprietors.
Aadhaar card copy of proprietors.
Copy of partnership deed, if applicable.
Copy of company PAN card.
Proof of business registration such as GST or VAT certificate.
Conclusion

A working capital loan can go a long way in helping you streamline your business finances and expand your business into newer products and services, domains and geographies.
Reputable lenders like IIFL Finance offer customised loans for small businesses to help them offset cycles of low sales or revenue generation.
So, if you own a small business, some extra cash in the bank can only do your business good, as it can come in handy in times of any unforeseen crisis.