What Is The Best Option For Equipment Financing?
Every business needs to buy or lease equipment while starting out or for expanding. Read to know the best options for equipment financing!
2 Sep,2022
18:44 IST
13 views
12 Likes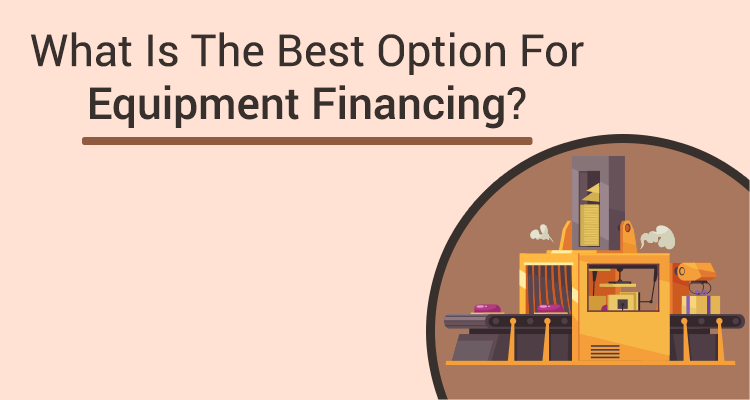 Every business needs to buy or lease equipment while starting out or for expanding. This can include computers and printers, machinery, trucks and anything else. Specialized equipment is even more expensive, such as CT scanners or ultrasound machines in a healthcare clinic or heavy machinery required for a construction business.
Oftentimes, however, the money being generated by the business itself is not sufficient to buy equipment of the best quality and standards. At such times, a business term loan can come in very handy, to help meet the need for new equipment and keep the enterprise running and growing.
Moreover, buying or leasing equipment once is not enough. The equipment requires routine maintenance, repairs, and regular upgrades and even replacement, if necessary. This, too, costs money that a business loan can cover.
A business term loan is especially beneficial for micro, small and medium enterprises (MSMEs). It can be availed quickly and with minimal paperwork, and can be paid back flexibly, especially if the lender is a reputed name like IIFL Finance, which is a market leader when it comes to offering loans of all sorts.
Equipment Financing
Many banks and non-banking finance companies (NBFCs) offer specialized business loans to purchase equipment. Most such loans for equipment finance are offered for set tenors at fixed interest rates that may range between 8% and 30%. However, interest rates and repayment terms vary from business to business and from lender to lender.
Many lenders may offer such loans collateral-free if the amount is small and for a short tenor. Typically, however, equipment loans are availed for long periods of time and are often secured against the equipment itself. So, if the borrower defaults on the loan, the lender has the power to seize the equipment and recover the money.
In some cases, existing equipment can also be pledged with lenders to take a loan for new equipment.
Benefits Of Equipment Financing
The obvious benefit of equipment financing is that it allows a business to buy or lease costly equipment. In addition, it also helps in working capital management.
This is because it may not be wise to use working capital to finance the longer-term needs related to equipment and machinery. So, equipment financing can become an integral part of the working capital management of any MSME. This helps ensure that a company's current assets and liabilities are best utilized for its effective operation.
Working capital management helps keep track of a businesses assets and liabilities. This helps maintain adequate cash flow and meet short-term business goals as well as ensures enough money is available to buy inventory, to supply products and services to customers, and make payments to employees and vendors.
Best Option For Equipment Financing
Almost all banks and a large number of NBFCs offer equipment financing. So, how does a borrower choose one?
Typically, the more established banks, especially public-sector banks, follow older processes and have onerous requirements to sanction a loan. This is where newer private-sector banks and large NBFCs such as IIFL Finance have an advantage. These lenders not only follow simpler and quicker processes using technological tools but also offer flexible repayment terms and competitive interest rates in an attempt to gain market share.
Also, good lenders like IIFL Finance have a well-laid-out structure that helps them determine a person's or a business' creditworthiness and their ability to repay the money basis cash flows and other metrics.
Conclusion
It is imperative that almost every business, big or small, especially in the manufacturing sector, will need to invest in new equipment from time to time. For small businesses, this can become especially challenging.
Equipment financing could, therefore, be the best answer. As long as a borrower enjoys a good credit history, most good lenders will provide equipment financing. However, it's better to choose a reputed lender like IIFL Finance.
IIFL Finance follows a fully online loan approval process to save time and minimize paperwork. IIFL Finance even has a WhatsApp facility to apply for business loans.
Moreover, IIFL Finance offers customized options and competitive interest rates that allows you to choose the loan tenor and repayment terms depending on your cash flows.
So, the next time you are looking to expand your business, consider an equipment loan from IIFL Finance.