Seven Business Financing Option For E-Commerce
What are business financing options? Read this article & know more about the 7 most effective ways to finance your e-commerce business at IIFL Finance.
23 Oct,2022
19:05 IST
60 views
8 Likes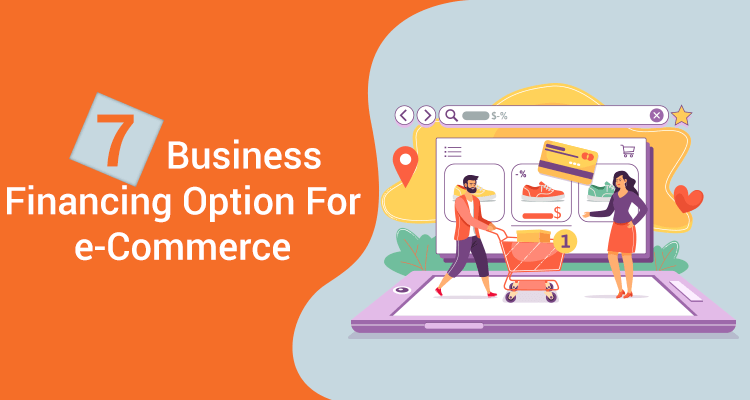 India is advancing towards a digital-first economy where businesses run their operations by leveraging tech platforms. However, like other types of businesses, an e-commerce business also needs constant capital to ensure smooth operations. Amid tight competition in the e-commerce spectrum, it is vital for an e-commerce business owner to have adequate capital to run business operations smoothly.
This blog lists various business financing options, like
loans for an e-commerce business.
Seven Business Financing Options For E-commerce
Entrepreneurs know that the current market ecosystem favours a business that runs its operations digitally. With increasing levels of digitisation and citizens choosing online platforms over physical channels, e-commerce companies are looking to expand. However, expansion requires a source of capital to ensure that the e-commerce company has adequate funds.
Here are seven types of loans for e-commerce businesses.
1. Working Capital Loan:
A working capital loan is a
type of e-commerce finance
that covers daily business expenses. Entrepreneurs use such loans to cover expenses such as rent, employee salaries etc.
2. Small Business Loans:
Also known as SME loans, this funding option is available as an
e-commerce startup loan.
Such loans include a Line of Credit (LOC) to cater to all the credit needs of small and medium enterprises without high capital investment or monthly turnover.
3. Short-Term Business Loans:
Lenders offer short-term business loans to entrepreneurs to cover their immediate liabilities. Such loans have a short loan tenure, which results in a high-interest rate.
4. Long-Term Business Loans:
Business owners avail of these
e-commerce loans
for recurring long-term expenses, such as expansion and marketing. Such loans have a long tenure, which results in a low interest rate and monthly EMIs.
5. Commercial Business Loans:
These
loans for an e-commerce business
offer immediate capital up to Rs 50 lakh with a 3-5 years repayment period. The loan is ideal for businesses running for a year and is profit-making. It offers flexibility with multiple repayment options and quick disbursal into the bank account.
6. Loan Against Securities:
This
e-commerce loan type
offers immediate capital to business owners against the value of their investments. Such loans can offer up to 75% of the total investment value to the entrepreneur and do not require pledging assets as collateral. It also has a nominal interest rate and minimum eligibility.
7. Startup Loans:
E-commerce startup loans
are loan products designed to cater to the
capital needs of startups
specifically. Since startups may need heavy capital to execute the idea, such loans offer a high capital amount approved within 30 minutes of application and disbursed within 48 hours of approval.
Avail Of Ideal E-Commerce Finance From IIFL Finance
IIFL Finance offers varying financial services with a particular focus on customised and comprehensive
business loans
for e-commerce companies and startups. Our business loan offers instant funds up to Rs 30 lakh with a quick disbursal process online and minimal paperwork. The loan's interest rate is attractive and affordable to ensure the repayment doesn't create a financial burden.
FAQs:
Q.1: What are the eligibility criteria to take a loan for e-commerce from IIFL Finance?
Ans: The eligibility criteria are as follows:
1. Established companies operating for more than six months at the time of application.
2. Minimum turnover of Rs 90,000 in the last three months from the time of application.
3. The business does not fall under any category or list of blacklisted/excluded businesses.
4. The office/business location is not on the negative location list.
5. Charitable organisations, NGOs, and trusts are not eligible for a business loan.
Q.2: Do entrepreneurs need collateral to acquire a business loan from IIFL Finance?
Ans: No, IIFL Finance business loan does not require pledging any asset as collateral to take the business loan.
Q.3: What is the maximum amount I can avail of as a startup business loan?
Ans: With IIFL Finance e-commerce startup loan, you can avail of a maximum loan amount of Rs 30 lakh.