5 Tips For Startup Business Equipment Financing
Running a startup is, in itself, a challenge. Read on to find out the 5 key things that you should know about equipment financing. Visit to know more!
21 Jul,2022
11:45 IST
55 Views
34 Likes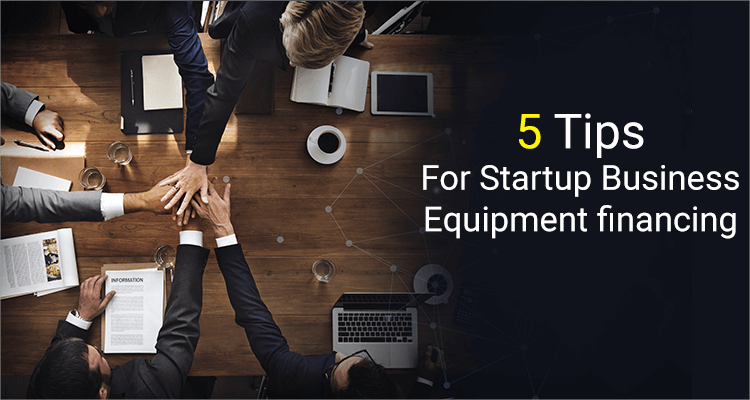 India has become a startup hub, with numerous new startups launching every day. There are over 72,000 startups, of which 103 startups are unicorns. Almost all successful startups start from scratch but need various equipment based on their business needs.
This equipment is generally expensive and may create a gap in the initial budget set to kickstart operations. Hence, various financial institutions have designed startup business equipment financing to ensure startups get adequate capital to buy various pieces of equipment without compromising on the business model.
Five Tips For Startup Business Equipment Financing
Setting up a startup requires investing heavily in pieces of equipment. However, it is wise to consider this form of financing rather than investing personal capital. Here are five tips based on the processes through which you can secure funds for investing in pieces of equipment:
1. Business Loans
Business loans are one of the most effective and quickest ways to secure funding for buying startup equipment. Once you determine how much finance you need to buy equipment, you can apply for a loan from a good financial institution with seasoned expertise and affordable interest rates.
2. Venture Capital
Venture capital is a process through which startups can secure financing when they have an operational business or a working product. Venture capitalists invest in startups that have the potential to be large companies in the future. If the startup has a working business and needs new equipment, it can look towards venture capital.
3. Angel Financing
Angel financing is a process through which startups can get funds to buy equipment even when they do not have working business operations. Angel investors invest in early-age startups and make up for an effective way for equipment financing.
4. Personal Loans
Personal loans do not restrict the end use of the raised capital, and you can use the amount for any personal purpose like buying equipment for a startup business. However, you must compare various financial institutions before you get a personal loan.
5. Small Business Credit Cards
Numerous financial institutions provide small business credit cards as debt instruments that startup owners can use for equipment financing. These credit cards also offer numerous other benefits, such as cashback rewards, mileage points, etc., that can be used for monetary benefits.
Avail Of A Loan From IIFL Finance
IIFL Finance is India's leading financial services company that provides comprehensive and customised loans for startup business equipment financing. The proprietary startup loan offers instant funds up to Rs 30 lakh with a quick disbursal process. You can apply for the loan online by verifying your KYC details, or offline by visiting IIFL Finance nearest branch.
FAQs
Q.1: What documents are required for securing a loan from IIFL Finance?
Ans:
• Previous 12 months bank statements
• Proof of business registration
• PAN Card and Aadhar Card copy of the Proprietor(s).
• Deed copy and company PAN Card copy in the case of partnerships
Q.2: What are the benefits of IIFL finance's startup loan?
Ans:
• Instant loan amount up to Rs 30 lakh
• An easy and online application process
• Instant credit of loan amount to your bank account.
• Affordable EMI repayment options
Q.3: Can I buy startup equipment from IIFL Finance's loan?
Ans: Yes, you can buy any startup equipment from the secured loan amount and repay the loan through flexible repayment options.