Simplify Your Business Loan Repayment With These 5 Tips
Business Loan Repayment may be a necessity at some point. Find out the 5 golden rules that can be helpful for business owners in the journey to became debt free!
1 Sep,2022
09:39 IST
22 Views
33 Likes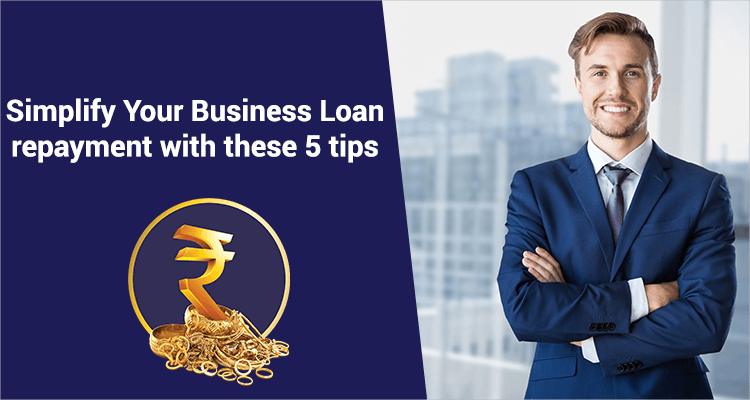 Many small and medium-sized business owners are reluctant to borrow money from banks or non-bank lenders to avoid the constant worry of repaying the loan or for the fear of punitive action in the case of a default.
But business loans may become an absolute necessity at some point. So, what can borrowers do to avoid feeling weighed down under the debt burden?
To save themselves from this headache, all borrowers should make it their top priority to plan a suitable business loan repayment strategy and pay off their debts on time.
There are several ways that can help a business owner to repay the loan at the earliest. Here are five golden rules that can be helpful in the journey to become debt-free.
1) Make Timely Payments
Loan repayments are usually channelized through equated monthly payments (EMIs). Missing a single EMI or even delaying the due installment can affect the credit score.
Also, it will bounce back with a hefty interest on the unpaid amount and a penalty charge. Since lenders mostly do an applicant background check through credit profile, a single incident of missed EMI can negate the chances of future loans for other needs in life. Reducing unnecessary expenses and securing timely payments from clients can help to save funds for the timely payment of EMIs.
2) Reduce The Loan Tenor, Increase The EMI
The interest on a loan is calculated on the outstanding principal amount. Quick repayment of the principal amount means less interest and more savings. A smaller EMI stretching for a long period actually costs more than a loan taken for a shorter tenor on higher EMI.
To lower the interest burden borrowers can pay a little extra in addition to the regular EMI. One easy way of doing it is by increasing the EMI every year by a minimal percentage. But one never should bite off more than one can chew!
Applicants with no fixed income limit can choose to do partial pre-payments whenever possible. But repaying lump sum amount is useful only during the initial loan tenor when the outstanding principal is more.
3) Go For Direct Debit
Missing a due date for loan repayment results in a heavy penalty. By enabling the autopay, or automatic payment, feature users can schedule a predetermined date for deducting a fixed amount equivalent to their EMIs from their bank accounts.
However, before enabling the autopay function, borrowers must maintain a minimum balance in the bank account to avoid bounced payments and extra penalties.
4) Refinance The Loan
Substituting a high-cost loan through refinancing for cheaper loan options is a good way to lessen the burden. It can be especially advantageous if it is done in the early years and if the loan prepayment fee and service charges levied by the lender are comparatively lesser than the newer interest rate.
Borrowers should also keep an eye on the overall interest rate cycle in the economy. Most commercial banks and non-bank lenders are quick to raise rates on existing loans if the Reserve Bank of India hikes benchmark rates. But most lenders are slow when it comes to reducing rates on existing loans. Refinancing can be a good option in such cases if another lender is offering a loan at lower rates.
5) Maintain Good Relationship With Creditors
When times are challenging and repayments seem hard, it is good to be honest with lenders. Sharing problems with the lending partner builds trust that can possibly open alternative ways to manage the debt. Many a time, lenders offer a concession or more time to borrowers to repay their loans so as to avoid marking the debt as a non-performing asset in their books. A good and cordial relationship with the lenders can ease the process.
Conclusion
Loans are a convenient way to fund a business. Borrowing won't be an unpleasant experience if the business loan repayment plan is effectively managed.
Part-payments of loans to lower the existing debt reduces the principal amount and the interest on it. Switching to a cheaper loan through refinance can also result in more savings.
However, despite your best intentions, if you fail to manage funds to pay off the EMI for a genuine reason, you should inform the lender and try to re-negotiate the loan terms.
IIFL Finance, a well-known non-bank financing company that offers a variety of business loans at competitive interest rate, provides flexible repayment terms to borrowers. It also offers pre-payment and foreclosure options at minimal charges to lower your debt burden.