5 Challenges For Small Businesses Post-COVID-19
Small business challenges have taken a new form since COVID-19. Read here to know the basic difficulties faced by small businesses after COVID-19!
11 Aug,2022
09:51 IST
872 Views
20 Likes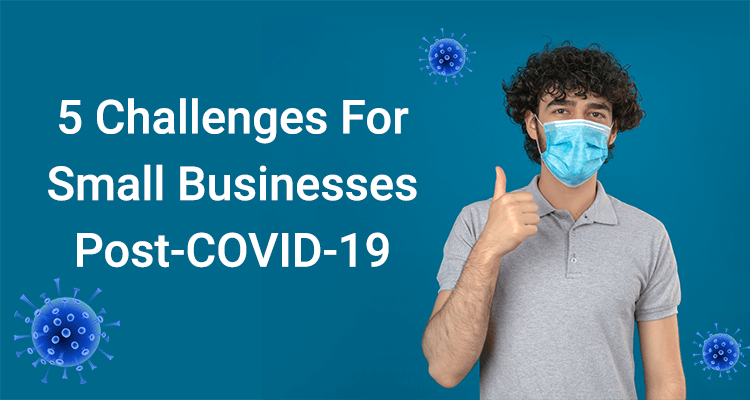 COVID-19 has been a nightmare for many small businesses. While some companies did boom since the pandemic has eased, others are still facing many challenges. How can struggling firms bounce back from these financial woes? A small business loan or SME business loan can grease the wheels of a business stuck on the path to success.
This article highlights the primary challenges faced by small companies post-COVID-19 and the ideal avenue for a small business loan or SME business loan.
1. Cash Flow Management
This aspect is one of the major concerns for SMEs. Following a cash flow guideline that balances the outflow with the inflow is a tremendous challenge, especially after COVID-19. The credit period has increased and made business operations a bumpy road.
2. Supply Chain Disruption
The supply chain of
small and medium enterprises (SMEs)
has been negatively impacted post-COVID. It has majorly affected the bottom line of the companies. Businesses also believe that their suppliers favour big brands and businesses more than small enterprises.
3. Staying Competitive
Your business will have different competitors for prices, products, and services constantly. Some might provide lower prices while others may have a better product or convenient service. After COVID-19, it has been challenging to keep up with competition and exploit the unidentified gaps in the market due to financial issues.
4. Targeted Marketing
Gone are the days when you could experiment with marketing campaigns. Post-COVID-19, SMEs have tightened their marketing budgets and require the team to be more targeted in spending time and resources. It is time to invest in market research to identify the right audience for your business. Nowadays, it is necessary to study your target consumer's characteristics and purchasing patterns to use this information and market your business smartly.
5. Tackling Uncertainty
The markets have always been uncertain. But Post-COVID-19, there have been drastic fluctuations. From an increase in GST rates to rising inflation, it's challenging to consider everything to stay afloat. In these times, SMEs need to set targets for productivity, develop target promotional activities, and give research & development teams to enhance the product features.
These are some of the common challenges faced by SMEs Post-COVID-19. The road remains difficult after two years of the pandemic, and businesses must keep their operations afloat with better strategies.
Apply For Your Small Business Loan With IIFL Finance
IIFL Finance is a leading business loan provider. Since its inception three decades ago, it has helped several business owners have a hassle-free experience. IIFL Finance offers a quick
business loan
perfect for MSMEs with small financial requirements up to INR 30 lakh.
We ensure you focus on your business operations more than the financial challenges. Apply for your SME business loan today.
Frequently Asked Questions
Q.1: What are the challenges faced by small businesses Post-COVID-19?
Ans: There has been a lot of chaos during the pandemic, and after 2+ years of it, the struggle continues. A few of the challenges faced by SMEs include cash flow management, hiring issues, and supply chain disruption, to name a few.
Q.2: How are SMEs tackling the post-covid-19 challenges?
Ans: It has been a bumpy road for SMEs since the pandemic. They are trying to be more target-oriented and need to develop better product features and distribution to remain in the markets.