Five Advantages Of Business Loans For Women
Thinking of opting for business loan for women? Read to know the top 5 benefits & the various perks of availing business loans. Visit Now!
2 Aug,2022
07:49 IST
64 views
30 Likes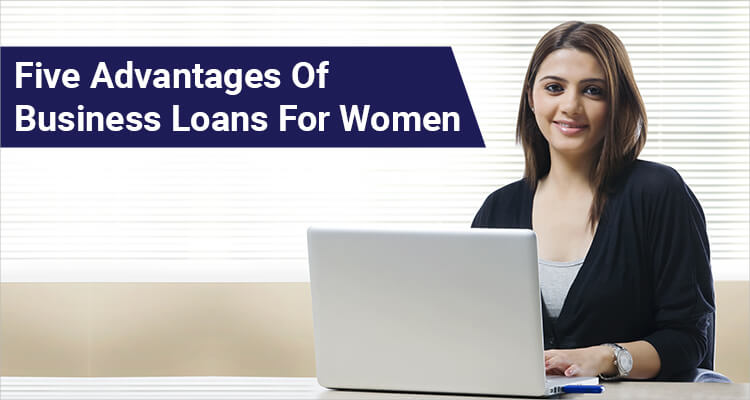 Life is full of uncertainties, as the Covid-19 pandemic has proven yet again. For long, women have been shackled and bound by traditions and social conventions. But more than ever, financial independence is crucial for women—whether from a low-income background or from an affluent family.
As this realization slowly dawns on women, more and more of them are shattering the traditional norms and exploring opportunities to secure a job or become an entrepreneur.
However, for women-owned businesses, access to funds still continues to be a major hurdle. A small business loan from a bank and thorough planning can help deal with the problem. But why should women entrepreneurs take a loan to grow their business? Here are some benefits of business loans for women.
Keeping Personal And Professional Worlds Separate
Women entrepreneurs often approach their friends or family to manage funds for their businesses. Some even mortgage their gold to borrow money. But informal borrowing of this sort may have negative outcomes. To avoid any unfortunate scenarios, a business loan from a bank can be of great help in funding a business.
The biggest advantage of business loans for women is that, unlike equity investors, banks and non-bank lenders do not get involved with how the business owner chooses to run her business.
Quick Loan Disbursal
Getting a business loan from new-age banks and reputable non-bank lenders is convenient. Most lending institutions offer small business loans without any collateral. So, women borrowers with inadequate or no assets or property can avail business loans. All one needs is to meet the eligibility criteria.
Since business loans for women are primarily designed to provide financial aid to businesses and companies, the interest charged is low. The interest rate depends on a number of factors like the business model, tenure of the loan, financial condition of the company, and also on the credentials of the borrower.
Prospective borrowers can even apply online and get funds transferred to their accounts. To understand the monthly repayments (EMI), they can use simple online tools such as a business loan EMI calculator.
Flexible Repayment Terms
The repayment mode of most business loans is flexible. A majority of these plans are designed to help borrowers return the payment with ease. The borrowers can negotiate with the lender about the repayment terms and the EMI amount. Many lenders even align the repayment cycle with the cash flow cycle of the business.
Build Creditworthiness
For young business entrepreneurs, timely payments of the total loan amount help to improve the business creditworthiness. Higher credibility in business boosts the business profile. A positive profile gives the borrower improved chances of getting a lower interest rate.
Tax Benefits
Business loans have tax benefits. The interest charged by the banks and non-bank lending institutions on the principal amount, which is paid back to the lender as part of the monthly installment, is tax deductible. The interest on a business loan is usually subtracted from the gross business income. It is a great tool to lower tax liability.
However, it must be remembered that only the interest amount is tax-deductible, and not the entire EMI. Similarly, the principal amount does not offer any type of tax benefit.
Conclusion
Funds are essential to drive a business forward. Money is essential for establishing a startup, managing working capital or purchasing equipment. But often, women business owners struggle to get the capital they need. During such times, a business loan from banks and financial institutions can be a great way to fulfil the specific business requirements.
Business loans come with many benefits. Not only are these loans apt for business expansion, but they also help to lower tax liabilities.
IIFL Finance, for instance, offers a variety of big and small business loans for women business owners to choose from. Since every second matters, especially for a working woman, IIFL Finance also offers doorstep services to help women entrepreneurs secure credit through a hassle-free process.
Moreover, IIFL Finance uses AI-powered bot technology to provide loans via WhatsApp. So, if your business needs financial aid, avail a loan from IIFL Finance now!