How Many Of These Requirements To Get A Business Loan Do You Meet?
What do you need to qualify for a business loan? Get to know these business loan requirements before you apply to prepare for your business loan approval!
4 Aug,2022
10:36 IST
16 Views
38 Likes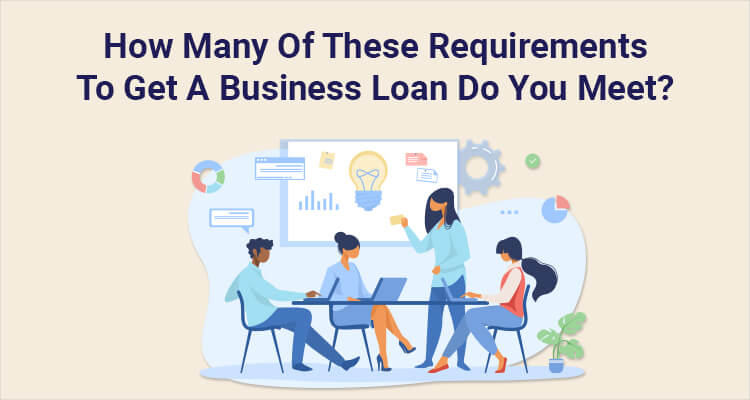 Every business needs ready money to meet day-to-day working capital needs, capex spending and other sundry expenses. So, when a business falls short of money, a loan can become absolutely necessary.
Contrary to popular belief, getting a business loan does not have to be an arduous process. Yet, a whole lot of deserving people find it difficult to get one. This, even when getting a business loan, is actually much easier than getting even a home loan, as it often needs minimal paperwork.
So, how can micro, small or medium enterprises (MSMEs), small business owners or self-employed professionals easily get a business loan without much hassle?
All they have to do is make sure they have a clear business plan, along with a track record to boot. On top of that, a good credit history will go a long way, as will a sound growth path that the business could take in the months and quarters ahead.
Clear Roadmap And Business Plan
This is a no-brainer, really. Any successful business needs a clear roadmap for the next few months or quarters, at the very least. All prospective borrowers should have it ready, possibly as a presentation or an easy-to-read document that they can present before the lender from whom they are seeking a business loan.
The business plan should ideally reflect the raison d'etre behind starting the business, a clear path ahead and a demonstrated ability to take it forward. More importantly, the goals and growth forecasts should be realistic, achievable and sustainable over the medium to long term.
Good Credit History
A good credit history can land the borrower with a great chance of securing a business loan at a favourable rate of interest. Not only does the credit score help the lender decide on whether to sanction the loan or not, it also helps determine the rate of interest and the actual quantum of disbursement.
A borrower with a good credit history is usually offered the entire amount sought at a good interest rate and easier repayment terms.
On the other hand, a sub-par score could prompt the lender to reject the loan application or clear it with several riders, a higher interest rate and larger collateral. This is because the lender would seek some degree of comfort while lending to a borrower with a less than satisfactory credit history.
Business Performance
The lender would gauge how well the business has performed so far. This is important because past performance often dictates future success, although this may not be true in every case.
Even if the borrower is a first-time entrepreneur, a lender would want to know their personal track record, professional and educational background as well as technical skills that may be needed to start and manage a new enterprise.
Cash Flows And Revenue
A healthy cash flow would give a lender the confidence that the borrower will be able to repay the loan and interest in time, and will likely not default on the loan. This is crucial as businesses with healthy cash flows would also mean that, in all likelihood, the business is not already significantly leveraged and that all or most debts have been paid off in time.
A healthy cash flow and robust revenue position mean that the business is running on sound economics and that it has a clear path to profitability, even if not already profitable.
Simply put, a business with a wobbly cash flow and uneven revenue will not be able to survive for long, and so a lender would be wary of backing such a company.
Conclusion
Reputable lenders like IIFL Finance go to great lengths to make sure that the companies and entrepreneurs they are lending to follow sound financial policies.
Borrowers with good credit histories and a solid business track record should also borrow only from such marquee lenders, as not only can they offer the best possible rates, but also because they help make the process of availing a business loan smooth and hassle-free.
Moreover, IIFL Finance offers a fully online application process. And once the paperwork is cleared, the loan is disbursed into the business account quickly and seamlessly.