Business Loan For Getting Loan Sanctioned? 10 Things To Consider
Want to get your business loan sanctioned? Know the 10 Key pointers that a business loan lender considers before approving your business loan. Read to Know More!
13 Sep,2022
12:48 IST
13 views
5 Likes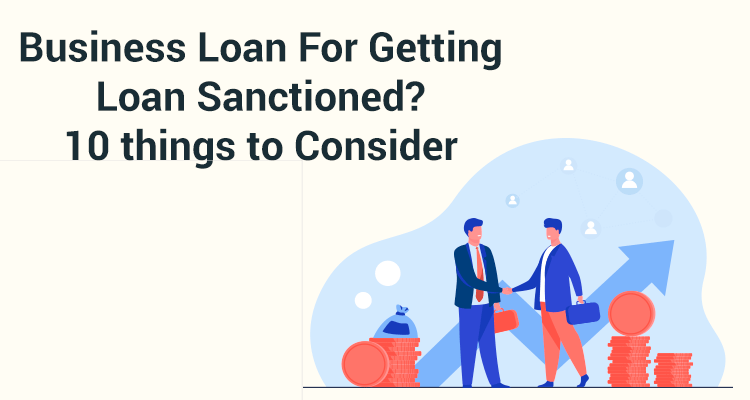 Business loans have become widely popular for business owners who want to ensure they have enough capital to run the company. However, sanctioning a business loan includes numerous factors ranging from the business owners' personal facets to the existing company's business factors. Hence, it is vital to consider some factors before applying for a small business loan.
Here are ten things to consider before applying for a business loan:
10 Things To Consider To Sanction A Business Loan
1. The Goal Of The Loan:
You can only use the business loan amount for your business. Hence, you must ensure you have the required documentation to prove that you have a business.
2. Eligibility:
Lenders such as banks and NBFCs set eligibility criteria for business loans. Check whether you fulfill the eligibility criteria before submitting your loan application.
3. Credit Score:
Loans for business require a
good credit score
. You should ensure a good financial history and a credit score above 700.
4. Cash Flow:
Lenders require the borrower's business to have a positive cash flow. Your business should have an unrestrained cash flow and a good debt-to-income ratio.
5. Prior Default:
Ensure you have no prior debt before applying for the loan. Additionally, you must not default in repaying the prior loan, as lenders consider it risky to lend to such borrowers.
6. Interest Rate:
You should choose a loan amount and the resulting interest rate such that it does not create any financial burden without any default.
7. Business Existence:
Lenders provide loans to businesses operating for more than six months. You should apply after your business has completed six months.
8. Excluded Businesses:
Lenders exclude some businesses from providing any loans. Ensure that your business is registered and licensed.
9. Minimum Turnover:
The business you are running must have a minimum turnover of Rs 90,000 in the last three months.
10. Nature Of Business:
The nature of your business must not be related to charitable work. Charitable organisations, NGOs, and trusts are not eligible for a loan for business.
Avail Of An Ideal Business Loan From IIFL Finance
IIFL Finance is India's leading NBFC with varied financial services. We specially focus on customised and comprehensive loans for businesses.
IIFL Finance business loan
offers instant funds up to Rs 30 lakh with a quick disbursal process. The loan application process is entirely online, requires minimal paperwork, and boasts attractive interest rates to ensure the repayment doesn't create a financial burden.
FAQs:
Q.1: Can I take an MSME loan for a loss-making business?
Ans: No, the business needs to be profit-making with a turnover of Rs 90,000 in the last three months to take a loan for business.
Q.2: Do I need to pledge collateral to take a business loan from IIFL Finance?
Ans: No, IIFL Finance loan for business does not require pledging any asset as collateral to take the business loan.
Q.3: What is the rate of interest on business loans?
Ans: The interest rate on business loans is the amount levied by the lender over the principal amount. Such rates range between 11.25%-33.75% per annum.