How A Personal Loan Can Help Fund Your Child's Education
Personal loan can be used for various personal expenses including your children education. Read to know how personal loan can help for education.
10 Nov,2022
12:05 IST
2 views
104 Likes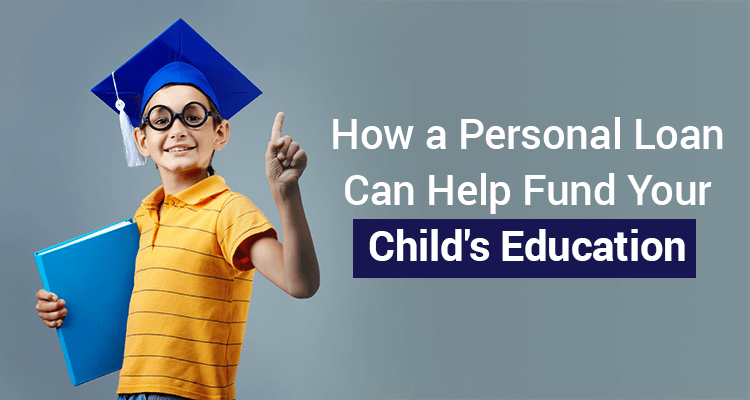 Due to the escalating expense of education, many parents are taking out loans to pay for their children's college or university tuition and even for private coaching for competitive exams. When a lack of funds is the primary challenge, an education loan may be beneficial. However, if someone is not eligible for an education loan, it makes sense to finance the cost with a personal loan.
Most banks and non-banking finance companies (NBFCs) in India offer personal loans that can be used to fund a child's education. Unlike a standard student loan, a borrower can utilise a personal loan to pay for any family member's education.
An education loan has lower interest rates and may have a longer repayment period than a personal loan. Still, a personal loan has several benefits that make it a popular option to fund a child's education.
Personal Loan Benefits To Fund Child's Education
• The approval process for personal loans is swift, and there is little documentation required. Education loans require far more paperwork, including details of the course, college and job placement potential.
• The borrower is not required to put up any collateral to avail personal loans.
• Unlike student loans, which require the borrower to contribute a small fraction of the total cost, personal loans can cover the entire amount.
• Personal loans for Rs 25-30 lakh are available from many lenders with terms ranging from one to five years.
• There are no restrictions on how to spend the funds. As a result, any form of expenses, such as tuition, living costs, etc., may be covered by the loan.
Documents Needed For Personal Loans
Lenders need only a few documents to sanction personal loans. These include:
• Identity proof such as Aadhaar card, voter ID, passport or driving licesce.
• Address proof such as electricity bill, voter ID, Aadhaar card, passport or driving license.
• Age proof like birth certificate or Class 10 school certificate.
• Bank account statements and salary slips for three to six months or the income-tax return form.
Personal Loan Approval Process
All lenders check the applicant's age, income, job and income levels, and credit history before sanctioning a personal loan. If the borrower's credentials check out, lenders make an offer to extend a loan specifying the interest rate, repayment schedule, tenor and other details.
Here is a step-by-step process to apply for a personal loan:
1. Select A Lender:
There are many banks and NBFCs that offer personal loans. Borrowers should compare the lenders and choose one that provides a simple process and best terms and conditions.
2. Fill Up The Application Form:
Borrowers can either complete the application form online or visit the lender's branch to do the paperwork. They must also submit documents the lenders need to conduct verification.
3. Verification:
The lender thoroughly verifies documents submitted and may ask for additional information.
4. Sanction and Disbursal:
The lender approves the loan and transfers the money either directly into the borrower's bank account or provides a cheque the borrower can collect from the branch office.
Conclusion
Many lenders would want a high credit score, details of the course and college and other strict qualifying requirements for education loans. But the personal loan approval process is far simpler and quicker.
A personal loan also offers more flexibility in terms of usage of the funds and repayment. What makes it even easier is the fact that many banks and NBFCs use a digital process to sanction and disburse personal loans.