How Does The CIBIL Score Affect Your Personal Loan Interest Rates?
CIBIL score is considered an important factor for a personal loan. Read to know how can cibil score affect your personal loan process.
29 Aug,2022
11:43 IST
10 views
6 Likes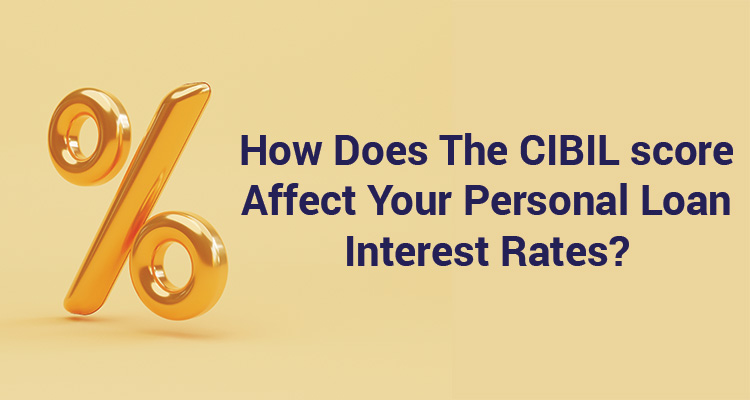 A CIBIL score determines creditworthiness based on your past credit history and punctuality in clearing your dues. It is vital to maintain a healthy CIBIL score to raise funds when you need them. Read on how your CIBIL score affects your personal loan interest rates.
What Is A CIBIL Score?
The CIBIL score is a three-digit score derived from your credit history. It indicates how likely you are to repay your loans on time. TransUnion CIBIL, one of the major credit bureaus in the country, provides this score.
How Does The CIBIL Score Affect Your Personal Loan Interest Rate?
The CIBIL score is an essential factor that lenders consider when offering loans. Similarly, Interest rates are among the most critical factors when taking out a loan. Typically, a CIBIL score and interest rate are inversely proportional. Therefore, a higher CIBIL score qualifies you for a loan and helps you get lower interest rates.
CIBIL score ranges between 300-900. The majority of lenders consider a CIBIL score of 750 or higher. If you want easy access to credit, your CIBIL score should be close to 900. Lenders prefer to lend to people with high credit scores because they are less likely to default.
Apart from a lower interest rate, a CIBIL score can help in the following ways:
Quick Loan Approvals:
If a lender finds you creditworthy with a good track record, the chances for a loan approval increase.
Discounted Processing Fees:
A high credit score can mean no or low processing fee on your loan.
Pre-Approved Loan Offers:
Applicants with good CIBIL scores are eligible for a specified loan amount, making it hassle-free and quick, whenever they need a loan.
Negotiation Benefits:
Lenders want their borrowers to be creditworthy, and the ball is in the borrower's court while onboarding such a borrower.
How Can You Improve Your CIBIL Score?
Now that you are aware of attaining and maintaining a good CIBIL score, you can improve your CIBIL score in the following ways:
Clear your dues on or before the time
Maintain a low credit utilization
A perfect combination of credit mix
Avoid frequent and multiple credit enquiry
Keep a routine check on your credit score
Frequently Asked Questions
Q.1: How does a high CIBIL score affect your personal loan?
Ans: A high CIBIL score is a good indicator of your creditworthiness and can help you get a loan with a lower interest rate and longer repayment tenure. With a high CIBIL score, you also get the advantage of negotiating the terms, if required.
Q.2: What are the best practices before seeking a personal loan?
Ans: Maintaining a good CIBIL score before seeking a personal loan is essential. Once you sort that, you can compare the interest rates, costs, and needs associated with the loan.