What Is The Difference Between CIBIL Score and CIBIL Report?
The credit report covers the same aspects that are used to generate the CIBIL score. Read on to know the difference between CIBIL score & CIBIL report at IIFL finance.
11 Nov,2022
11:00 IST
39 views
28 Likes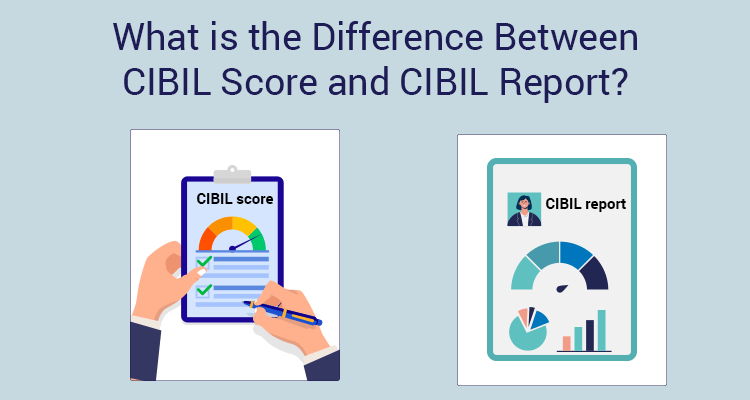 Every person who has ever taken a loan in the past or used one or more credit cards gets covered under a formal financial credit system. All such persons are assessed by credit information agencies like TransUnion CIBIL, Experian and Equifax.
These are independent agencies that generate a score to provide a tool for assessing the creditworthiness of a person. The score has become synonymous with CIBIL, the first agency that started providing such numbers in India.
CIBIL Score
One's creditworthiness can be assessed by looking at the past behaviour. This can be on the basis of a loan, be it an auto loan, home loan and personal loan, for instance. When someone avails a loan, they are not just supposed to pay the money borrowed but also return it with additional charges such as interest accrued and other fees associated with the loan process.
Typically, a lender requires a borrower to pay it back via equated monthly instalments, or EMIs. These payments are rolled across the tenure of the loan. If a person keeps paying EMIs in full as per the schedule, he or she is seen as a good borrower and gets a higher score. In contrast, if one has missed some EMIs he or she is seen as risky and gets a lower score.
Even if one has no loans but uses credit cards, their behaviour in paying the associated dues is considered in the score. Notably, one doesn't necessarily have to repay the entire amount due every month for getting a good score. As long as one is paying the minimum amount every month that is considered good enough.
The CIBIL score varies between 300 and 900. A score above 750 is seen as a sign of a person's good creditworthiness. Such persons get quicker approval for loans and at a lower interest rate as lenders like to attract such low-risk customers.
That said, persons with lower CIBIL scores can also avail a loan, albeit at a higher interest cost and the process could take a bit longer.
One important aspect of the CIBIL score is that the number is not fixed forever. One can improve the score with careful planning and credit behaviour. This can be done by repaying outstanding loans in advance, especially those that are unsecured as they are seen as riskier.
In some cases, where a person has just entered the marketplace with a new job after college, and do not have any credit card and have not availed any loan, their CIBIL score shows as NA or NH, which means the person does not have enough credit history to have a score.
CIBIL Report
While the CIBIL score is the most important factor in availing a loan, especially an unsecured loan as it shows how risky or creditworthy a borrower is, lenders also look at the CIBIL report. This essentially covers various aspects of past and outstanding credit products availed by a borrower.
So, the credit report covers the same aspects that are used to generate the CIBIL score. It is in effect a detailed repository of one's credit behaviour.
It is a record of one's financial history compiled from information received from banks and other financial institutions such as non-banking finance companies (NBFCs). It includes credit enquiries, outstanding and old credit card or loan accounts, personal and employment information, and the repayment history.
In other words, it is the base from which CIBIL score is derived.
The CIBIL report essentially has four components: personal information, which covers basic details like name, date of birth and other information; contact information of the person; employment information, covering information on one's occupation and income (at the time of opening a credit facility) as reported by the lender for a particular credit account; and account information.
This account information is the most important segment of one's CIBIL report as it contains details of all loan and credit card accounts. It captures the name of the lenders, type of credit facilities (home loan, auto loan, personal loan, credit card etc.), the account numbers, whether the loan is single or jointly held, when they were opened, last date of payment, loan amount, outstanding balance, and amount overdue, if any. The report typically includes a monthly record of up to 36 months of one's loan payments.
Conclusion
The CIBIL score and the CIBIL report are part of the same coin. When a lender needs to assess the creditworthiness of a loan applicant, they look at the combined document that starts with the CIBIL score and is followed up with CIBIL report. The CIBIL report has details of the person including contact information, his or her employment status and credit related information, which is the most important segment. The CIBIL score is derived from the CIBIL report, so the two are intrinsically related.
IIFL Finance offers a suite of loan products such as a gold loan, personal loan or small business loan via a swift process that can be initiated from anywhere without visiting any branch. The approval and disbursal are done within a few hours, if one has a good CIBIL score and a clean CIBIL report.