What Is A CIBIL score?
The CIBIL score is a three-digit number given by the Credit Information Bureau (India) Limited Ltd. Know what is a CIBIL score & other details here!
21 Nov,2022
12:39 IST
11 views
8 Likes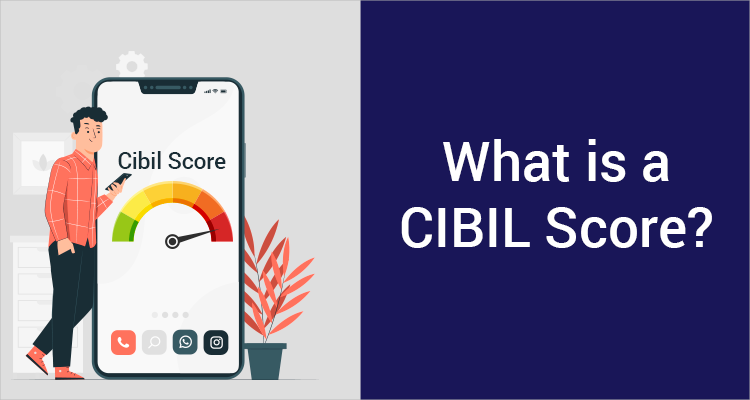 If you are planning to take a loan, hoping to get it at a lower interest rate and also want to make sure it is approved and processed quickly, you must make sure you have a good CIBIL score. This is because the CIBIL score is a crucial decider in getting your loan approved.
The CIBIL score is a three-digit number given by the Credit Information Bureau (India) Ltd., a credit rating agency authorised by the Reserve Bank of India. CIBIL scores and credit reports are offered to individuals as well as to banks and non-banking financial companies (NBFCs). This number ranges from 300 to 900 and is based on a person's credit history.
It is basically a way to ascertain a person's ability to pay back the amount they intend to borrow. The CIBIL score is taken into account by banks and financial institutions before making a decision on disbursing loans and issuing credit cards.
A person's past record of borrowing and repaying habits, as shared by banks and lenders with CIBIL and credit bureaus on a regular basis, mainly decides the score. Remember, the credit rating bureau has access to all the credit information, that is, all financial transactions where a persona may have borrowed or repaid money.
CIBIL Report
Lenders consider both the CIBIL score and the CIBIL report to decide whether a person is eligible for the loan.
A CIBIL report is an overall credit report which includes a person's credit summary, personal information, contact and employment information as well as the loan account details.
The CIBIL score is mainly arrived upon after evaluating the credit history found in the CIBIL report. This report is also known as credit information report, or CIR.
Simply put, a CIR is a person's credit payment history for various loans from credit institutions over a period of time. It, however, doesn't have details of savings, investments or fixed deposits.
How CIBIL score is calculated
A
CIBIL score
is calculated mostly based on a complete record of a person's past loan repayments and how consistent they have been in making payments on time. It is important to remember that delayed payments lead to a lower score. Moreover, recent delayed payments make an even more negative impact. Also taken into consideration are previous settlements, defaults and write-offs.
Why It's Important
A high CIBIL score or credit score ensures a quicker loan application and documentation process. It also translates into lower interest rates on the loan in addition to a higher quantum of loan with longer or more flexible repayment tenure. It also provides a borrower with a choice between multiple lenders to help take out the loan of your choice.
What Is A Good CIBIL Score
A score of anything between 700 and 900 is considered good. It increases a person's chances of getting a higher loan amount at a low-interest rate besides quicker disbursal.
How To Check CIBIL Score
Prospective borrowers can check their CIBIL score on the website of TransUnion CIBIL by paying a nominal fee. This applies also to institutions in case they want a person's credit report with a CIBIL score to check whether the individual is eligible for the loan.
How To Improve CIBIL Score
Here are five simple ways that prospective borrowers can use to
improve their CIBIL score
:
• Check and monitor the CIBIL score at regular intervals to get an idea about the credit status.
• Limit credit card usage and make sure you are not exhausting your limit. Try not to spend over 50% of your credit card limit until your CIBIL score touches 750.
• Make sure to pay all dues on time and avoid delays to maintain a good credit.
• It's advisable not to have a large amount of unsecured credit like multiple personal loans.
• Getting rejections for multiple applications of unsecured loans also reduces chances of getting a good score.
Conclusion
Your CIBIL score is your first impression for the lender. The higher the score, the better are your chances. It's mostly in your hands to maintain a healthy CIBIL score by ensuring that it stays above 700-750.
A high score can help you take out a variety of loans for personal or business purposes from IIFL Finance swiftly and without any hassles. IIFL Finance, India's leading loan provider, offers gold loans, personal loans and business loans with the most competitive interest rates to people with strong credit scores.