Most Profitable Manufacturing Business Ideas In 2022
The manufacturing industry has been growing exponentially recently. Read on to know the profitable manufacturing business ideas in 2022 only at IIFL finance.
29 Aug,2022
07:22 IST
3906 Views
22 Likes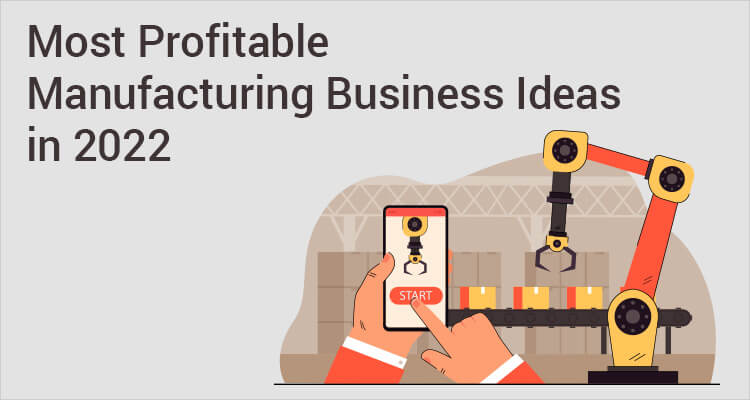 After a slump during the pandemic, the manufacturing industry has been growing exponentially, and it currently accounts for nearly 78% of total industrial output. Businesses require capital for expenses or expansion, which may not be readily available. This is the ideal scenario for a loan for a new business. This article enlists manufacturing company concepts that can be profitable manufacturing business ideas in 2022.
1. Herbal Cosmetics
Herbal cosmetics have become all the rage in India and globally. Additionally, the market is growing substantially. The profit margin can go up to 50% or more. The required investment is lower than in other manufacturing businesses, as pieces of equipment are quite simple and raw materials are available.
Training needed for making cosmetics is also widely available across platforms. Due to a good profit margin, a loan for new business is also available.
2. Organic Products
Organic products are popular now as people are willing to spend on quality food. The profit margin is good and can range from 30% to 40%, depending upon the product. The organic products market globally was valued at $168.5 billion in 2021 and is set to grow further. Organic food products include raw materials for the beauty industry, like aloe vera or other extracts.
3. Incense Sticks
Incense stick manufacturing has always been a profitable business. It requires an initial investment of ₹ 1-2 lakh, which includes the cost of the incense stick manufacturing machine, factory space, raw materials, etc. The profit margin is around ₹ 25-30 for every kg of incense sticks. It is a stable product needed by most Indian households almost daily, thus making it a large market.
4. Natural Packaging Material
Recently, IKEA announced its move to use natural packaging made of mushrooms, which is biodegradable. There is a tremendous scope in this manufacturing business. Many companies are already using this sustainable technology for huge packaging material requirements. The ingredients required are hemp hurds and mycelium. The profit margins are around 30%.
5. Fashion Jewellery
The global jewellery market will be worth over $300 billion by 2026, deepening the potential of the fashion jewellery-making business. The profit margins are exemplary and depend on the craftsmanship and finesse of the product. You can start the business from a small space, and plenty of material is available in a wide variety. The online market is also huge and covers more than half of the sales volume.
Loan For New Business At IIFL Finance
Every business requires initial funds, and
business loans
are a good option.
Business loan interest rates in India
are currently between 10-34%, and IIFL Finance provides loans for manufacturing businesses at attractive rates. Visit IIFL Finance to understand the policies and documents required for loans.
Frequently Asked Questions
Q1: What are the documents required for business loans up to Rs 10 lakh?
Ans. The list of documents includes:
• K.Y.C. documents
• Last six months bank statements
• Pan Card of borrowers
• Signed copy of loan terms
Q2: What are the documents required for business loans of Rs 30 lakh?
• All documents are required for a loan of 10 lakh
• Last 12 months bank statement
• G.S.T. registration
Q3: What is the mode of repayment?
Ans. IIFL offers flexibility in loan repayment options including:
• Pay Online
• Pay from the App
• Pay at the nearest IIFL Branch