How Long Do You Have To Wait For An SBA Loan Approval?
Discover the time frame for getting an SBA loan & what factors can impact the process. Learn about the different stages of the process & get the funding you need to grow your business today!
16 Jan,2023
11:46 IST
1852 Views
837 Likes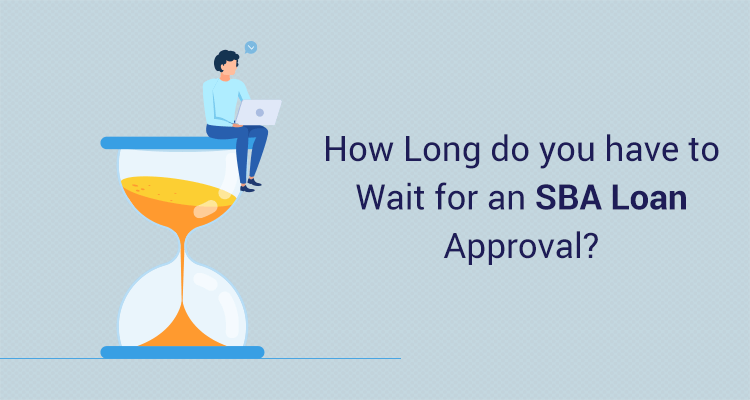 Small Business Administration (SBA) loans provide business owners with funds to start, expand, and succeed in their enterprises. Compared to traditional loans, these loans are easier to acquire. Yet, SBA loans take much longer to approve and fund than most loans—usually from 60 to 90 days. That's why SBA loans are the second choice for businesses that need cash.
Here are all the details you need to know about SBA loan approval times.
SBA Loan Approval Process & Timeline
There are a few general stages in the approval process for an SBA loan which vary from lender to lender.
1. Loan Application:
Applicants for SBA loans must provide extensive supporting documents, which is more demanding than traditional lending. Hence, it can take up to 30 days to prepare an application. However, preparing the necessary documents can help you complete an application more quickly.
2. Application Review and Underwriting:
Lenders review credit scores and financial statements after receiving an application. It usually takes between 10 and 14 days to complete this process, including underwriting. But it can take longer if you are not in the SBA Preferred Lender Program. Similarly, the lender may require an appraisal if the collateral is required during underwriting. Lenders determine loan amounts and interest rates based on this review.
3. Loan Agreement:
The lender typically prepares the commitment letter and loan agreement within 10 to 21 days following approval. During this time, you should ensure that all terms of the loan agreement are acceptable.
4. Closing and Funding:
Closing and funding take seven to fourteen days after finalising the commitment letter with the loan amount, repayment term, and interest rate. To keep the process moving, respond quickly to questions or additional requests from the lender during this period.
How Long Does It Take For SBA Loan Payment?
It typically takes around five days for a lender to disburse loan funds after approving the SBA loan application—but it can take as long as fourteen days. The lender and the business' bank determine the exact timing of when you receive loan proceeds.
SBA Loan Process vs Other Business Loans
Here is some comparisons between
SBA loan online
procedures and other common financing methods.
• Business Lines Of Credit:
Lines of credit allow you to borrow funds as needed and pay interest only on the amounts borrowed. In some cases, funds are available in as little as 24 hours after an application is submitted, which is quicker than an SBA loan.
• Equipment Financing:
An
equipment loan
is a business loan used to buy equipment or machinery. The repayment tenures on these loans are usually shorter than those on SBA loans, and the interest rates may also be higher. The financing process may take as little as 24 hours or as long as several weeks.
• Alternative Loans:
These loans also have quick approval times, some even the same day. Many online lenders provide these loans, which you can use to obtain working capital, finance equipment, and expand operations. However, the interest rates on alternative loans are generally higher than those on SBA loans.
• Personal Loans:
As the application process is generally more straightforward and approval times are shorter, obtaining a personal loan can be much faster than obtaining an SBA loan. The repayment term of a personal loan is usually shorter, and the interest rate is higher than that of an SBA loan.
Get A Business Loan From IIFL Finance
A leading NBFC in India, IIFL Finance provides
small business loans
with a focus on customised services. You can complete the business loan application process entirely online with minimal paperwork. The loan interest rate is attractive and affordable to avoid financial hardship. Apply for an IIFL Finance business loan now!
FAQs
Q1. How do you know if your SBA loan is approved?
Ans. Your SBA loan details will be emailed to you upon approval. If you did not receive an email from the SBA and want to check the status of your application, please contact them directly. The status of your application may also be available online or by calling your lender.
Q2. How long does an SBA loan take to process?
Ans. SBA loans can take 60 to 90 days to process.