Grow Your MSME To New Heights With IIFL Finance
Looking to grow your business to great heights? Then you are at the right place! Read to know the process on how IIFL Finance will help you grow your MSME!
1 Jul,2022
06:39 IST
54 views
15 Likes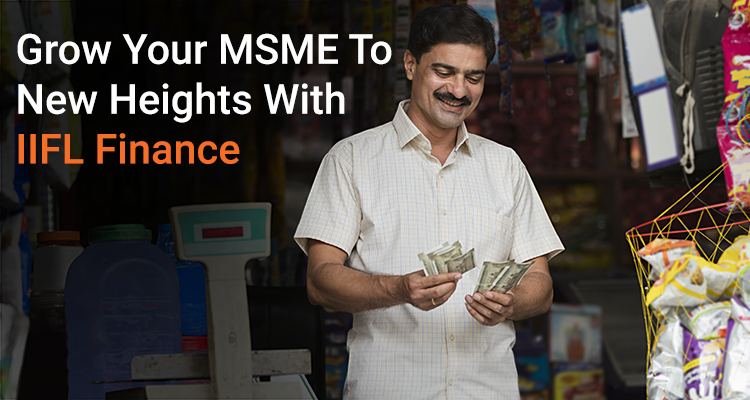 Growing a business-whether it is a large company or a micro, small and medium enterprise (MSME)-requires financial resources. All expansion plans or projects are powered by capital.
A business can access this capital through one or both of the following ways:
• Equity contribution by founders and other shareholders.
• Debt or loan from banks, non-bank lenders or other institutions.
A prudent business plan would mean a well-balanced capital structure that is not excessively dependent on shareholders' money to run a company.
In fact, many a time, taking a loan to meet capital expenditure is seen as the most prudent way to expand. The loan can be for a longer duration with a larger sum or for meeting short-term needs including:
• Buying machinery for an existing small plant.
• Working capital to manage the gap between short-term cash inflows and outflows.
Also, almost all companies depend on working capital loans and some of them require a larger sum for bigger expansion programs.
How Can MSMEs Meet Their Financing Needs?
Entrepreneurs who run very small establishments have various options to choose from depending on how urgent their money requirement are and what all the assets they own.
So, if one doesn't have any significant business assets, one can opt for products like a gold loan and even a personal loan to run their business. But many finance companies have customised business loans for those running an MSME.
These small business loans have a repayment period of up to five years with a competitive rate of interest.
Small Business Loans
Some NBFCs have pre-tailored loan products depending on the amount of loan. So, if one needs a business loan of up to Rs 10 lakh or a larger sum of as much as Rs 30 lakh, they can opt for loans accordingly.
If these loans from NBFCs are compared to banks, they provide flexible terms and a swift process of getting the money into the account. The process is simple and can be completed online without the need to go to any of the physical branches.
How IIFL Finance Can Help You Grow Your MSME
Prominent NBFCs like IIFL Finance charge competitive interest rates that begin at around 12.75% and allow borrowers to return the money periodically in sync with their own invoicing cycle.
Different Business Loan Products To Pick From
• Up to Rs 10 lakh
• Up to Rs 30 lakh
• Up to Rs 35 lakh under Samman Loan Against Property
• Up to Rs 10 crore under Loan Against Property-Regular for up to 10 years
The first two products, which offer loans of up to Rs 10 lakh and Rs 30 lakh, are unsecured products and so do not require an MSME to provide any collateral. However, the two bigger loans, as the name suggests, are essentially home equity loans that IIFL Finance offers to MSMEs for mortgaging property.
Documents For Availing Business Loan
• KYC documents: Identity proof and address proof of the borrower and all co-borrowers
• PAN card or Aadhaar of the borrower and all co-borrowers
• Bank statement of the main operative business account for the last three to six months
• Signed copy of standard terms (term loan facility)
• Additional document(s) may be required for credit assessment and processing of loan request
• For loans greater than Rs 10 lakh but under Rs 30 lakh, IIFL Finance also needs a GST registration certificate.
• For loans against property, a no-objection certificate and property papers are also required.
One has to apply online and upload their KYC documents ready. Once done, the small business loan is instantly approved and disbursal is done quickly to the bank account of the operating business.
Conclusion
Entrepreneurs need to grow their business and they can power this with small business loan from prominent NBFCs like IIFL Finance, which offers competitive interest rates.
IIFL Finance's loan products are tailored to different business loan requirements and can be availed online with minimal documentation process. The company provides MSMEs with small unsecured loans of Rs 10 lakh and Rs 30 lakh if they do not have, or do not want, to put up collateral. It also offers secured loans to MSMEs of up to Rs 35 lakh and as much as Rs 10 crore if they have a property they can keep as mortgage.